Stage set!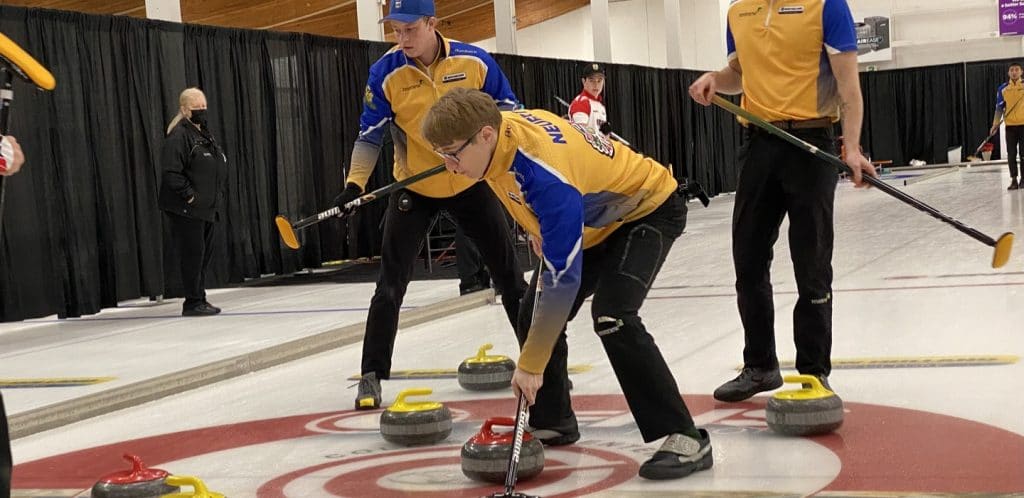 Teams posture up and position for playoff seeds at 2021 New Holland World Juniors Qualifying Event
The six teams advancing to the playoffs were decided before the final round-robin draw at New Holland World Juniors Qualifying Event at the Granite Curling Club in Saskatoon.
What was at stake were positions in the standings to determine playoff matchups.
Team Owen Purcell (5-0; Halifax) and Team Scott Mitchell (4-1; Whitby, Ont.) locked up their spots in the semi-finals as pool winners, while four other teams were jockeying for their spots on the playoff board.
One of those games featured Team Nathan Young (4-1; St. John's, Newfoundland & Labrador) and Team Daymond Bernath (3-2; Saskatoon). The other was a game between Team Johnson Tao (4-1; Edmonton) and Team Jordon McDonald (3-2; Winnipeg).
Team Young and Team Tao won those games to become the second seeds.
In the quarter-finals, Team Tao will meet Team Bernath, and Team Young will meet Team McDonald. The winner of the Tao-Bernath game will meet Team Mitchell, and the winner of the Young-McDonald game will meet Team Purcell.
Team Tao lost earlier in the day to Team Mitchell. Tao said he didn't want to go into the playoffs with two consecutive losses.
"It was really important for us to bounce back and get that win. It didn't really matter too much in the grand scheme of things, but it was really good to get our confidence up and have momentum going into tomorrow."
The 8-3 win against Team McDonald moved Team Tao from third to second in his pool.
"We were in the quarter-finals either way, but that win was more a confidence booster than anything."
Team Young also finished on a winning note, defeating Team Bernath 8-7.
"We're feeling really well," Young said. "It has been five really good games. We feel every game we are improving. We're picking a few things to work on every game and looking forward to the playoffs now."
"We are looking at three tough playoff games (to win the championship). Although both teams are in the playoffs, it was an excellent game to prepare us for the playoffs."
He said the team would continue to do what it did to go 4-1 in the round robin.
"We have to remember to stay focussed and to stay together as a team. That is a key for us. We are very good friends. Have fun."
Team Purcell was the only team to go unbeaten in the round robin. The team defeated Team Connor Deane (2-3; New Westminster, B.C.) 5-4 in their finale.
Purcell said going unbeaten in the round robin "was fantastic" and feels "really good."
He said it is back to square one for the teams remaining in the competition.
"We're feeling good going into the semi-final, and then hopefully the final."
He said there won't be change in preparation for a playoff game.
"Just keep doing what we are doing, and focusing on throwing the right weight at the stick, and keeping our weight judgment crisp. Keep throwing good rocks and good things will happen."
Team Mitchell dropped its final game 7-6 to Team Mitchell Schut (2-3; Cornwall, P.E.I.)
In the other games, Team Dallas Burgess (1-4; Kakabeka Falls, Northern Ontario) defeated Josh Nowlan (1-4; Moncton) 7-4, and Team Raphael Patry (1-4; Jonquiere, Que.) defeated Team Jullian Bowling (0-5, Yellowknife) 8-5.
Young paid tribute to organizers for the way the event has been managed.
"Saskatoon has been a great time. All the volunteers here, the officials, the curling club and the ice crew have been amazing. It's been a lot of fun."
The winners of the championship will advance to the worlds in March in Sweden, and get a trip to the Continental Cup.
Live scoring, standings and statistics for the New Holland World Juniors Qualifying Event are available at www.curling.ca/2021worldjuniorqualifier/ and curling.ca.
This story will be available in French as soon as possible at https://www.curling.ca/category-all-posts-fr/?lang=fr