Tiebreaker logjam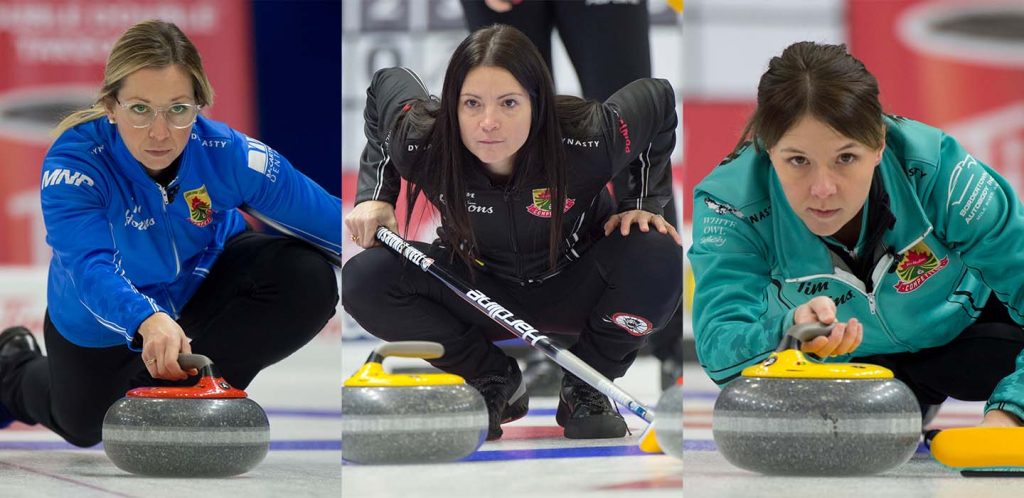 Three-way tie for final playoff spot at Tim Hortons Trials
Team Kelsey Rocque of Edmonton will likely get Christmas cards from Team Krista McCarville and Team Casey Scheidegger this season.
And why not? Team Rocque did the other two teams a huge favour Friday afternoon by knocking off Team Kerri Einarson of Gimli, Man., by score of 8-4 in the final women's draw of the round robin at the 2021 Tim Hortons Curling Trials, presented by AGI, at SaskTel Centre in Saskatoon. That was enough to open the door for Team McCarville and Team Scheidegger to breathe new life and get back into contention for the coveted berth into the Winter Olympics next February.
The loss dropped Team Einarson's record to 4-4 and in a three-way tie for the third and final playoff position. Team Scheidegger of Lethbridge, Alta., climbed to 4-4 after an 8-6 win over Team Rachel Homan (2-6; Ottawa). McCarville's Thunder Bay, Ont., outfit was at 4-4 Thursday night and watched the final draw with great interest from the sidelines on its bye.
Usually four losses at the Tim Hortons Trials gets a team squat, but not this year.
Scheidegger was absolutely thrilled to get new life.
"I can't believe it," she gushed. "I'll have to thank our friends from Alberta for helping us out there. That was very kind of them. We're really excited to keep playing."
Scheidegger admits it was hard not to scoreboard watch.
"Yeah, we did," she said. "But our game was pretty tight so we had to concentrate there."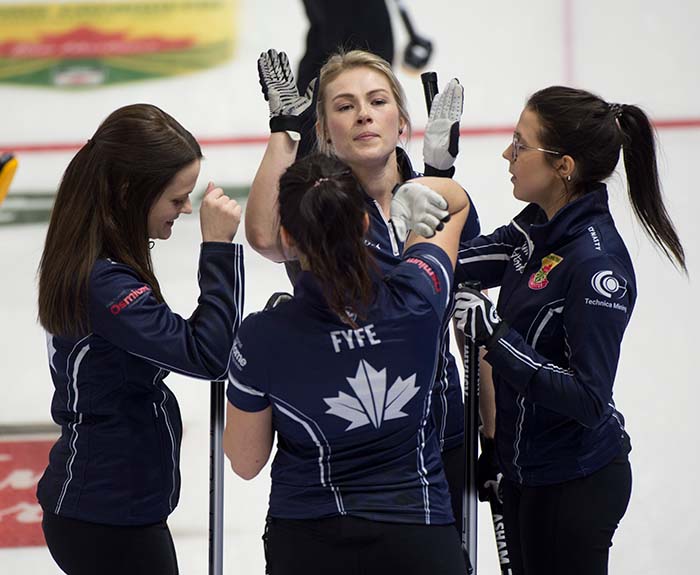 Team Laura Walker (3-5; Edmonton) had a chance to join the tiebreaker party but stumbled coming home and lost 10-9 in an extra end to Team Jacqueline Harrison (3-5; Dundas, Ont.).
The last-minute dramatics overshadowed the crowning achievement of Team Tracy Fleury's East St. Paul Curling Club team from Manitoba. The team, which includes vice-skip Selena Njegovan, second Liz Fyfe, lead Kristin MacCuish, alternate Chelsea Carey and coach Sherry Middaugh, wrapped up its round-robin with a perfect 8-0 record after an 8-6 win over Winnipeg's Team Jennifer Jones, which finished second overall with a 5-3 record.
Einarson was kicking herself that she didn't seal the deal.
"We weren't that sharp that game," she said. "We went too deep on some draws and they really punished us for that. You can't afford to do that.
"We never do anything the easy way. It is what it is. They played a really great game."
Einarson was forced in the latter ends to try two in-offs and an angle-raise double to bail herself out of trouble, but she missed them all.
The three-way logjam won't be cleared until Saturday with two tiebreakers games. Team Einarson plays Team Scheidegger at 9 a.m. (all times Central) in the first tiebreaker, with the winner meeting Team McCarville at 2 p.m.
The winner of that will play Team Jones at 7 p.m. in the semifinal.
The 2021 Tim Hortons Canadian Curling Trials continue tonight at 7 p.m. with the final men's round-robin draw.
Live scoring, standings and statistics for the 2021 Tim Hortons Canadian Curling Trials are available at www.curling.ca/scoreboard/
All draws from the 2021 Tim Hortons Canadian Curling Trials are being broadcast in Canada on TSN and RDS. CLICK HERE for the broadcast schedule in Canada. As well, streaming coverage will be available on ESPN3 to fans in the U.S. with valid U.S. cable or satellite accounts.
This story will be available in French as soon as possible at www.curling.ca/2021trials/nouvelles/?lang=fr