First hurdle cleared!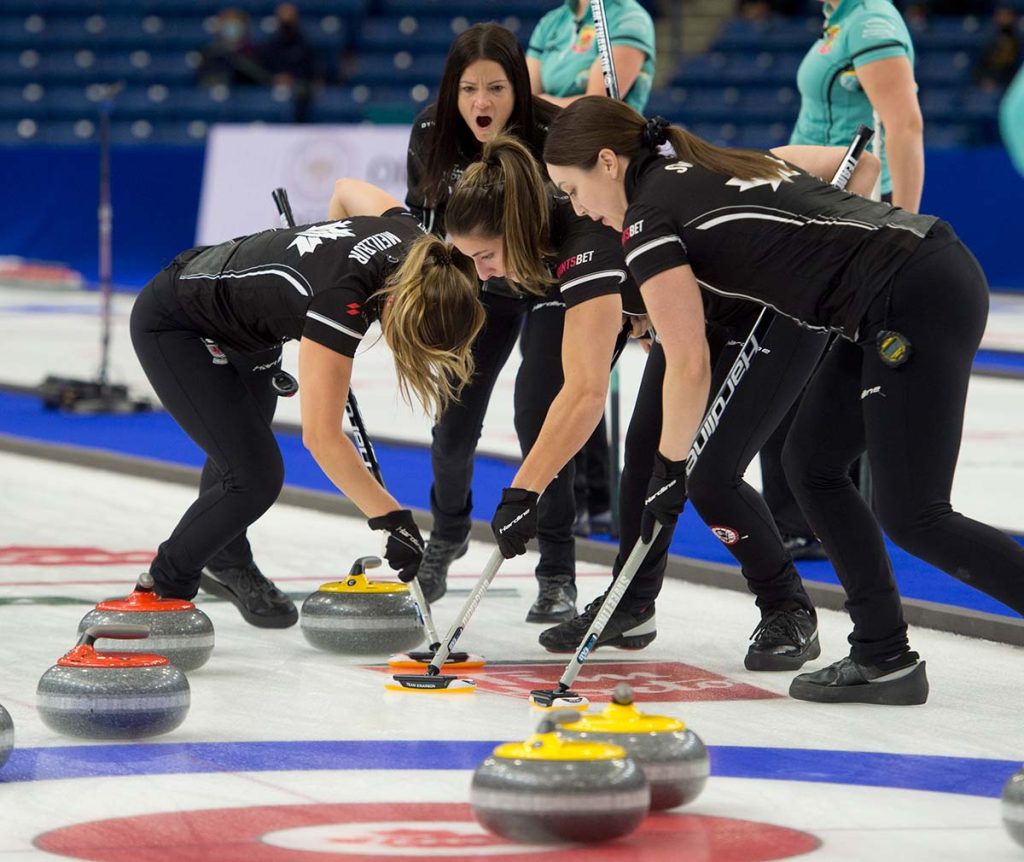 Team Einarson hangs on to win tiebreaker No. 1 at Tim Hortons Trials
Kerri Einarson is no stranger to curling marathons. She became well versed in the process last season.
So staring at the prospect of needing four straight wins in two days to win the women's bracket at the Tim Hortons Curling Trials, presented by AGI, was a challenge, but doable, for the likeable skip from Gimli, Man.
Team Einarson took the first step on that difficult road Saturday morning in Saskatoon, knocking off Team Casey Scheidegger of Lethbridge, Alta., 8-6 in the first women's tiebreaker at SaskTel Centre.
The win advanced Team Einarson — including vice-skip Val Sweeting, second Shannon Birchard, lead Briane Meilleur, alternate Krysten Karwacki and coach Heather Nedohin — into a second tiebreaker in the afternoon against Team Krista McCarville of Thunder Bay, Ont.
The second tiebreaker is slated for 2 p.m., with the winner taking on Team Jennifer Jones of Winnipeg in the semifinal at 7 p.m. (all times Central).
The special tiebreaker process was required when the three teams finished in a tie for the third and final playoff spot with 4-4 records after the nine-team round-robin.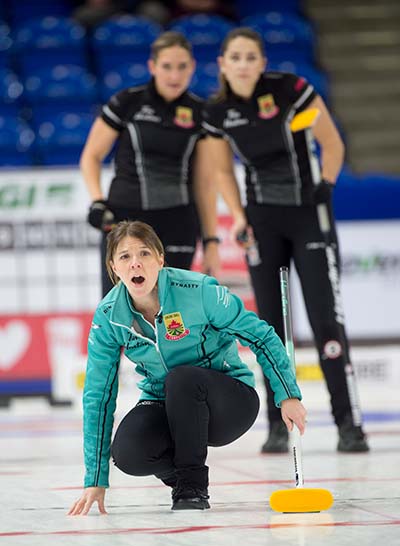 Team Einarson, the reigning two-time and back-to-back Canadian women's champion, had to shake off the bad vibes suffered after failing to clinch a playoff spot in its final round-robin game Friday. But it wasted little time taking control, cracking a fat four-ender in the third and forcing the Albertans to chase.
And chase they did, closing the gap and eventually taking a 6-5 lead after nine ends.
But Team Einarson survived a white-knuckle 10th end, using the hammer to kick out a Team Scheidegger shot stone in the four-foot to nail down the win.
It was a much different game than the one the two played in the round robin which Team Einarson won 10-5 in eight ends.
"We hung in there, we weren't worried and put some shots together and got our [three]," said Einarson. "It's been a grind. All these teams are amazing. They keep coming out firing at us."
Scheidegger admitted the early deficit was hard to overcome.
"We just tried to stay as positive as we could," she said. "I mean they were missing a few shots too so we knew we might get some chances and we did. I think as a team we curled really well in the last half and that gave us an opportunity to come back. We were close, real close."
Einarson is hoping the win will be the springboard to Sunday's final and a date with Team Tracy Fleury of East St. Paul, Man., to battle for a berth in the Olympic Games in Beijing.
Of course Team McCarville and Team Jones are still standing in the way.
Einarson has dealt with a rugged schedule before, and survived nicely. She defended her Canadian championship, added the Canadian mixed doubles title with Brad Gushue, and captured a Slam event, all within Calgary's bio-secure 'bubble' last season. She also had to deal with world championship appearances in the mixed doubles and women's events.
Live scoring and statistics for the 2021 Tim Hortons Canadian Curling Trials are available at www.curling.ca/scoreboard/
All draws from the 2021 Tim Hortons Canadian Curling Trials are being broadcast in Canada on TSN and RDS. CLICK HERE for the broadcast schedule in Canada. As well, streaming coverage will be available on ESPN3 to fans in the U.S. with valid U.S. cable or satellite accounts.
This story will be available in French as soon as possible at www.curling.ca/2021trials/nouvelles/?lang=fr