One win away!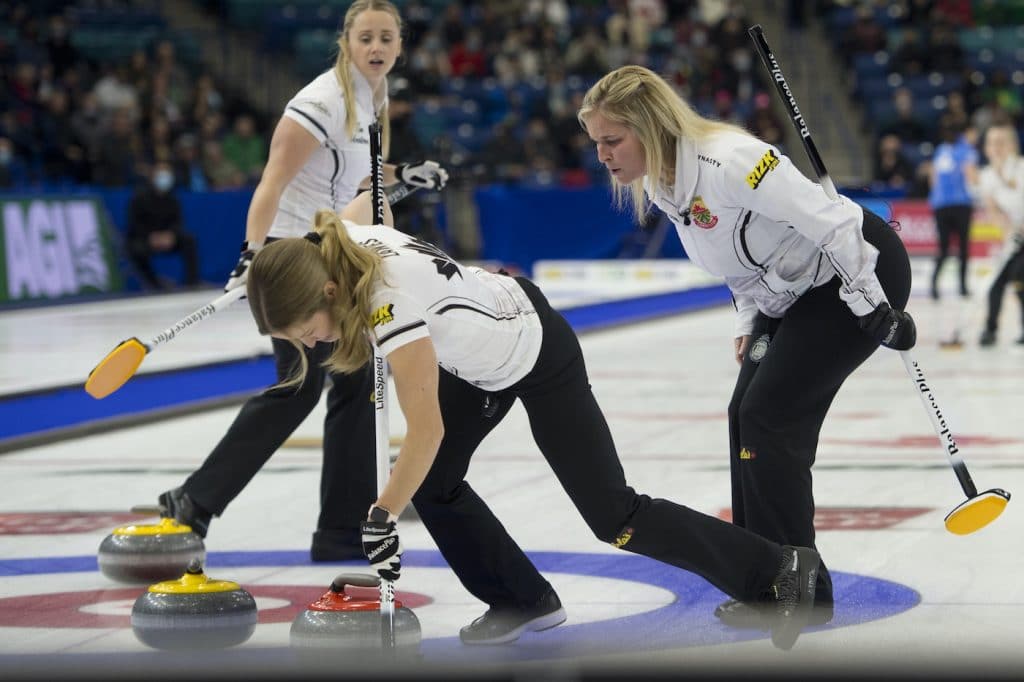 Team Jones creeps closer to Olympics berth at Tim Hortons Trials
All great sporting careers come to an end, and it will, too, for Winnipeg's Jennifer Jones, one of the greatest women curlers Canada has ever produced.
But if the 2021 Tim Hortons Curling Trials, presented by AGI, are any indication, her retirement date is a long way off.
Jones, 47, continues to prove she has the game, determination and team to win at the highest level. Her team's performance Saturday evening in the women's semifinal was a stirring example. The St. Vital Curling Club outfit defeated Team Krista McCarville of Thunder Bay, Ont., 8-3 to move to within one win of going to the Olympic Games, the scene of Jones's greatest triumph.
"Four years ago if they said you'd be in the Olympic Trials final, you'd sign up in a heartbeat," said Jones, supported by a formidable lineup of vice-skip Kaitlyn Lawes, second Jocelyn Peterman, leads Dawn McEwen and Lisa Weagle and coach Viktor Kjell. "It's so hard to get here in Canada. We were lucky enough to have the opportunity once. To do it again would be incredible."
The win pits Team Jones against Team Tracy Fleury of East St. Paul, Man., on Sunday at 11 a.m. in a battle for all the marbles. The winner will represent Canada at the 2022 Winter Olympics in women's four-player curling in Bejing, China.
Fleury, supported by vice-skip Selena Njegovan, second Liz Fyfe, lead Kristin MacCuish, alternate Chelsea Carey and coach Sherry Middaugh, rolled through the round-robin unbeaten (8-0) to earn direct entry into the final. Team Jones finished second at (5-3).
Team Fleury defeated Team Jones 7-6 in their round-robin game.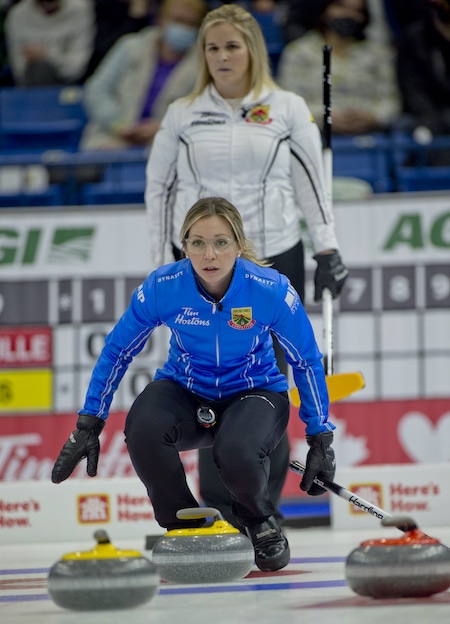 The semifinal win was vintage Team Jones: wait for an opening, then pounce. And always pressure, pressure, pressure. Eventually, Team McCarville cracked under the strain. Team Jones stole two in the fifth end when McCarville came up short on a draw to the button, and with a 4-1 lead the script was being written. Team McCarville rebounded with a deuce in six, but it was all Team Jones after that.
"We wanted to put lots of pressure on them and get rocks in play," said Jones. "We felt really good with draw weight. Fortunately for us we got a couple of misses."
A return to the Olympics has been Jones's mission since she won gold for Canada at the 2014 Olympics in Sochi, Russia. Since then she's piled up more honours and championships, but it was always the Olympics that motivated her.
Now she has the opportunity to add more lustre to her resume, which includes six national women's championships and that Olympic gold.
"These are the moments that you play for," said Jones. "The adrenaline run. It's what makes sports so much fun."
The loss ended Team McCarville's Magical Mystery Tour at the Tim Hortons Trials. The Lakehead players looked dead, buried and out of the event twice, but some huge breaks, and timely shots, kept them in it.
Saturday the team, including vice-skip Kendra Lilly, second Ashley Sippala, lead Sarah Potts, and coach Rick Lang, ran out of miracles.
"We just didn't catch on to the ice tonight," said McCarville, who defeated Team Kerri Einarson of Gimli, Man., 4-3 in an extra end in the second tiebreaker earlier in the day. Team McCarville, Team Einarson and Team Scheidegger of Lethbridge, Alta., were all involved in a special tiebreaker after finishing the round-robin tied for third with 4-4 records.
Live scoring and statistics for the 2021 Tim Hortons Canadian Curling Trials are available at www.curling.ca/scoreboard/
All draws from the 2021 Tim Hortons Canadian Curling Trials are being broadcast in Canada on TSN and RDS. CLICK HERE for the broadcast schedule in Canada. As well, streaming coverage will be available on ESPN3 to fans in the U.S. with valid U.S. cable or satellite accounts.
This story will be available in French as soon as possible at www.curling.ca/2021trials/nouvelles/?lang=fr