Winners: Northern Ontario and Nova Scotia!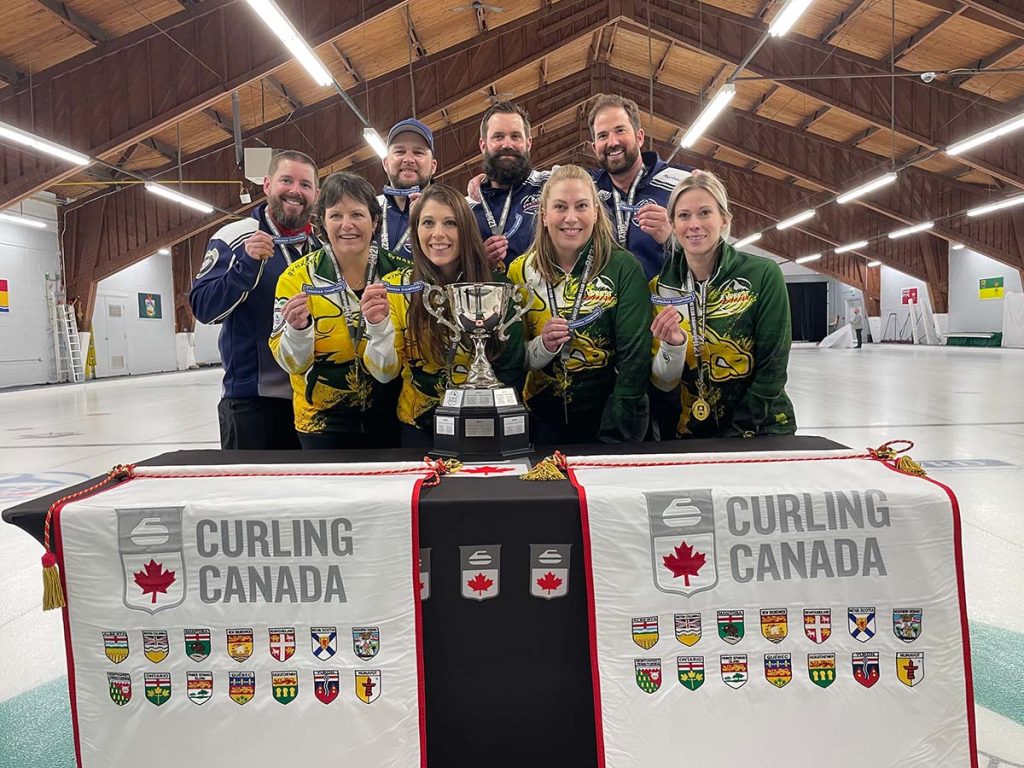 Northern Ontario women and Nova Scotia men claim 2021 Everest Canadian Curling Club Championships titles
Nova Scotia's Team Nick Deagle and Northern Ontario's Team Tracey Larocque have claimed their positions as the best male and female curling club teams in the country on Saturday. The teams won gold-medal games at the 2021 Everest Canadian Curling Clubs Championships at the Ottawa Hunt and Golf Club.
It's the first time Nova Scotia and Northern Ontario have won gold in the history of the event and engraved the names of Team Deagle and Larocque in Canada's history books as national champions.
"I guess we're with some of those big names as a Canadian champion… It's crazy for us because we were actually in this event like two years ago and were at the bottom of the list," Larocque said shortly after receiving her gold medal.
Larocque, vice-skip Samantha Morris, second Corie Adamson and lead Rebecca Carr of the Fort William Curling Club in Thunder Bay, Ont., scored two in an extra end to defeat Ontario's Laurie Shields of the York Curling Club in Newmarket by a score of 7-5.
Larocque, Adamson and Carr were part of the Northern Ontario team that competed at the event in 2019 at Leduc, Alta. The team finished with a 1-5 record.
"We shuffled things around a bit, and we just gelled. We gained so much experience the first time. We didn't know what we were getting into," Larocque said. "Now we're here, and we know we can play and not worry about all of the events and everything happening around us."
Larocque made a hit around the guard to score two and secure the first gold medal in Northern Ontario's history at the event.
Deagle's team from Nova Scotia defeated Saskatchewan 3-2 to win the gold medal. He had roughly 228 text messages from friends and family wishing him congratulations when he stepped off the ice. Deagle of the Bridgewater Curling Club and vice-skip Jason van Vonderen, second Robert Phillips and lead Ryan Sperry, clinched Nova Scotia's first gold medal in the event's history in a low scoring affair.
"It hasn't really sunk in yet. We never thought that we were really top contenders or anything like that. It's exciting! It's very exciting," Deagle said.
With the game tied two apiece, Deagle made a sharp angle tap back to score one in the eighth end for the victory over Dean Grindheim of the Sutherland Curling Club in Saskatoon.
"As long as you have a shot to win, that's all a skip could ask for," Deagle said. "We didn't run the table by any stretch of the imagination, but we won the games we had to win."
In the women's bronze-medal game, Nova Scotia's Celina Thompson of the Mayflower Curling Club in Halifax bested Yukon's Laura Eby of the Whitehorse Curling Club by a score of 5-3. In the men's game, Ontario's Adam Spencer of the Guelph Curling Club defeated Prince Edward Island's Darren Higgins of the Silver Fox Curling Club in Summerside by score of 10-4.
It was the 12th edition of the Canadian Curling Club Championships and the first since 2019. It was its first event as the title sponsor for Everest and showcased its commitment to developing grassroots curling in Canada.
"Everest was fantastic. I can't believe how well everything was actually run and put on. But to actually have the club championships for grassroots, recreational curlers it just amazing," Larocque said. "It's something that needs to happen because there's a lot of curlers out there who just can't compete and have the time and resources to compete at an elite level. But we still like to compete and we can still do it. This has been such a great opportunity to make it happen."
"It's amazing. And you've got a great sponsor in Everest too, the Hunt Club and everybody that makes it happen. It gives guys like us this opportunity. It's an amazing experience and something that I'm going to remember forever. I'll tell you that," said Deagle.
The Everest Canadian Curling Club Championships have been hosted since 2009. Ontario and Alberta lead all Member Associations with three men's gold-medal wins. Manitoba leads with way with four gold-medal wins on the women's side.