Grassroots wheelchair curling!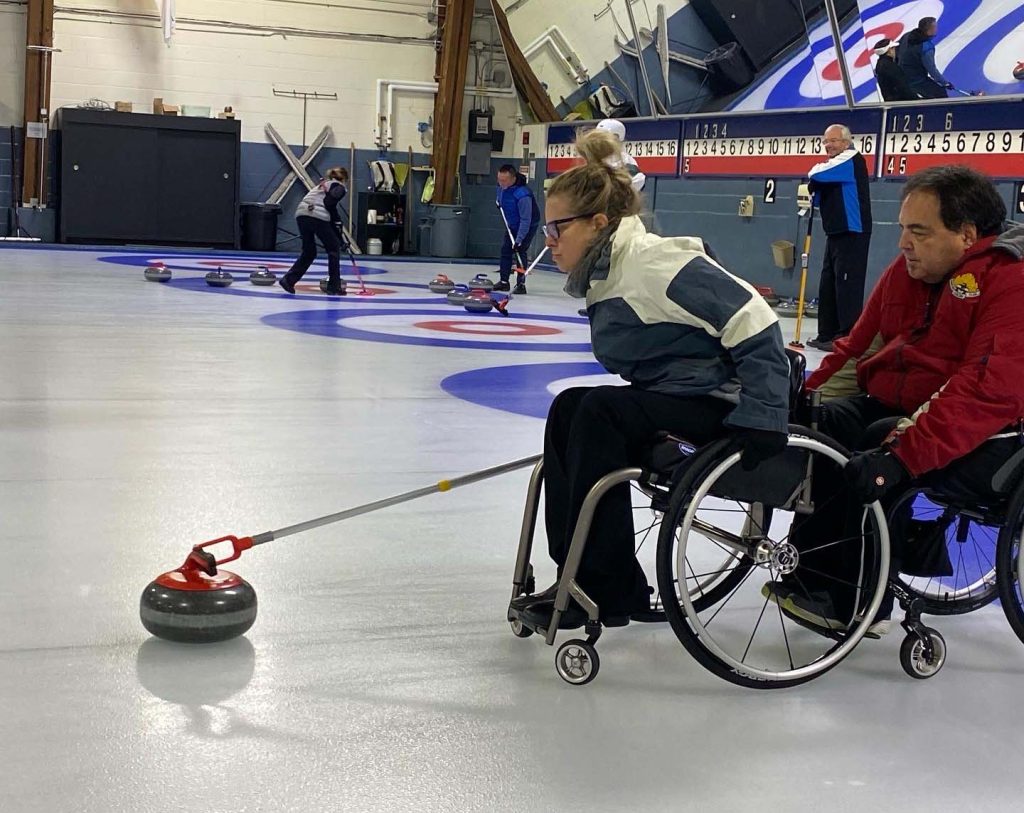 Focus shifts to growing grassroots game of wheelchair curling in Canada
In wheelchair curling, Canada's international record is quite impressive. With four medals – three gold and a bronze – in four attempts at the Paralympic Games, as well as several championships and podium finishes at world championships, there is little debate that the top-tier of Canadian wheelchair curlers are as competitive as anyone.
But what about the grassroots level?
Many curling centres across the country so host wheelchair curlers, either as part of regular leagues or in wheelchair-specific events. And while that's a start, at least one provincial body thinks it could be doing much better.
The Ontario Curling Council (OCC), the Provincial Sport Organization responsible for CurlON and the Northern Ontario Curling Association, has launched a series of new events urging wheelchair athletes to "Give it a Go." Working with the Ontario Parasport Collective and other organizations that deal with wheelchair users, the idea is to recruit new athletes to curling and eventually increase the number of competitive players in the province.
"We have some very active pockets of wheelchair curling in Ontario," said Jennifer Ferris, Manager of Programs and Operations for the OCC. "So, where we have locals who are passionate, we help however we can to help them build their programs."
The OCC has funded "Give it a Go" events in two cities, with more scheduled. In Bobcaygeon, Ont., the first event saw six new wheelchair athletes try curling for the first time. All six intended to return to play again.
A few weeks later, the Toronto Cricket, Skating, and Curling Club (TCSCC) hosted nine new wheelchair curlers. While some had curling before, five were brand new to the sport.
"Our event was a huge success," said Shauna Petrie, a provincial champion and TCSCC member. "Everybody had a great time, and every single person was interested in coming back and playing again."
While that seems like a good thing on the surface, Petrie indicated that it also presents a challenge.
"There aren't enough accessible clubs or wheelchair curling programs across the province," said Petrie. "Trying to find opportunities for these players to continue playing or finding a club to join isn't always easy."
Petrie added that the TCSCC is committed to providing ice-time to wheelchair curlers to help continue the development of the new athletes.
St. Catharines, Ont., and the York Curling Club, north of Toronto, will host upcoming "Give it a Go" events.
"The idea is to engage as many new curlers as possible," said Ferris. "Eventually, we'd like to start identifying some athletes who have competitive ambitions and put them on a course to pursue them. We're especially interested in athletes who are already playing in other para-sports. They tend to be coachable and have an interest in fitness, nutrition, and so on."
The St. Catharines event will take place on Dec. 17 and features the Canadian National Wheelchair Curling Team members as instructors.