Champions Crowned!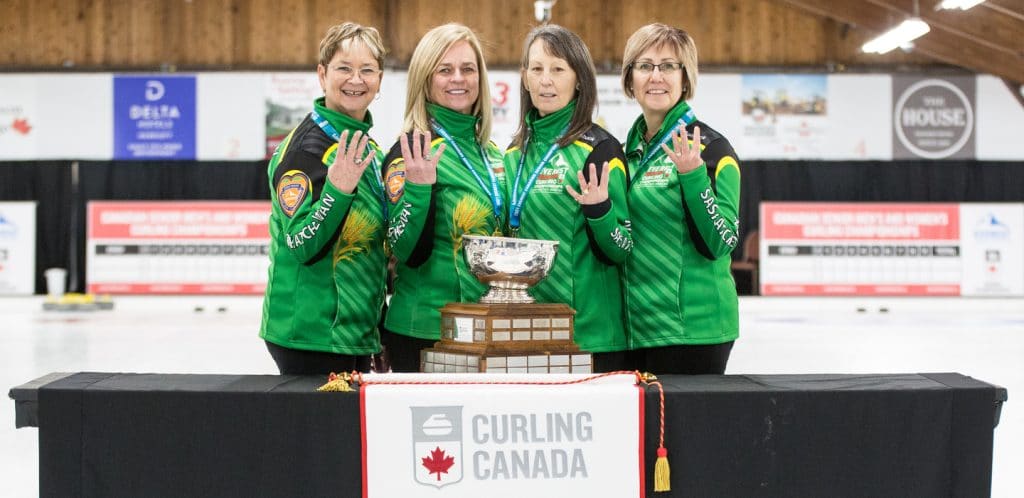 Saskatchewan women and Alberta men claim gold in grandiose fashion at 2021 Everest Canadian Senior Curling Championships
Sherry Anderson has cemented her spot in the history books with a women's gold medal win at the 2021 Everest Canadian Seniors Curling Championships from the Community First Curling Centre in Sault Ste. Marie, Ont.
It's a record-breaking fourth consecutive Canadian senior women's title for Anderson, vice-skip Patty Hersikorn, second Brenda Goertzen, lead Anita Silvernagle of Saskatoon. That lineup shared and now surpasses the record of three in a row with another Saskatchewan team skipped by Ev Krahn that won in 1984, '85 and '86.
The 2021 championship victory is no small feat for an athlete as decorated as Sherry Anderson. Not only does she dominate the senior women's circuit, but she also skipped a rink at the 2021 Home Hardware Olympic Curling Pre-Trials this past November in Liverpool, N.S., and boasts 10 Scotties Tournament of Hearts appearances; including being Saskatchewan's representative at the 2021 Scotties Tournament of Hearts inside the Calgary Hub City Bubble edition of the championship.
The women's gold medal match featured Saskatchewan taking on British Columbia's Mary-Anne Arsenault (9-3; New Westminster), who isn't short on accolades herself. Arsenault is a five time Scotties champion and her B.C. rink entered the playoffs as the second seeded team who defeated Nova Scotia in the semifinal to earn the finals berth.
Ultimately, Saskatchewan was a force that could not be stopped. They found themselves up 3-2 on the scoreboard at the fourth end break in a tightly contested match before a key score of three points with hammer in the seventh end would open a 7-4 gap. British Columbia, needing a score of three in the eighth end to tie the match, attempted a hail mary runback quadruple takeout on Arsenault's final stone but found no purchase in their attempt, making the final 10-4.
The championship win for Saskatchewan is the 10th overall in Canadian Senior Women's Curling Championship history. Saskatchewan is now tied alongside Ontario (10) for most total crowns since the event began in 1973 in Ottawa.
Nova Scotia's Theresa Breen (8-4; Halifax) would claim the women's bronze medal with a commanding 9-2 victory in just seven ends over Alberta's Cheryl Bernard (6-6; Calgary). The Nova Scotians started the match strong with four straight singles in four ends and would cap the victory off with a score of five in the seventh.
In men's action, Alberta's Wade White (12-0; Lac La Biche), alongside vice-skip Barry Chwedoruk, second Dan Holowaychuk and lead George White, proved that they were the best team this week, completing a magical perfect run at the event to claim the gold medal over Ontario's Bryan Cochrane (10-2; Russell).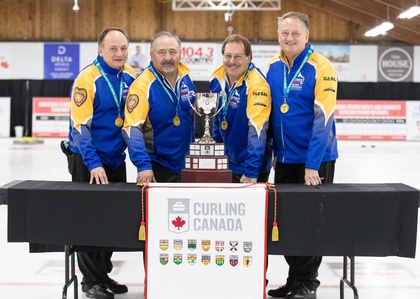 White and company are not short on experience. The foursome have past success together, claiming the 2017 Canadian and 2018 World senior championships as a unit.
The men's gold medal final came right down to the wire. While no team ever managed to score more than a single point in any end, Alberta found itself tied 3-3 with hammer headed into the eighth end. Needing to draw for the win on his final stone, White made no mistake and secured the 4-3 gold medal win.
Continuing on the men's side, Saskatchewan's Darrell McKee (8-4; Saskatoon) claimed the bronze medal over Québec's François Roberge (7-5; Etchemin) by a score of 8-4. Saskatchewan opened the match with a key steal of two in the first end and never looked back, adding an additional 5 points via the steal throughout the match.
Both Saskatchewan and Alberta will now represent Canada in the 2022 World Seniors, at a site and date to be announced by the World Curling Federation.
Draw results for the 2021 Everest Canadian Seniors will be available at www.curling.ca/scoreboard. For event information, visit www.curling.ca/2021seniors.
This is the sixth year of title sponsorship by Everest, the first nationwide funeral planning and concierge service.
Live streamed games from the 2021 Everest Canadian Senior Championships will be archived on Curling Canada's YouTube channel.