Always learning!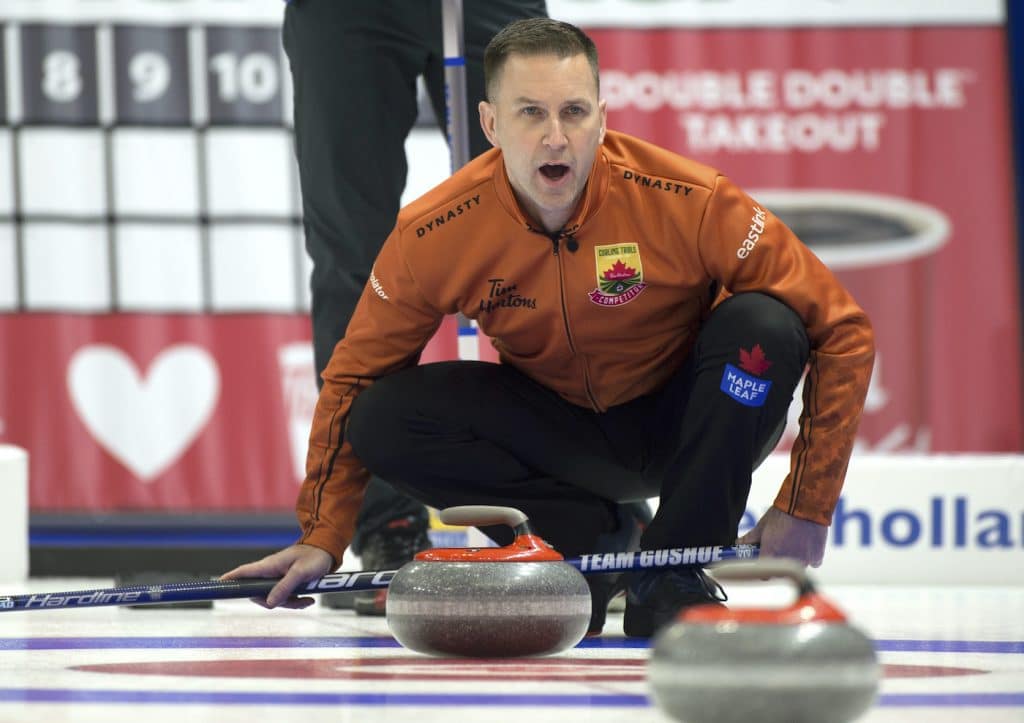 Olympian Brad Gushue about to complete his MBA
By GEORGE JOHNSON
As most anyone of a certain age would attest, glancing back over a shoulder at your 24-year-old self usually prompts a mixture of fascination, bemusement and, yes, the slightest of shudders.
"Well, I had been out of school for 17 years,'' muses Brad Gushue, Canada's men's Olympic curling skip, who's been back hitting the books since the summer of 2020.
"So the last 20 months, I'd say, have been pretty chaotic. Pretty stressful.
"But we're almost at the end of the tunnel. There's light ahead.
"To be able to do all this during a pandemic is something I'm pretty proud of and is an asset I can use down the road when my curling career is done.
"I've been juggling a lot of balls."
More balls, actually, than a street busker in London's Covent Garden tourist district.
Husband. Dad. Business owner. Competitive curler at the highest level.
And, in something of a Marty McFly/Back to the Future moment, student, too.
The onset of COVID-19 and the resulting uncertainty of a curling schedule any time soon proved to be the trigger for Gushue — co-owner alongside Team Canada rink-mate Mark Nichols of Orange Theory Fitness studio in his hometown of St. John's, N.L. — to enrol in Queen's University's Smith School of Business's accelerated Master In Business Administration course.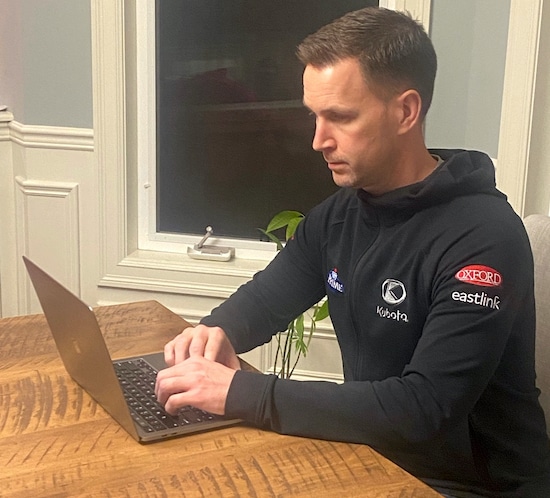 The fact that he'd be able to complete his school assignments remotely from home base in Newfoundland and Labrador, and over a one-year period, seemed an ideal way to keep busy and improve
"When I saw gave the program, the dates, I said to myself 'Even if curling goes ahead, it fits pretty well. No conflict in missing a Slam or the Brier or anything like that.
"But never thought I'd go back to school and when I did it was a big change."
Gushue had earned a Bachelor of Business Administration degree from Memorial University in St. John's back in 2004.
"That younger me, when I went to university, well, being honest my marks weren't exactly great,'' he acknowledges. "At that stage in my life, I'd do the minimum amount to get by because I was so focused on curling. Everything else in my life took a back seat.
"School wasn't only second on my pecking order, my list of priorities, it was third or fourth. Way down."
Since those days at Memorial, of course, he's collected an Olympic gold medal in Torino, Italy, three Tim Hortons Brier titles and a World championship.
That list of accomplishments didn't hold any water whatever in the academic world. Jumping back into class, even remotely, certainly wasn't as easy as, say, getting back on a bike or nailing a dead-straight, empty-house takeout in the 10th end for the W.
"During the first couple months, when that first wave of assignments came in — I had three or four to do in a short period of time — I was like: 'Oh. My. God. Why did I get myself into this mess?'' he laughs.
"I got through that wave and then another wave hit around June, where we had a flurry of papers due, a lot work to dig into.
"Over the last number of weeks, too, I've said to myself, many times: 'Really?' ''
At 41, Gushue is now but one paper away from from earning that MBA. Consider it a companion degree to his prestigious PhD in high-stakes curling shot-making.
"Nothing much was going on. Then we heard about the Bubble in Calgary being used for some events. Well, that format worked out really well for me because there was so much down time in the Bubble that I was able to get a lot of studying done and my papers written.
"But you hear people talk about doing schooling remotely as opposed to in person. Each class was three and a half hours, we'd do two in a row, on a Sunday and then a Monday, so you spent seven hours on a Zoom call. Your attention, your focus takes a real beating, trying to keep yourself engaged for that period of time while looking at a screen.
"We'd finish those days and I'd be completely exhausted.
"Last week (the second week in December), I found the (in-person) classes in Kingston (Ont.) so much easier. So it has been a challenge. No doubt about it.
"Every event we played this year, I'd be chipping away, either at a paper, or doing some reading, whatever it might be."
For the Tim Hortons Canadian Curling Trials, presented by AGI, last month in Saskatoon, though, Gushue was determined to clear his day planner and solely zone in on a February trip to Beijing.
"I made the commitment to not even take the books with me. I was focused one thing, and one thing only. I didn't do any school work. A lot of the programs that I'm doing involves teamwork stuff. I told the rest of my group that these days are going to be a blackout for me. I'm not going to be communicating about school; not going to answer questions.
"And they were super-supportive. That helped so much.
"I felt I had to get ahead of things. My group members gave me a pretty hard time because I'd have all my assignments in a week early.
"But that meant no last-minute pressure-packed situations of trying to pump out a paper four hours before it was due – which is how I went through my undergrad.
"We got a ton of work done in advance so I wasn't inundated. We were well ahead so at the the Trials I felt really comfortable leaving the books at home.
"With the amount of pressure you feel at the Trials, it was good to take that school stuff off my mind. Adding those worries would've been a bit too much."
That carefully-plotted laser-focus paid off handsomely at SaskTel Place, a 4-3 decisioning of fellow Olympian Brad Jacobs and his Northern Ontario crew in the final sending Gushue back to the Olympics for the first time since 2006.
"Does that seem long, long ago?" he muses. "Well, yes and no. On the yes side, I just have to look at my two kids" – Marissa and Hayley. "They're 10 and 14 years old now. Last time I went to an Olympics I was engaged, no kids, no job. I was solely focused on getting to Turin and curling. That was the be-all, end-all of my life.
"A lot has happened in 16 years. Now, curling's not the be-all, end-all for me. So from that perspective it does seem a lifetime ago.
"But, you know, I still can still close my eyes and place myself in that moment before we stepped on the podium. That's still fresh in my mind. As if it were yesterday. And it's something you always dream of repeating. To have that chance."
The chance to 'school', if you will, the best in the world on the grandest stage in sport and, once again, be an Olympic champion.