Battle of the Backups!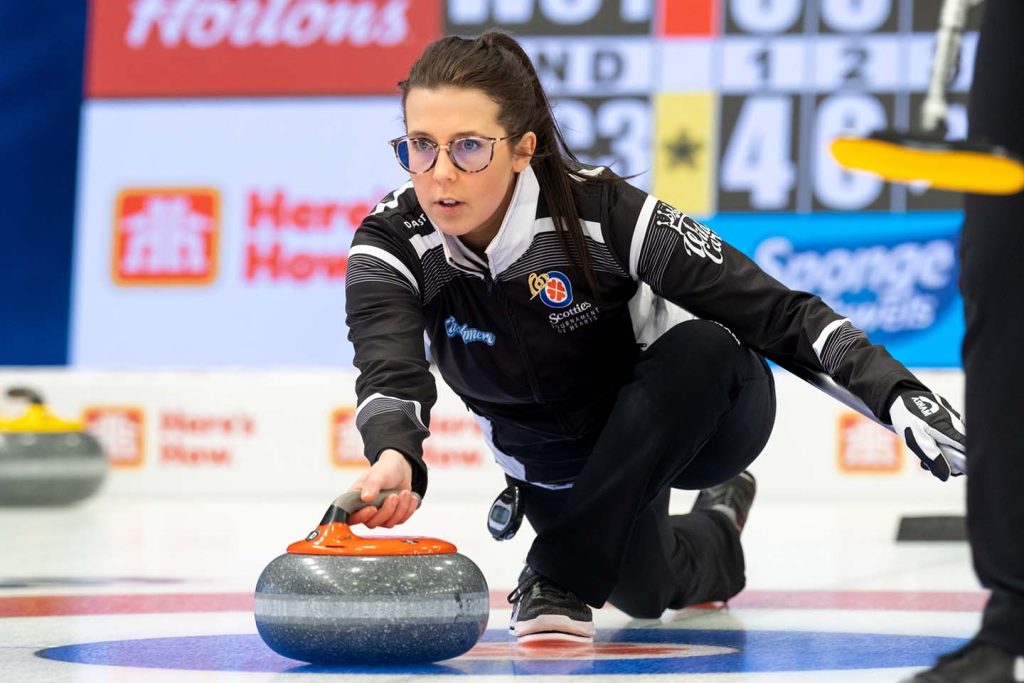 Njegovan wins slugfest at Scotties Tournament of Hearts
It should have been billed as the Battle of the Backups.
Backup skips, that is. And battle it was.
Emma Miskew and Selena Njegovan were thrust into the role of skips due to circumstances this week at the 2022 Scotties Tournament of Hearts, and there they were Monday morning at Fort William Gardens in Thunder Bay, Ont., going at it, hammer and tong, in a key Pool A matchup.
Njegovan, skipping Team Wild Card 1 (3-1, East St. Paul, Man.) won the Battle Royale, scoring a super entertaining 11-9 slugfest win over Miskew's Team Wild Card 3 (2-2, Ottawa).
It was a wild and wooly affair as both teams traded big blows throughout the game. Team Wild Card 3 got in the first big blow, scoring four in the very first end.
But there were plenty of fireworks to come. Njegovan replied with a three on the very next end, and in the fourth made a brilliant raise-takeout on her own rock, to get out of jail. It led to a steal of one and denied Miskew a certain count of three.
Njegovan followed with another steal and suddenly was in front, 5-4. Miskew fired back with three more in the sixth but, unbelievably, Njegovan had an open draw for five in the seventh.
"It was a crazy game. There were a lot of ups and downs right from the first end," said Njegovan, who has had to take the helm of Team Wild Card 1 in the absence of regular skip Fleury due to COVID protocols.
It was a key win because it kept the Manitoba-based team in the hunt for the desired No. 1 spot in the nine-team pool round-robin standings at the end of the week.
Njegovan said the first end wasn't ideal, of course, but "we knew it was early. If you're going to give up a big end it's best to give it up early in the game. Getting the three back right away was a big momentum for us. We just kept fighting throughout the game."
Njegovan, backed by third Robyn Njegovan (Selena's sister in law), second Liz Fyfe, lead Kristin MacCuish and coached by Sherry Middaugh, stayed one game behind leader Andrea Crawford, who roared back from a 6-1 deficit to lead Team New Brunswick (4-0, Fredericton) to a 10-8 extra-end win over Prince Edward Island's Suzanne Birt (1-3, Charlottetown).
Crawford was thrilled to wriggle off the hook against the Islanders.
"We didn't start out very well in that game, with half misses here and there, but we wanted to work hard to finish it well," she said. "I'm certainly pleased how we finished the game."
Team Wild Card 3 fell back into fifth place in the pack, trailing hometown favourite Krista McCarville of Northern Ontario (2-1, Thunder Bay) and Penny Barker's Team Saskatchewan (2-1, Moose Jaw) in the standings.
McCarville had the morning bye while Barker fought off a furious comeback from Team Wild Card 2 skipped by Chelsea Carey (1-2, Regina) to prevail 8-7 in an extra end.
In the only other game on the docket Monday morning, Newfoundland and Labrador's Sarah Hill (1-2, St. John's) skipped her team to a 12-3 victory over Nunavut's Brigitte MacPhail (0-4, Iqaluit).
The 18 teams are split into two pools of nine, and will play a complete eight-game round robin. The top three teams in each pool advance to the playoffs where it will be further reduced to a Final Four and a Page playoff system.
Making the playoffs is key, but teams are also eyeing the No. 1 spot which gives them a big advantage in the sprint to the finish. Pool winners get a bye into the semi-finals of the first round of the six-team playoffs.
The final goes Sunday, Feb. 6.
The 2022 Scotties Tournament of Hearts continues Monday with draws at 2 p.m. and 7 p.m. (all times Eastern).
Live scoring, standings and statistics for the 2021 Scotties Tournament of Hearts are available at www.curling.ca/scoreboard/
TSN and RDS2 (streamed on ESPN3 in the United States) will provide complete coverage of the 2021 Scotties Tournament of Hearts. CLICK HERE for the complete schedule.
This story will be available in French as soon as possible at https://www.curling.ca/2022scotties/nouvelles/?lang=fr