Gun for hire!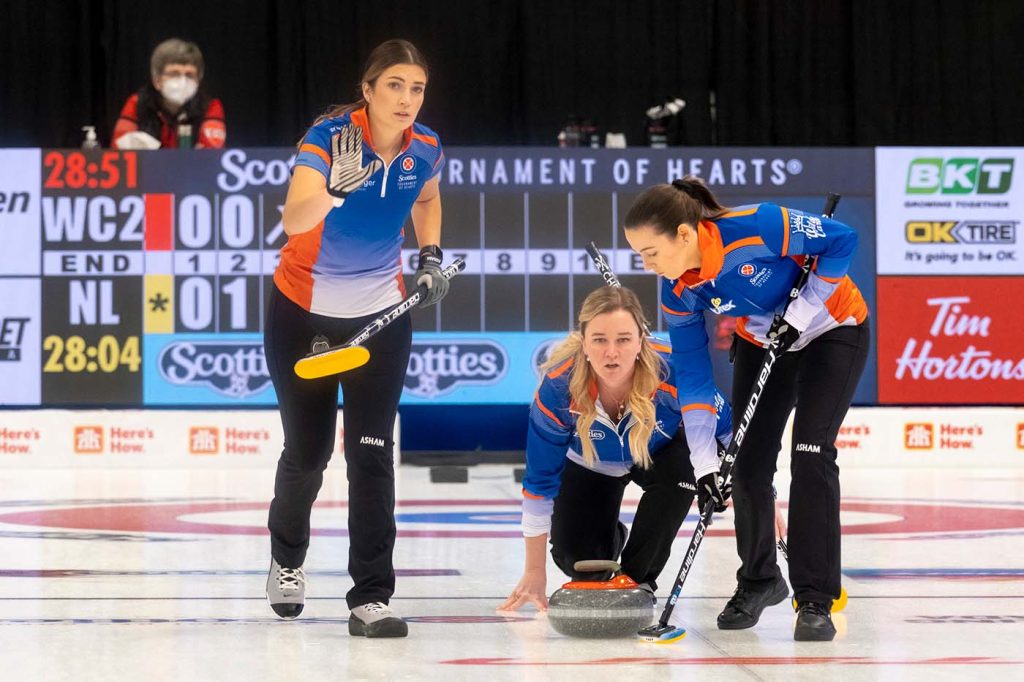 Team Carey hanging in at Scotties Tournament of Hearts
Have Broom, Will Travel.
That, in a nutshell, has been the Chelsea Carey story the past few years as the two-time Canadian women's curling champion travels the Prairies, toting her equipment bag, looking for elusive win No. 3.
She hopes to find it this week in Thunder Bay, Ont. The 37-year-old Winnipeg native, who lives in Calgary, has taken over a new team at the 2022 Scotties Tournament of Hearts, and battling hard to make something good happen.
Carey, skipping the event's Team Wild Card 2 (2-2, Regina) helped her cause immensely Monday evening by scoring a nail-biting 5-4 win over Team Newfoundland & Labrador (1-3, St. John's), skipped by Sarah Hill. Carey was able to wriggle off the hook when Hill missed her final shot, trying to remove Carey's shot stone in the 10th.
"I don't feel very happy right now. I wasn't happy with our level of play," said Carey, who is supported by vice-skip Jolene Campbell, second Stephanie Schmidt, lead Jennifer Armstrong, alternate Rachel Erickson and coach Colin Hodgson.
Carey admitted she got a big break in the 10th.
"In this event you need some breaks and that was a big one. We'll take it and build on it and hopefully we'll play a little better."
The win kept Carey in the hunt for a playoff spot and in a tie with skip Penny Barker's Team Saskatchewan (2-2, Moose Jaw).
Carey is authoring quite a curling tale these days. She's become something of a 'go to girl' for teams looking for experience at the skip position. Last season she was a replacement for Wild Card 1's Tracy Fleury who needed to take a pass on playing in the Calgary Scotties with her Manitoba-based wild team over concerns about her infant daughter's health.
And over the summer Carey was recruited by Campbell to take over her Regina Highland Curling Club team. Carey didn't take the direct route to the Scotties, losing the Saskatchewan final to Barker, but her team collected enough points in the Canadian Team Ranking System to qualify as the second wild card team.
And just like that, Carey is taking part in skipping yet another Prairie provincial team at the Scotties, not to mention two appearances with Team Canada.
Did someone say gun for hire?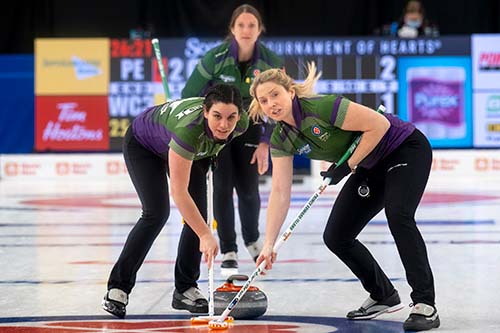 It was quite an eventful evening draw at the Fort William Gardens. Skip Krista McCarville's Team Northern Ontario (3-1, Thunder Bay) defeated Team Nunavut (0-5, Iqaluit) skipped by Brigitte MacPhail, 7-6, but not before a slip-and-fall incident in the seventh end that changed the complexion of the game. A Team Nunavut sweeper fell in the house brushing her skip's final stone and moving a number of rocks. With both teams unsure of what the result would have been, the non-offending team – Northern Ontario – deferred its choice of rock placement to the chief umpire who made the decision in accordance with equity and fair play. As the non-offending team, Northern Ontario received three points.
It was all so unfortunate because Team Nunavut was leading 5-3 at the time and was on the verge of a major upset.
The win pulled Team Northern Ontario into a tie for second place with Wild Card 1 (3-1, East St. Paul, Man.) skipped by Selena Njegovan, which had the evening bye.
The rest of Monday's evening draw featured two key games. Skip Andrea Crawford's Team New Brunswick (5-0, Fredericton) kept rolling along undefeated and alone at the top of the Pool B standings after winning a hard-fought battle, 6-4, against Team Saskatchewan.
In the other Monday game, Suzanne Birt's Team Prince Edward Island (2-3, Charlottetown) scored two in the final end to shade Team Wild Card 3 (2-3, Ottawa) skipped by Emma Miskew.
The 18 teams are split into two pools of nine, and will play a complete eight-game round robin. The top three teams in each pool advance to the playoffs where it will be further reduced to a Final Four and a Page playoff system.
The final goes Sunday, Feb. 6.
The 2022 Scotties Tournament of Hearts continues Tuesday with draws at 9 a.m., 2 p.m. and 7 p.m. (all times Eastern).
Live scoring, standings and statistics for the 2021 Scotties Tournament of Hearts are available at www.curling.ca/scoreboard/
TSN and RDS2 (streamed on ESPN3 in the United States) will provide complete coverage of the 2021 Scotties Tournament of Hearts. CLICK HERE for the complete schedule.
This story will be available in French as soon as possible at https://www.curling.ca/2022scotties/nouvelles/?lang=fr