Pride of Alberta!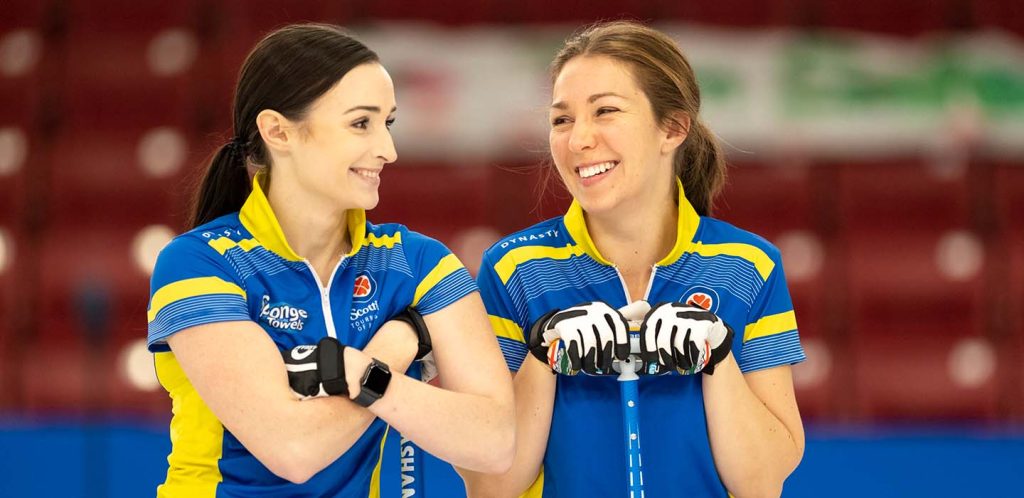 Team Alberta picking up steam at Scotties Tournament of Hearts
Laura Walker wears Alberta's Wild Rose crest on her back with pride. It means she comes from a province steeped in curling success, both women and men, and to wear it means a great deal.
The 31-year-old skip is determined to hold up her province's tradition of success at the 2022 Scotties Tournament of Hearts in Thunder Bay, Ont.
Walker came into the Scotties as one of the favourites to make the playoffs, just as she did last year at the Scotties in Calgary, where her team won the bronze medal. But after suffering an opening loss, the Albertans — the team includes vice-skip Kate Cameron, second Taylor McDonald, lead Nadine Scotland, alternate Dana Ferguson and coach Shannon Pynn — have found some momentum, but not their complete mojo.
"To be honest, we're still not playing our best," said Walker, who guided Team Alberta (3-2, Edmonton) into fourth place in the standings with an 11-5 victory over skip Hailey Birnie's Team Yukon (0-4, Whitehorse) as Pool B began the second half of play in the nine-team round-robin at Fort Williams Gardens.
 "We have a lot of room for improvement out there. It's an encouraging sign that we have a winning record, but we have a few things to iron out to really play our best."
Still, she'll enjoy the rest of the day off.
"It can go both ways," she said of the team's bye tonight. "Sometimes you get on a bit of a roll and you'd like to get out there and iron out a few things, but it will be nice to have the night off.
The top three teams in each of the two nine-team pools advance to the playoffs on the weekend.
Making the playoffs is the first priority, of course, but teams are also eyeing the No. 1 spot which gives them a big advantage in the sprint to the finish. Pool winners get a bye into the semifinals of the first round of the six-team playoff.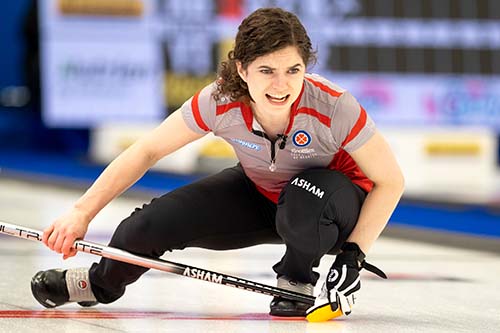 There's still a bit of traffic ahead of Team Alberta, though, starting with the two-time defending champions. Skip Kerri Einarson recovered from a slow start and Team Canada (5-0, Gimli, Man.) kept its slate clean with a convincing 10-5 win over Team British Columbia (1-4, Kelowna) skipped by Mary-Anne Arsenault. B.C. opened with a 3-0 lead but it was all Team Canada after that.
The Albertans' fortunes were swelled, however, when two of the teams ahead of them fell back with losses. Previously unbeaten Team Manitoba's Mackenzie Zacharias (3-1, Altona) was outplayed and lost 8-6 to Kerry Galusha's Team Northwest Territories (3-1, Yellowknife), and Team Nova Scotia (2-2, Dartmouth), skipped by Christina Black, fell victim to Hollie Duncan's Team Ontario (1-4, Woodstock), which won its first game 8-6 in an extra end.
Walker didn't consider the loss by two of the front-runners that big a deal.
"We control our own thing from this point out," she said. "If we win the rest of our games we have a very good chance to finishing second or third in our pool. We like to look at it as the fate is in our hands."
Galusha continued her remarkable first-half run that could result in the first playoff spot at the Scotties for a team from the Northwest Territories.
"We thought that the third spot in our pool was a possibility," she said. "But we're trying to be realistic. We want to win a couple more games and hopefully get into that (playoff) position."
The 2022 Scotties Tournament of Hearts continues Tuesday with draws at 2 p.m. and 7 p.m. (all times Eastern).
Live scoring, standings and statistics for the 2021 Scotties Tournament of Hearts are available at www.curling.ca/scoreboard/
TSN and RDS2 (streamed on ESPN3 in the United States) will provide complete coverage of the 2021 Scotties Tournament of Hearts. CLICK HERE for the complete schedule.
This story will be available in French as soon as possible at https://www.curling.ca/2022scotties/nouvelles/?lang=fr