Race to the playoffs!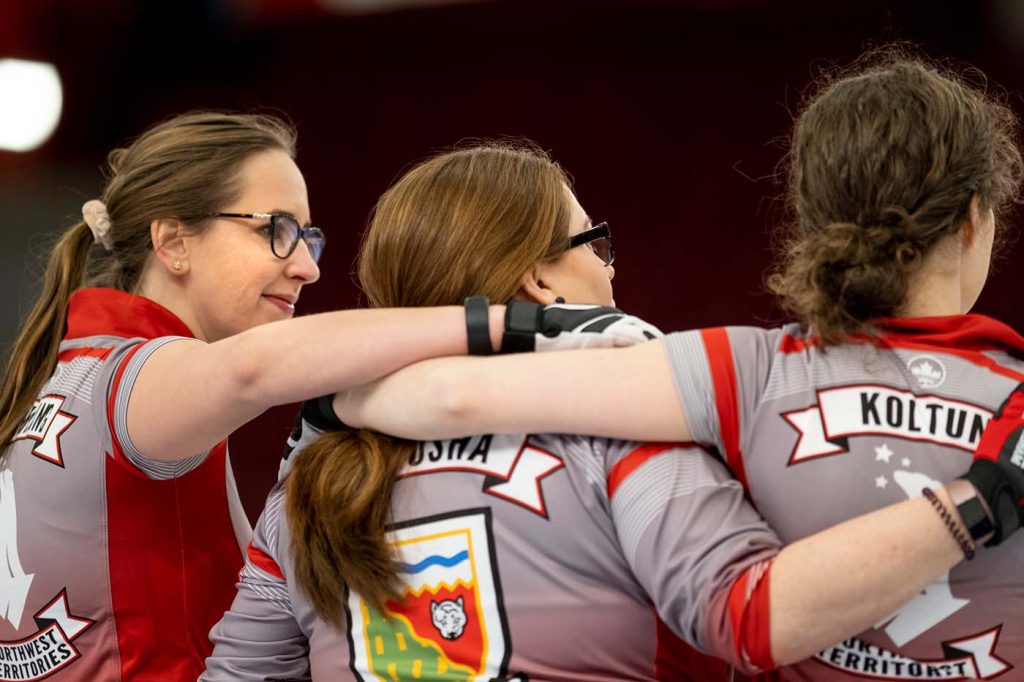 Team Canada unbeaten in mad scramble for playoff spots at Scotties Tournament of Hearts
Cream rises to the top at the Scotties Tournament of Hearts.
Certainly that's the case in Pool B where two-time defending champion Kerri Einarson and her Team Canada crew (6-0, Gimli, Man.) are running away with things in Thunder Bay, Ont. They aren't necessarily home and cooled yet, but have at least secured a tiebreaker spot after a 6-4 win against the Yukon's Team Hailey Birnie (0-5, Whitehorse).
Team Northwest Territories (4-1, Yellowknife) also continued its Magical Mystery Tour at the Scotties and crept closer to a playoff spot. Skip Kerry Galusha needed a count of three in the 10th end – executed nicely on a last-stone draw by fourth rock thrower Jo-Ann Rizzo – to score a 7-6 win over Team Quebec (2-3, Laval-sur-le-Lac/Glenmore), skipped by Laurie St-Georges.
But after that, fasten your seat belts folks because it could be a bumpy ride on the road to the playoffs because there's a logjam created behind Team Canada and Team Northwest Territories.
After the smoke cleared after Tuesday's rock-tossing, three teams were deadlocked in third position with identical 3-2 records, including Team Alberta's Laura Walker (Edmonton); Team Nova Scotia's Christina Black (Dartmouth); and Team Manitoba's Mackenzie Zacharias (Altona).
The congestion was created when Team Nova Scotia defeated Team Manitoba 7-6, handing Zacharias her second loss of the day.
Team Alberta had the bye Tuesday.
"We focused and we made some shots when we needed to, and it worked out for us," said Black, about her win over Team Manitoba.
Trailing 6-3 in the seventh, Zacharias could not secure two Manitoba stones in the house for a possible steal. The rock came in too deep into the house, leaving shot stone exposed. Black was able to punch it out for one to take complete control.
The only question remaining is whether Team Canada will secure the number one spot in the Pool standings after the round-robin ends. The Pool winner secures a valuable bye in the first round of the playoffs.
Galusha, meanwhile, felt she was fortunate to finish the day with two wins.
"The 10th end didn't look pretty to get our deuce," she said, "but Laurie just turned her last hit. We got lucky. We were outplayed most of that game. We just hung in there as a team. I don't know how we won that game."
Galusha plays Team Canada in their next game.
In the only other game on the evening slate of games, Team Ontario skipped by Hollie Duncan (2-4, Woodstock), won its second game in a row by defeating Mary-Anne Arsenault's Team British Columbia (1-5; Kelowna) 9-6.
The final goes Sunday, Feb. 6.
The 2022 Scotties Tournament of Hearts continues Wednesday with draws at 9 a.m., 2 p.m. and 7 p.m. (all times Eastern).
Live scoring, standings and statistics for the 2021 Scotties Tournament of Hearts are available at www.curling.ca/scoreboard/
TSN and RDS2 (streamed on ESPN3 in the United States) will provide complete coverage of the 2021 Scotties Tournament of Hearts. CLICK HERE for the complete schedule.
This story will be available in French as soon as possible at https://www.curling.ca/2022scotties/nouvelles/?lang=fr