Singles Curling App!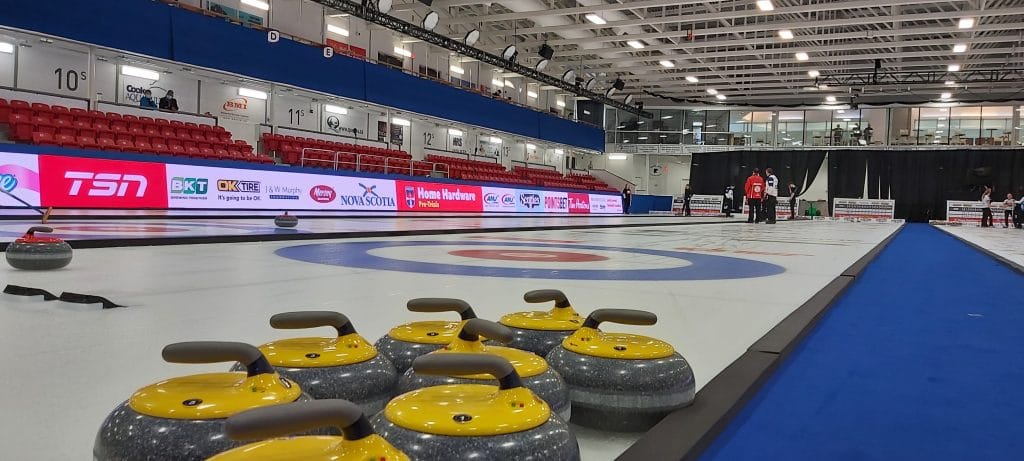 Curling Canada's new Singles Curling App will be a development tool for youth curlers across Canada
As performance development in youth curling continues to evolve, so too must the tools that facilitate that development.
Prior to technological advancements, players accessing coaching and mentorship could be a tricky prospect as they're often bound by resource limitations. Your coach may not always have the time to run drills or offer advice as you strive to improve your game or you may simply not have the experience to practice effectively on your own.
To match, putting your skills to the test and finding good competition can be difficult with current COVID-19 restrictions. Pickup games aren't as readily available and throwing rocks on your own is one of the safest ways to enjoy curling during these pandemic times.
With the introduction of Curling Canada's Singles Curling App, these limitations are now an afterthought as you can now take curling's most sophisticated development and competition tool with you on your phone wherever you go.
The app, developed by Curling Canada, is designed to enable youth curlers from across Canada to compete as individuals throwing an array of hit and draw shots, which are then evaluated and archived in your personal profile. These results populate to a Canada-wide leaderboard with levels of difficulty segmented by age group – U15, U18, U21, U25+.
Curling Canada's Manager of Youth Curling and NextGen Helen Radford sees the long term value in the creation of the Singles Curling App.
"There has been a lot of buzz and excitement surrounding the launch of our new Singles App," said Radford. "We have spent years developing this program and we are excited to see where we can take this new discipline. The Singles App can be used for U15, U18, U21 and U25+ curlers to practice and compete at their local curling centre and it will help build strong shot-making skills."
Despite the app being in its early stages of adoption, there is a clear path for its usage among youth curlers.
"We are really excited to get our new Singles curling format off the ground at the youth level this season using our new Singles App," continued Radford. "Under-15 curlers can practice with their coach and throw 12 pre-determined shots at their local curling centre. After the twelve shots, curlers will get two 'mulligans' or re-throws to replace two of their lowest scored shots. On the Leaderboard, young curlers will be able to see how their scores compare to those in their home province or territory and those across the country. We are happy that we can at least offer a U15 virtual competition to those who are able to practice this season. We look forward to building on the momentum that we can get started this season and can't wait to see where we can go with this new Singles discipline."
This season, the Singles Curling App will be used across Canada for U15 athletes to record scores to qualify for their regional U15 RockFest competition. The four regional competitions include U15 RockFest West (AB, BC, NT, YT), U15 RockFest Prairies (SK, MB), U15 RockFest East (ON, NO, QC, NU) and U15 RockFest Atlantic (NB, NS, PE, NL). Results can be viewed in real time across the country under the leaderboard and athletes can compete as many times as they like until the end of the time period (ending on April 3, 2022). For 2022, the U15 competition will be virtual and awards will be mailed to the top three athletes in both gender events with the highest scores in each region.
"With the new Singles App, we are now able to provide four disciplines for the sport of curling: Singles, Doubles, Triples and Fours curling. With the Olympics getting started, we are excited to build on the momentum that our sport will showcase around the world. It's an exciting time as we expand the opportunities that our sport can offer," said Radford.
While measuring your skills against some of Canada's best is certainly a fun prospect, the app isn't just for competition either. Curling Canada's Singles Curling App contains many other features that allow coaches and athletes to use the app in practice throughout the season and into future seasons to track and analyze skill development.
You can also customize your learning experience using the "Drills and Practices" section of the app. Coaches can select shots, rotation, and location of the targeted shot and record the results in the app to track through a season or over multiple seasons. Multiple attempts or practices can be completed over the course of the season and these results can then be analyzed and built upon using the app.
All results from your practices are visible for the coach, athlete, and guardian so results can be reviewed. These metrics are a valuable resource as they support an athlete or team's development in skills which can then be transferred to game situations.
The Singles Curling App is a subscription-based app designed not only for competition, but as an amazing training tool for coaches that allow youth players to hone their skills and build confidence in their curling abilities. An annual subscription to the app is only $14.99 and is available in Canada for both iOS and Android.
Want to learn more? Check out these instructional videos that describe using the app: https://www.youtube.com/playlist?list=PL-P2ipXMdq3TT0mUG2RFvrh-wZpICUiqx (English)