Bounce-back win!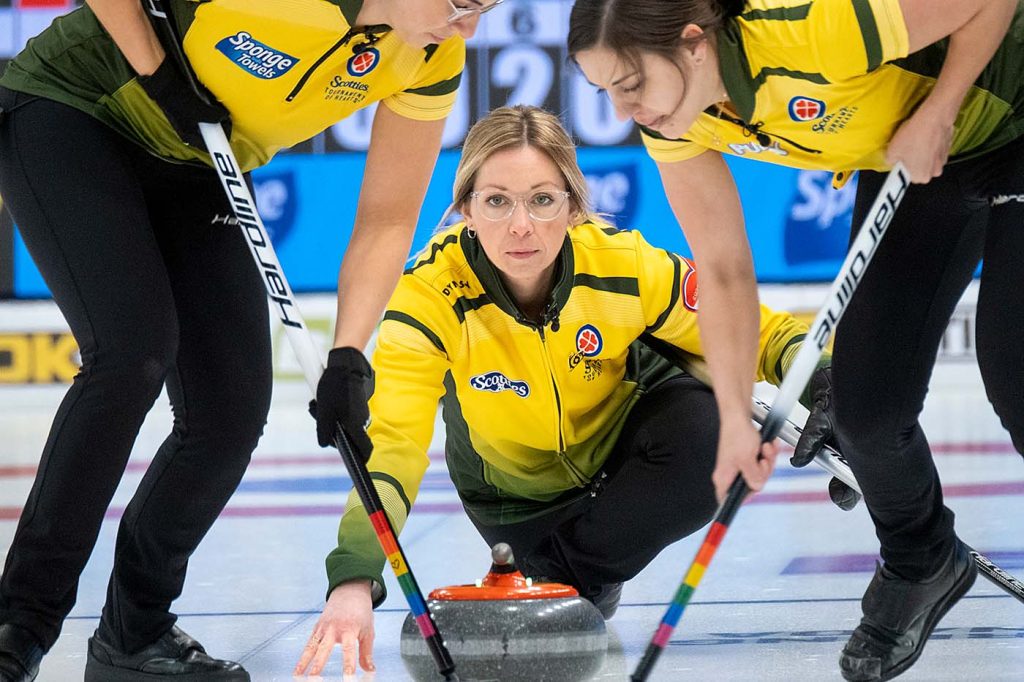 Team McCarville looking like old selves at Scotties
If skip Krista McCarville should win the 2022 Scotties Tournament of Hearts with her Northern Ontario team come Sunday, she may look back at Wednesday morning as her turning point.
One day earlier, looking glum and a bit confused after a disheartening loss, she told the media her team needed to "be the Team McCarville we know we can be."
Wednesday morning it was.
Team Northern Ontario (4-2, Thunder Bay) jumped back into serious contention for the lead in Pool A, putting on a solid performance in taking down undefeated Team New Brunswick (5-1, Fredericton), skipped by Andrea Crawford.
There was no hangdog look from McCarville this time after the game.
"We all played well this morning" said the ever genial schoolteacher for the Thunder Bay Catholic School District (where her students call her Mrs. M) after her nail-biting 8-7 extra-end victory, which was the TSN feature match in the morning. "We had a good handle on the draw weight and the ice and that was key to build some confidence."
McCarville said she was starting to feel like her old self again.
"After the last couple of games I've really had a struggle with draw weight," she said. "To come back and feel like the Krista that I know feels really good. It doesn't matter that it went to an extra end, we needed that W."
TV viewers got to see the McCarville team they have come to know over the years, the one that made it to the semi-final game at the recent Tim Hortons Canadian Curling Trials in Saskatoon before bowing out.
"It's important that we're having fun," said McCarville. "I think that was something we lacked a little bit earlier. I think I felt a little more of that energized, exciting Team McCarville that was playing a couple games earlier."
It was a crucial win for the local favourites at Fort William Gardens in Thunder Bay, Ont. It kept Northern Ontario solidly in a third-place tie with skip Penny Barker's Team Saskatchewan (4-2, Moose Jaw) but also kept Crawford from running away with the lead.
It just so happens that McCarville and Barker clash tonight in another key matchup. The top three teams in each nine-team pool qualify for the weekend playoffs.
"They're in the same boat as us, they have the same record," said McCarville. "It think both teams are going to be fired up."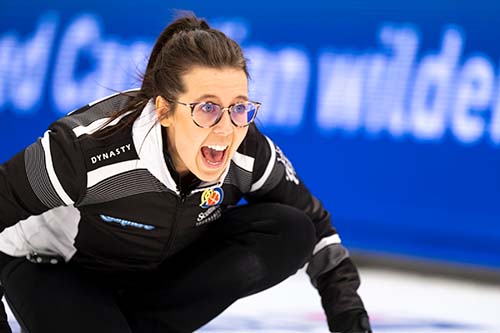 The loss dropped Crawford and Co. into a first-place tie with Team Wild Card 1 (5-1, East St. Paul, Man.), skipped by Selena Njegovan, who won her fifth in a row after defeating skip Sarah Hill's Team Newfoundland & Labrador (2-4, St, John's) 8-3.
If the two teams remain tied for the lead at the end of the round-robin, first place would go to Team New Brunswick based on its win over Team Wild Card 1 during the opening draw.
Team Saskatchewan kept pace with an 11-4 win over skip Brigitte MacPhail's Team Nunavut (0-7, Iqaluit).
It's been a different Penny Barker team this year at the Scotties. Barker's first appearance in 2017 was a disappointing 1-10 finish, but now, more experienced and with loads of confidence, is producing some results.
"We came into that game feeling pretty confident and I think that showed in the way we played," said Barker. "We just wanted to keep making shots the whole game. It's a good way to start the back half of the round-robin."
Meanwhile, Team Wild Card 2 (2-4, Regina), skipped by Chelsea Carey, lost a golden opportunity to stay in the mix after losing 8-4 to Team Prince Edward Island (3-4, Montague/Cornwall) skipped by Suzanne Birt. The loss left Emma Miskew's Team Wild Card 3 (3-3, Ottawa) alone in fifth place. Miskew and Co. enjoyed the morning draw bye.
All teams with four losses are out of the playoff hunt.
The final goes Sunday, Feb. 6.
The 2022 Scotties Tournament of Hearts continues Wednesday with draws at 2 p.m. and 7 p.m. (all times Eastern).
Live scoring, standings and statistics for the 2021 Scotties Tournament of Hearts are available at www.curling.ca/scoreboard/
TSN and RDS2 (streamed on ESPN3 in the United States) will provide complete coverage of the 2021 Scotties Tournament of Hearts. CLICK HERE for the complete schedule.
This story will be available in French as soon as possible at https://www.curling.ca/2022scotties/nouvelles/?lang=fr