Talk of the town!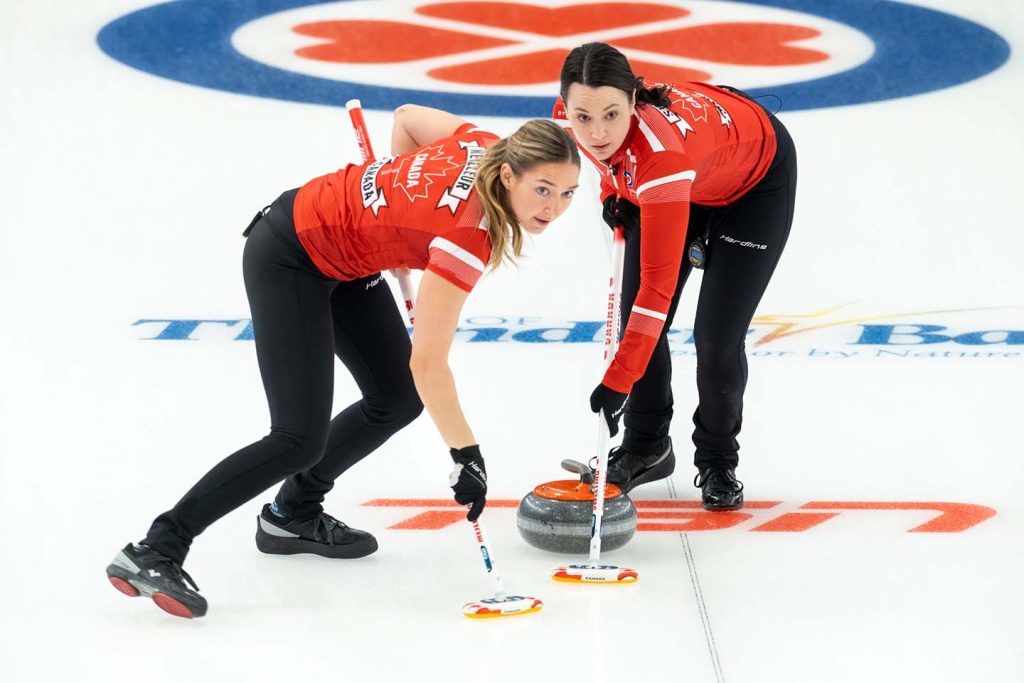 Team Canada putting the hammer down at Scotties Tournament of Hearts
Please don't talk to skip Kerri Einarson about a three-peat championship at the 2022 Scotties Tournament of Hearts.
She doesn't want to hear about it. Instead, she'll talk all day long about the next game on the schedule.
Einarson's Team Canada, back-to-back national women's curling champions, is the talk of the town as it rolls through the Scotties like high water over low land.
Einarson wrapped up the number one spot in Pool B at the Scotties Wednesday afternoon. Team Canada (7-0, Gimli, Man.) did it in convincing fashion, taking down its closest rival, skip Kerry Galusha's Team Northwest Territories (4-2, Yellowknife) 8-5 in a key matchup at Fort William Gardens. The win meant no other team in Pool B could catch the defending champs.
Einarson has been reluctant to talk about the three-peat, focusing instead on her next game. Superstition, maybe?
"No, I am very superstitious, but that's not why," said the 34-year-old skipper who hails from Camp Morton, Man. "We're just taking it one game at a time, just focusing on getting better and better. We're not focusing on being number one or three-peating. It's all about working hard out there."
Galusha, despite the loss, is still in good shape and in contention to wrap up a top three playoff spot Thursday when the nine-team round-robin wraps up. So, too, is Team Manitoba (4-2, Altona), skipped by Mackenzie Zaharias who moved alongside Galusha with a hard-fought 4-3 extra-end win over Team Quebec (2-4, Laval-sur-le-Lac/Glenmore).
Skip Christina Black's Team Nova Scotia (4-2, Dartmouth) also moved into a second-place tie with a close 6-5 win over Team Alberta (4-3, Edmonton), skipped by Laura Walker.
"It would have been a great game to watch [on television]," said Nova Scotia vice-skip Jenn Baxter. "It was just back and forth and tons of great shots. There was only one deuce scored the whole game. It was a really tight battle with a lot of rocks in play.
"We're in the position we want to be," she added. "We were hoping before the week this would be our record so we're meeting our goals and we have one big day tomorrow."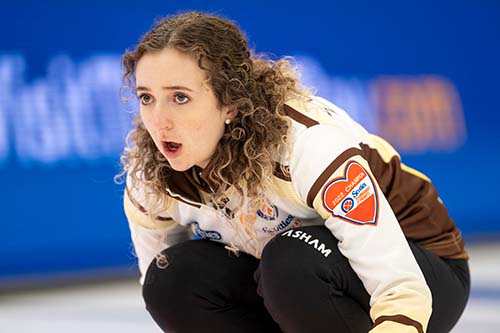 Einarson with vice-skip Val Sweeting, second Shannon Birchard and lead Briane Meilleur, have been dynamite at the Scotties. They have been dominating in Thunder Bay, Ont., with the help of alternate Krysten Karwacki and coach Reid Carruthers, winning every game and posting some sweet statistical numbers. Einarson and Sweeting are number one in shooting percentages at their positions this week, and Birchard was number two among seconds.
Sweeting has been terrific and shot 98 per cent against the Polars.
"Val's been shooting lights out," said Einarson. "It makes my job easier, but everyone is playing so well and sweeping their butts off."
In the only other game on the afternoon docket, Team Ontario (3-4, Woodstock), skipped by Hollie Duncan, won her third in a row, this time 11-5 over Team Yukon (0-6, Whitehorse) skipped by Hailey Birnie.
The final goes Sunday, Feb. 6.
The 2022 Scotties Tournament of Hearts continues Wednesday with a draws at 7 p.m. (Eastern).
Live scoring, standings and statistics for the 2021 Scotties Tournament of Hearts are available at www.curling.ca/scoreboard/
TSN and RDS2 (streamed on ESPN3 in the United States) will provide complete coverage of the 2021 Scotties Tournament of Hearts. CLICK HERE for the complete schedule.
This story will be available in French as soon as possible at https://www.curling.ca/2022scotties/nouvelles/?lang=fr