A helping hand!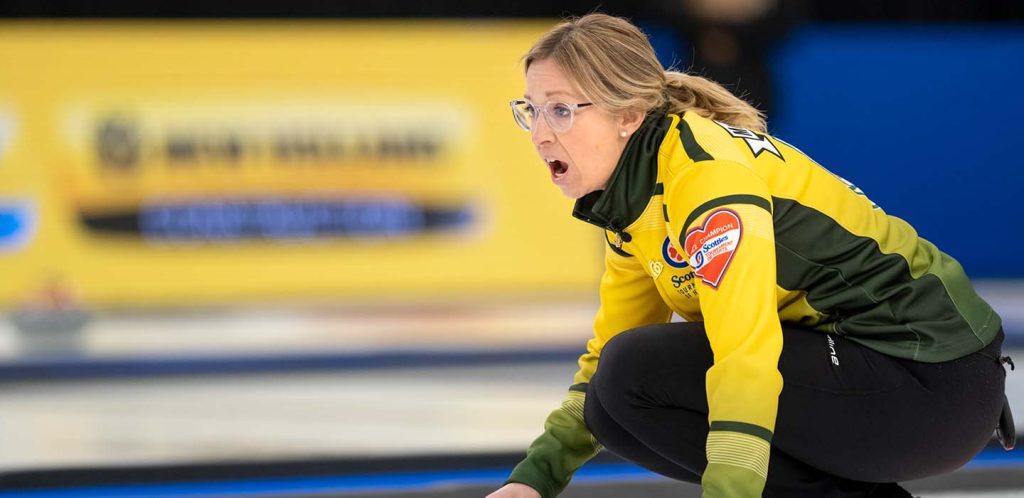 Team McCarville secures pool playoff spot at Scotties
Krista McCarville wanted to walk into the playoffs at the Scotties Tournament of Hearts through the front door.
But she's OK with getting there through the side door, too.
McCarville, skip of the hometown favourites Team Northern Ontario, (5-3, Thunder Bay), had her ticket punched for the weekend playoffs Thursday afternoon, but she owes a debt of gratitude to Team Wild Card 3 (4-4, Ottawa), skipped by Emma Miskew. McCarville had a golden chance to qualify on her own but lost her final round-robin game in Pool A, 8-6 to Team Wild Card 1 (7-1, East St. Paul, Man.) which saw the return of regular skip Tracy Fleury to the T-head.
But there was Team Wild Card 3 to offer McCarville a helping hand, knocking skip Penny Barker's Team Saskatchewan (4-4, Moose Jaw) out of the race. Miskew scored early and often and rolled to a 10-2 win.
"I guess we'll have to send her (Miskew) a box of chocolates," said McCarville.
"Or buy her a drink," added lead Sarah Potts.
After the dust had settled, McCarville had joined Fleury and Andrea Crawford's team New Brunswick (6-2, Fredericton) in the playoffs.
Team New Brunswick had a chance to lock up first place in the pool with a win, but couldn't get past a resurgent Team Wild Card 2 (4-4, Regina), skipped by Chelsea Carey, who ran away with a 10-3 win.
That left the door open for Fleury to clinch first place and take all the goodies that go with it in the playoffs. The number one spot guarantees a second chance in the playoffs in event of a first-round loss.
"I'm happy to be back and reunited with the girls," said Fleury, who passed COVID-19 protocol after missing the first seven games. "I was a little worried coming in, but it helps that the ice is so fantastic and get a feel for a couple of draws and get your confidence, but once I got back out there with the girls it felt natural."
Fleury couldn't say enough good things about her team which carried on without her during the week. Regular third Selena Njegovan picked up the skipping duties and guided the team to a 6-1 record in Fleury's absence, while alternate player Robyn Njegovan filled in at third.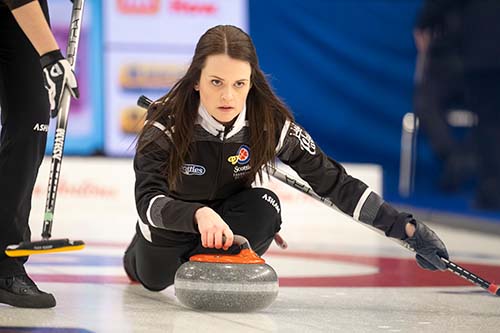 "They were unreal," said Fleury. "It was great that they had a few TV games and I could watch closely. I'm so proud of them that they stepped into different roles. Selena, with not having much skipping experience, just made it look easy."
"It's nice to have Trace back and it was fun to have all four of us together again," said Njegovan.
Fleury said the first-round bye at the start of the playoffs will offer some relief.
"You don't have that sudden-death playoff game (to start)," she said. "It's nice that we can take a breath and have a bit more time off."
McCarville had hoped to clinch the playoff spot on her own merits, but was satisfied her playoff goal was achieved.
"We had a really good game against Fleury," she said, "and I'm proud of the team. I thought we curled really well. But making the playoffs feels really good."
Team Northern Ontario will be buoyed by the fact event volunteers and Future Stars will be invited into Fort William Gardens for the weekend to cheer her on.
In the other game on the final draw of Pool A, skip Suzanne Birt's Team Prince Edward Island (4-4, Cornwall/Montague) dumped Team Newfoundland & Labrador (2-6, St. John's) skipped by Sarah Hill 8-5. Skip Brigitte MacPhail's Team Nunavut (0-8, Iqaluit) had the final bye.
The Scotties champion will represent Canada at the 2022 BKT Tires & OK Tire World Women's Curling Championship, presented by Nature's Bounty Vitamins, in Prince George, B.C., from March 19-27.
The final goes Sunday, Feb. 6.
The 2022 Scotties Tournament of Hearts continues Monday with draws at 2 p.m. and 7 p.m. (all times Eastern).
Live scoring, standings and statistics for the 2021 Scotties Tournament of Hearts are available at www.curling.ca/scoreboard/
TSN and RDS2 (streamed on ESPN3 in the United States) will provide complete coverage of the 2021 Scotties Tournament of Hearts. CLICK HERE for the complete schedule.
This story will be available in French as soon as possible at https://www.curling.ca/2022scotties/nouvelles/?lang=fr