First hurdle cleared!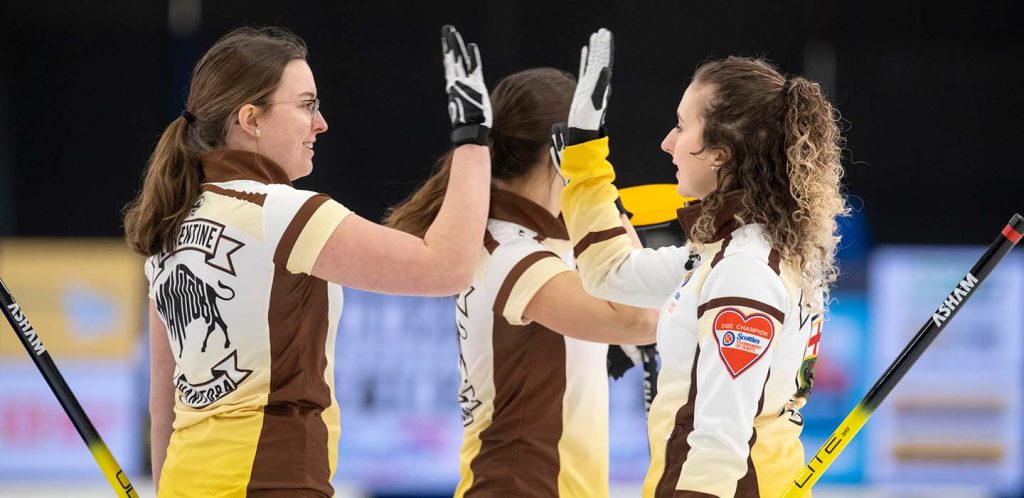 Team Manitoba posts pivotal win as playoff race goes down to wire
There are less stressful ways to finish up a Scotties Tournament of Hearts schedule than playing Team Alberta and Team Canada, but that was the hand dealt Mackenzie Zacharias, the 22-year-old skip of Team Manitoba.
She cleared the first hurdle Thursday morning, and will deal with the second big test in the evening as she continues her quest for a playoff spot in Thunder Bay, Ont.
"Destiny is in our own hands now," said Zacharias whose Team Manitoba (5-2, Altona) ended the hopes of a playoff spot for skip Laura Walker's Team Alberta (3-4, Edmonton), by scoring a 10-7 win at Fort Williams Gardens.
It hasn't been easy for most of the teams at the 2022 Scotties, where it's either chicken dinner or chicken feathers on a day-to-day basis. The Manitobans, the youngest team at the Scotties, bolted from the starting gate with three straight wins but fell on hard times, losing two of the next three before coming upon Walker and Co.
Team Manitoba punished Team Alberta for its mistakes, scoring four points in the first and fifth ends and it was too much for the Albertans to overcome.
"We came out of the gate pretty hot in the first end, but in a 10-end game, scoring four in the first end doesn't mean the game is over," said Zacharias. "We knew that."
It was a key win for Team Manitoba, the 2020 world junior championship team, which includes third Karlee Burgess, second Emily Zacharias, lead/nice-skip Lauren Lenentine, alternate Lori Olson-Johns and coach Sheldon Zacharias. It kept the Manitobans tied with Team Nova Scotia (5-2, Dartmouth), skipped by Christina Black, for second place as the battle for the final two playoff spots in Pool B goes down to the wire.
Team Canada (7-0, Gimli, Man.), skipped by Kerri Einarson, wrapped up first place and the first playoff spot in the pool on Wednesday. The number one position secured a bye in the first round of the playoffs and a second chance if Einarson should lose her opening playoff game.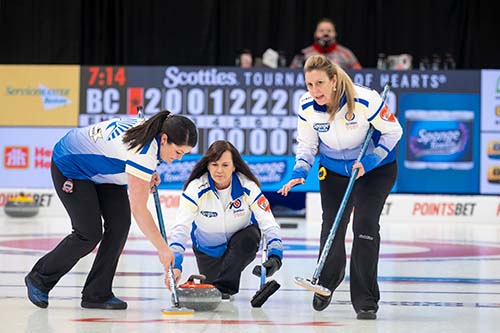 Team Nova Scotia kept up its solid play by defeating Team Yukon (0-7, Whitehorse) skipped by Hailey Birnie, by 10-4.
Skip Kerry Galusha fell to fourth place after her Team Northwest Territories (4-3, Yellowknife) lost 11-6 to skip Mary-Anne Arsenault's Team British Columbia (2-5, Kelowna).
It was a disappointing loss for Galusha who was trying to make some history by guiding a team from the Territories into the Scotties playoffs for the first time.
"That was by far our worst game of the week," said a glum Galusha. "We're not going to win games if we play like that. But we have one more game and we're going to focus on that."
In the only other game on the morning slate, skip Hollie Duncan's Team Ontario (4-4, Woodstock) closed out its schedule with a 9-4 win over Team Quebec (2-5, Laval-sur-le-Lac/Glenmore) skipped by Laurie St-Georges. Duncan rebounded after losing her first four games.
Now comes the tough part for Zacharias. She must face Team Canada, the back-to-back Canadian champions, which had the morning bye and will be well rested. A Zacharias loss and, depending what happens in the other evening games, there is the possibility she falls back into a tie for third place and a tiebreaker.
"It's going to be a big game tonight," said Zacharias. "We put ourselves in position earlier this week where we have a chance to make the playoffs, and we knew it would come down to Alberta and Team Canada."
Zacharias says she's never beaten Team Canada before, but there is always the first time.
"We never beat Laura Walker before, either, and we never beat Tracy Fleury before this season, so we have to have a really good game and keep it close."
The 2022 Scotties Tournament of Hearts continues Tuesday with draws at 2 p.m. and 7 p.m. (all times Eastern).
Live scoring, standings and statistics for the 2021 Scotties Tournament of Hearts are available at www.curling.ca/scoreboard/
TSN and RDS2 (streamed on ESPN3 in the United States) will provide complete coverage of the 2021 Scotties Tournament of Hearts. CLICK HERE for the complete schedule.
This story will be available in French as soon as possible at https://www.curling.ca/2022scotties/nouvelles/?lang=fr