Mrs. M a winner!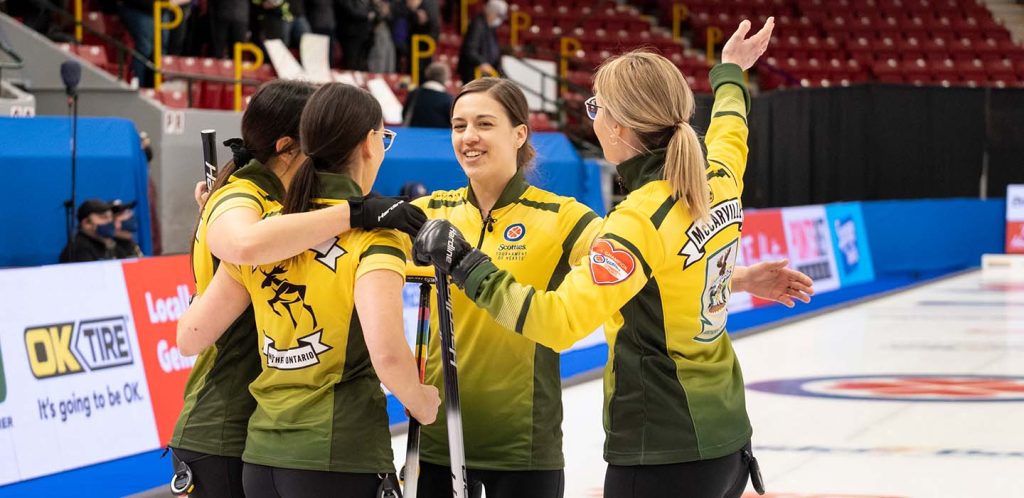 Team Northern Ontario fights off furious comeback at Scotties
Krista McCarville and her Team Northern Ontario teammates make no bones about it. Family comes first, work second and somewhere after that comes curling.
That's not a typical way to make it to the top of the mountain in the sport, but it's working for them.
And the team keeps performing strongly at the 2022 Scotties Tournament of Hearts in its hometown of Thunder Bay, Ont. Team Northern Ontario, skipped by McCarville, is in the thick of things again after its opening playoff win in the six-team playoffs, and closing in on a Canadian women's curling championship.
In her biggest game of the week, McCarville, skipped her team of vice-skip Kendra Lilly, second Ashley Sippala, lead Sarah Potts, alternate Jen Gates and coach Rick Lang to an 11-8 win over skip Christina Black of Team Nova Scotia (Dartmouth) in the opening round of the playoffs at Fort Williams Gardens.
McCarville had to withstand the rattle of a brilliant comeback by Black and Co. The Bluenosers, down 9-1 early, came back with a huge four in the fifth end. That gust of momentum became a hurricane in front of TV spectators and the eyes of those few spectators (registered event volunteers and Future Stars junior curlers) seated in Fort William Gardens. Nova Scotia kept chipping away at the deficit, and closed to within 9-8 after the eighth end, but could get no closer. McCarville scored two in the ninth to close the deal.
"When you're giving up steal after steal it can get to you a little bit," said McCarville. "We tried to remain positive. I felt a little more relieved in the ninth end when we got two. Going into the 10th up three was a pretty good feeling."
In the other opening-round playoff game, Team New Brunswick (Fredericton), skipped by Andrea Crawford, eliminated skip Kerry Galusha's Cinderella Team Northwest Territories (Yellowknife) 8-6.
Crawford was pleased with her comeback performance. She trailed 5-3 after five ends.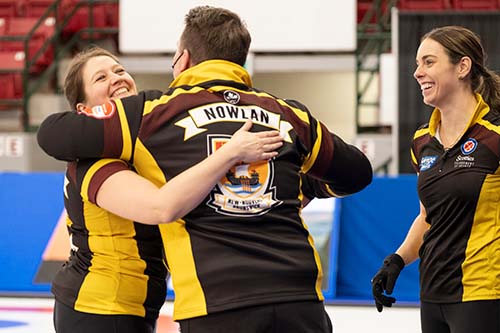 "I'm so proud of the girls for the way they played that game," said Crawford. "We were behind and we just hung in there. We played really hard."
The winners advanced to tonight's Page seeding round to face pool winners, while the losers go home. Two pools of nine teams started round-robin play last Friday, with the number one teams in each pool — Team Canada (8-0, Gimli) skipped by Kerri Einarson, and skip Tracy Fleury's Team Wild Card 1 (7-1, East St. Paul, Man.) — earning a bye in the first round.
McCarville and Northern Ontario get Team Wild Card 1, while Crawford and New Brunswick face Team Canada.
Nobody should be surprised that McCarville is making noise. Her teams have always performed well in major events and have been excellent for quite some time. Her current team won a silver at the Scotties in 2016 and is coming off a good performance at the Tim Hortons Canadian Curling Trials in Saskatoon where it finished third.
Team McCarville has eschewed the route most competitive teams take each winter. There's not a lot of travel to play, but a steadfast focus on practice.
"We don't want to [travel]," said McCarville. "This is what we like to do in our life. We have professions and we love curling, but it's not the main thing in our life. So the amount we chose to curl is what makes us happy. This is what works for our team."
McCarville is a Grade 6 teacher for the Thunder Bay Catholic School District where her students call her 'Mrs. M'.
The Scotties champion will represent Canada at the 2022 BKT Tires & OK Tire World Women's Curling Championship in Prince George, B.C., from March 19-27.
Live scoring, standings and statistics for the 2021 Scotties Tournament of Hearts are available at www.curling.ca/scoreboard/
TSN and RDS2 (streamed on ESPN3 in the United States) will provide complete coverage of the 2021 Scotties Tournament of Hearts. CLICK HERE for the complete schedule.
This story will be available in French as soon as possible at https://www.curling.ca/2022scotties/nouvelles/?lang=fr