Defending champs push on!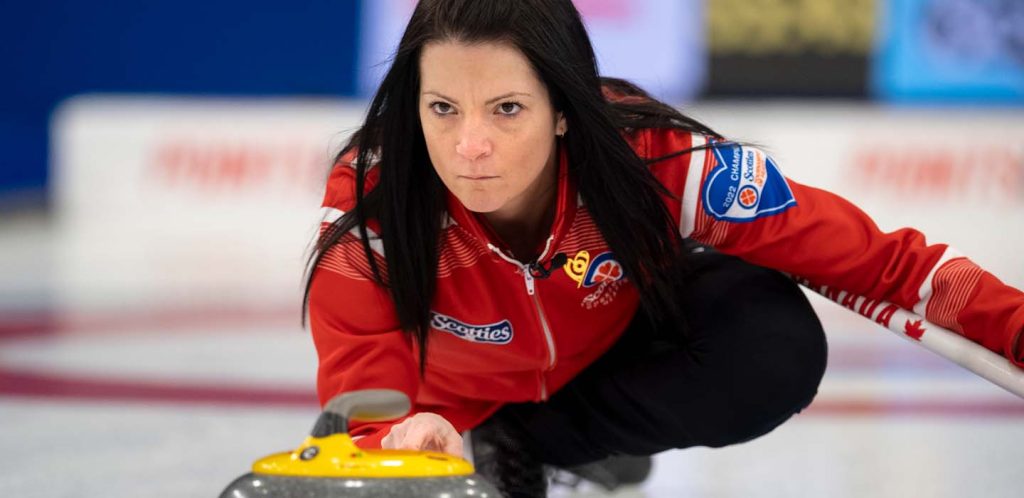 Team Canada still in line for three-peat at Scotties
It's not the way Tracy Fleury drew up her season. The skip of Wild Card 1 and her team from the East St. Paul Curling Club near Winnipeg was bounced from the competition after losing the 3v4 Page playoff game 11-6 to Team Canada on Saturday afternoon.
Team Canada, skipped by Kerri Einarson from the Gimli Curling Club in Manitoba, is aiming for a three-peat of its Canadian women's curling championship and moves on to the semifinal Sunday, while Fleury goes home to Sudbury, Ont., to ponder her recent woes.
Einarson will meet the loser of Saturday night's 1v2 Page playoff game between skip Andrea Crawford's Team New Brunswick (Fredericton) and the hometown favourites Team Northern Ontario (Thunder Bay), skipped by Krista McCarville at 7 p.m. (all times ET).
Einarson and her team rebounded nicely from its only loss of the week the night before. They roared back from an early 3-1 deficit and simply out-curled their provincial rivals. The dagger to the heart came in the sixth end when Team Canada made all eight shots, got a couple of misses, and manufactured a slick four-ender.
"That was definitely the turning point of the game," said Einarson.
"We were in a little bit of trouble," said third Val Sweeting. "But Kerri made a real nice double, and we got a couple of uncharacteristic misses from Tracy and capitalized on it. It [four-ender] came out of nowhere. If you get an opportunity like that you have to take it."
The team is rounded out by second Shannon Birchard, lead Briane Meilleur, alternate Krysten Karwacki and coach Reid Carruthers.
Should Einarson win her third straight title, she'd be only the fourth skip to turn the trick. Winnipeg's Jennifer Jones did it in 2007, 2008 and 2009 and Saskatoon's Vera Pezer hit the triple in 1971, 1972 and 1973.
Colleen Jones of Halifax leads the way with four straight national champions from 2001 to 2004.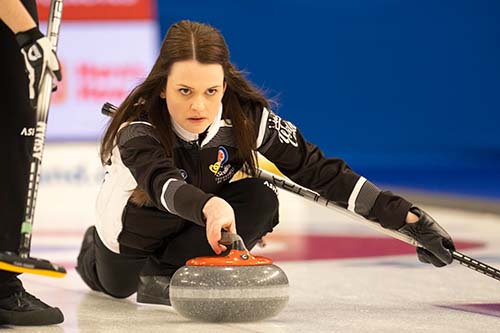 It's been an emotional roller-coaster for Fleury this winter. She and her team were going great and the top team in the world heading into the Tim Hortons Canadian Curling Trials in Saskatoon, going through the round-robin undefeated at 8-0. Then came the final where, with last rock in her hand for the win, Fleury just nicked a guard, handing the berth to the Olympic Games to Jennifer Jones.
She also got the bad news just before the Scotties that she tested positive for COVID-19 and would have to quarantine. She missed seven of the eight games in the round-robin. Her team, guided by regular third Selena Njegovan, posted a 6-1 record without her, and Fleury won her first game back.
And then came back-to-back losses, including the Page Playoff 3v4 loss to Einarson.
Was there a black cloud hanging over the team's head?
"We were wondering about that at times," said Fleury. "Team Fleury has had its challenges. The curling Gods have not been with us lately."
The Scotties champion will represent Canada at the 2022 BKT Tires & OK Tire WorldWomen's Curling Championship in Prince George, B.C., from March 19-27.
Live scoring, standings and statistics for the 2021 Scotties Tournament of Hearts are available at www.curling.ca/scoreboard/
TSN and RDS2 (streamed on ESPN3 in the United States) will provide complete coverage of the 2021 Scotties Tournament of Hearts. CLICK HERE for the complete schedule.
This story will be available in French as soon as possible at https://www.curling.ca/2022scotties/nouvelles/?lang=fr