Hometown favourites!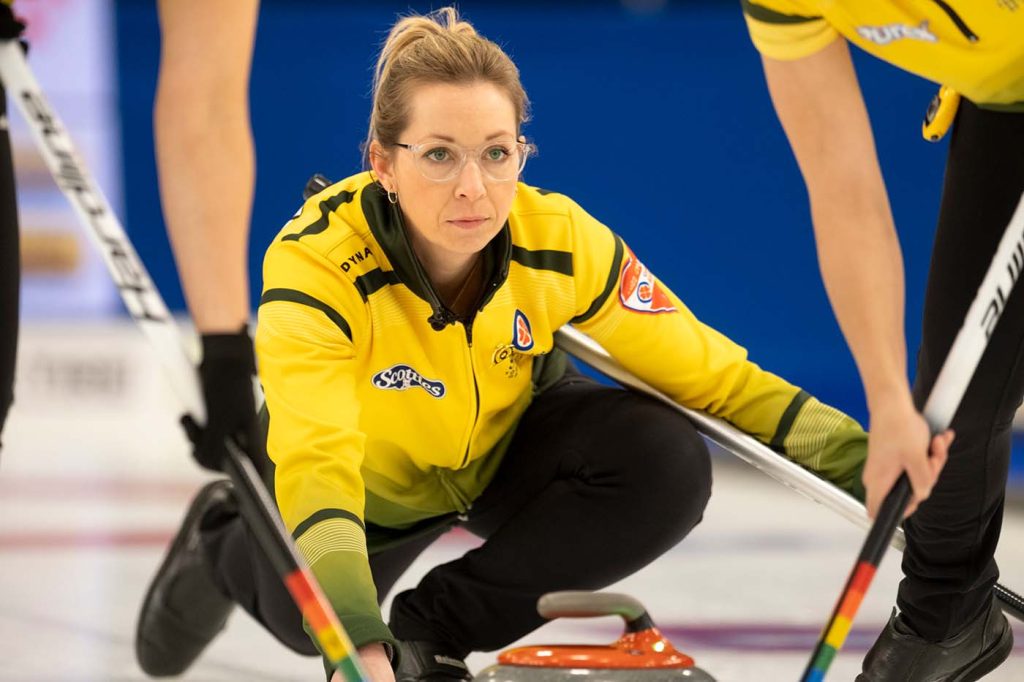 Team Northern Ontario battles back to make final at the Scotties
Could this be shades of the 2017 Tim Hortons Brier?
Local favourite skip Krista McCarville of Team Northern Ontario, playing at home in Thunder Bay, Ont., is one win away from realizing a dream of skipping her team to a Canadian women's curling championship.
McCarville climbed one step closer to the top of the mountain at the Scotties Tournament of Hearts Saturday by winning a 9-8 heart-stopping extra-end win over skip Andrea Crawford's Team New Brunswick (Fredericton) in the Page 1v2 game at Fort William Gardens.
The win puts the locals on the precipice of a national title, which would be the first for a Northern Ontario team. Thunder Bay's Heather Houston won back-to-back titles in 1988 and 1989 but was representing Ontario, then Team Canada.
McCarville is in a similar situation as Newfoundland & Labrador's Brad Gushue at the 2017 Tim Hortons Brier in his hometown of St. John's, N.L. He made the final, and before a raucous crowd that cheered his team's every shot, won the game and his first national men's title.
If McCarville can win Sunday it will have to be done without a sellout crowd, but it will still be electric. COVID-19 restrictions restricted entry throughout the week, but registered volunteers and Future Stars were invited to watch the weekend action and cheer.
McCarville says no worries. What she will have will be plenty good enough.
"They're very vocal," said McCarville. "Lots of cheering, lots of noisemakers. The funny thing is they make us laugh as well. They definitely bring us up, for sure. The voices we can hear are our family and loved ones. It does bring you up and boost you, for sure."
The fact Team Northern Ontario is in the final was not a guaranteed. The locals were being outplayed and down 7-3 after seven ends, and the silence in the crowd told the story.
But presto-chango, McCarville's team tied it up after 10, and stole a single in the extra end to pull its bacon out of the fire.
"They were playing really well," said McCarville, "but we're never going to give up. That's something our team is really good at. We get down and battle back."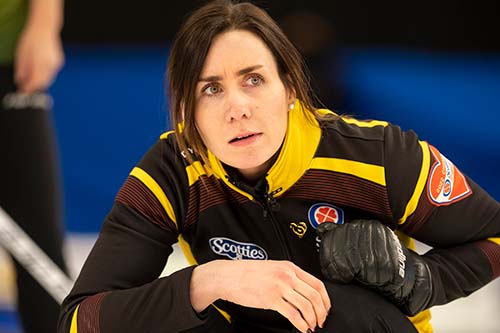 The loss dropped Team New Brunswick to Sunday's semifinal where it will face Team Canada (Gimli, Man.), skipped by Kerri Einarson at Noon (all times ET)
"Really disappointed," said Crawford. "But we've been in really tough games and you need to park those. If you can do that you can move on and come out with another strong game."
Sunday's final is set for 7 p.m.
The Scotties champion will represent Canada at the 2022 BKT Tires & OK Tire World Women's Curling Championship in Prince George, B.C., from March 19-27.
Live scoring, standings and statistics for the 2021 Scotties Tournament of Hearts are available at www.curling.ca/scoreboard/
TSN and RDS2 (streamed on ESPN3 in the United States) will provide complete coverage of the 2022 Scotties Tournament of Hearts. CLICK HERE for the complete schedule.
This story will be available in French as soon as possible at https://www.curling.ca/2022scotties/nouvelles/?lang=fr