Beijing 2022 Blog #8!
Team Canada Beijing 2022 Blog: Marc Kennedy
That wasn't an easy game to watch, but all credit to the Australian team. They had a rough, rough day as most people know by know, so come out and win twice under those circumstance, well, you really have to give it to them.
But, geez, Rachel and John sure came on strong in the second half of that game so it was a bit of a moral victory to get to the extra end, and we can take a lot of positives into our last round-robin game tomorrow morning.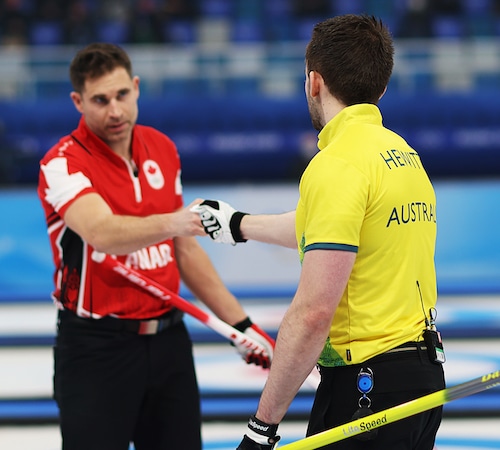 We had a good practice after the game and got a really good handle on the rocks we'll be throwing, so we're feeling good. We're still in the hunt. Just win tomorrow against Italy and we're in the playoffs; it's pretty simple.
Rachel and John have enough experience to know they can shake off a bad game like tonight and come out firing in the morning.
Yes, Italy has been playing great, and but I also know what Rachel and John are capable of, so I'm really looking forward to a good battle in the morning.
I know that was a tough game tonight for John because he's pretty close with that Australian team. Everybody knows the story about how John coached them at the Olympic Qualifying Event in the Netherlands, and helped them get their Olympic berth.
But I know John well enough that he didn't have any mixed emotions about playing them tonight. John is a pretty intense competitor and he always puts his own team first, even when he's playing friends. Sometimes it just doesn't go your way, and that was the case tonight. It's another reminder that mixed doubles curling is really, really competitive and we saw another example of that tonight.
Keep those cheers coming, Canadian curling fans. Your support means everything, especially when we're on the other side of the world! We're going to give it everything we have tomorrow, and hopefully that'll get the job done.