It's a three-peat!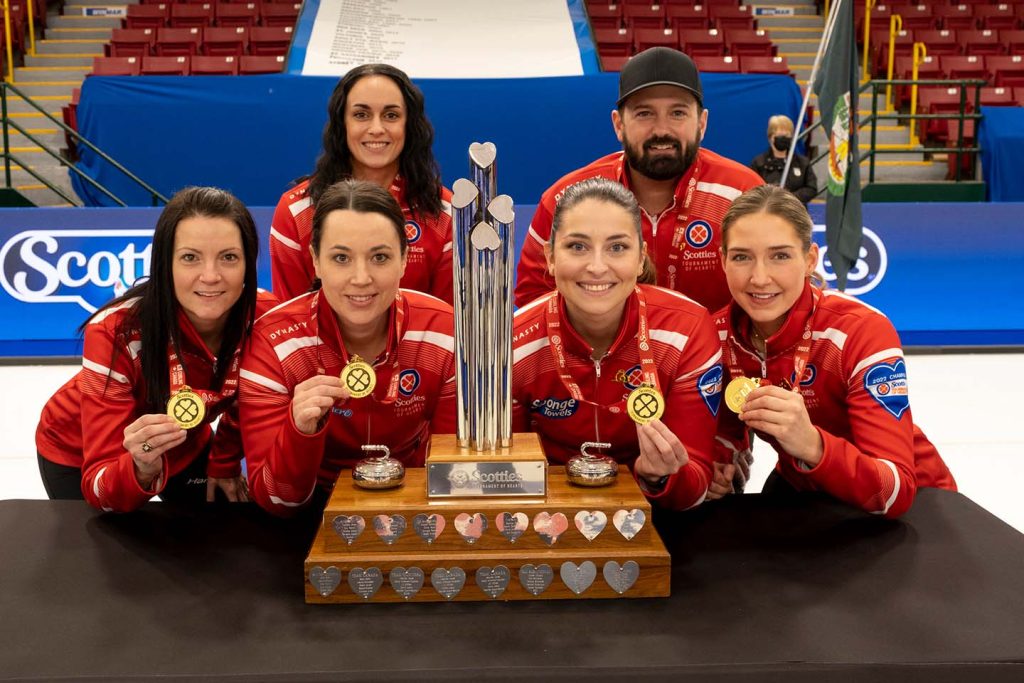 Team Canada holds on for third-straight Scotties title
Team Canada skip Kerri Einarson avoided talking about a three-peat of her Canadian women's curling championship all week, but she can talk about it all she wants now.
The exuberant skip of Team Canada carried her team from the Gimli Curling Club in Manitoba to a third straight title Sunday, overcoming Krista McCarville's Team Northern Ontario 9-6 in the final of the Scotties Tournament of Hearts in Thunder Bay, Ont.
Einarson, supported by vice-skip Val Sweeting, second Shannon Birchard lead Briane Meilleur, alternate Krysten Karwacki and coach Reid Carruthers had to overcome a determined comeback from the McCarville team, plus a small but vocal crowd in the Fort William Gardens madly cheering on the local team from Thunder Bay.
But as her team has done over the past three years, Einarson found a way to the winner's circle.
Team Canada had to win three straight games in the Page playoffs after losing its first game in the Page seeding round.
"It feels absolutely amazing," said Einarson. "To win once is hard, but to do it back-to-back-to-back is extremely hard. I'm so proud of my teammates, they've been unreal all week."
The third national title lifts Einarson and her team into elite company, along with Team Nova Scotia's Colleen Jones, Team Jennifer Jones of Manitoba and Saskatchewan's Team Vera Pezer as other skips with at least three consecutive championships. Team Colleen Jones won four in a row during her brilliant career.
It was also the fourth Scotties win for Birchard. She previously won the 2018 Scotties with Jennifer Jones when she filled in for Kaitlyn Lawes who was off to the PyeongChang Olympics for mixed doubles.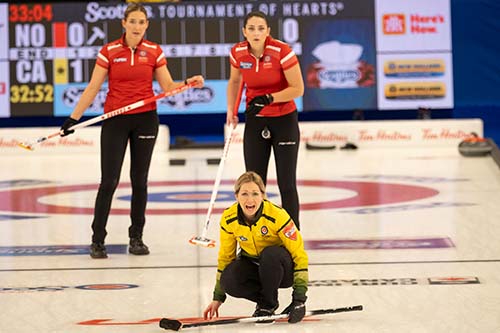 Team Canada, the best shooting team at all positions during the Scotties, did what it did best all week. It limited its opposition to a few bare peeks at the scoreboard, and capitalized when the opportunities came along. But Team Northern Ontario came back from an early 6-2 deficit and made Team Canada sweat until the end.
McCarville had shaved the Team Canada lead down to two, trailing 8-6 in the 10th, but with her final rock in her hand really had really nowhere to go with it in an attempt to score two. The button was locked up.
"It was not really the shot I was expecting to try to tie it," said McCarville. "It was kind of the way that end went. It was a Hail Mary and it didn't work."
Einarson tipped her hat to Team Northern Ontario.
"They're a wonderful team and they make a ton of shots," she said. "We knew we had to make all of our shots."
McCarville has been down this road before. She lost the final of the 2016 Scotties, and finished third at the recent Tim Hortons Canadian Curling Trials in Saskatoon, but this may have been her most bitter loss of all, coming as it did in front of friends and family.
"It's disappointing," she said. "We've been here before. You don't know when you're ever going to get back. So to come up wee bit short in the final is tough."
Ironically, Einarson now heads back to Prince George, B.C., for the BKT Tires & OK Tire World Women's Curling Championship, where she was to set defend her first title in 2020. But that event was cancelled just before it slid from the hacks due to COVID-19, and Team Canada was denied a chance at a world title.
"When I found out it was in Prince George, I said I want to get back there," said Einarson. "I said 'girls, we need to get back there and play in Canada at the worlds'. Hopefully there will be fans. It was pretty disappointing when we were unable to compete last time."
For the third year in a row, Einarson also won the Sandra Schmirler Most Valuable Player award for her performance in the playoffs.
This story will be available in French as soon as possible at https://www.curling.ca/2022scotties/nouvelles/?lang=fr