On our way to Rouyn-Noranda!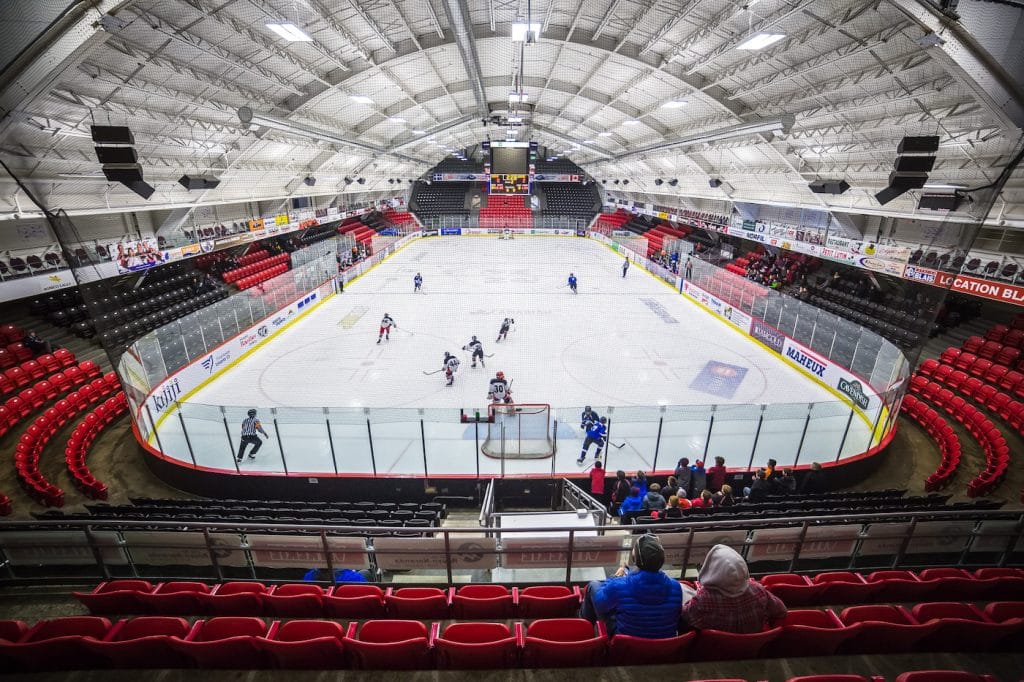 2023 New Holland Canadian Juniors to be played in Rouyn-Noranda, Que.
Canada's future curling stars will gather in Rouyn-Noranda, Que., for the 2023 New Holland Canadian Junior Men's and Women's Curling Championships, it was announced today by Curling Canada.
The event, which determines Canada's Under-21 championship teams, will be played March 25-April 2 at Aréna Glencore du Centre Dave-Keon and the Club de Curling Noranda.
"It's been too long since we've been in that part of Quebec, and we couldn't be happier to bring such a prestigious event to Rouyn-Noranda," said Katherine Henderson, Chief Executive Officer of Curling Canada. "The bid the local organizing committee submitted was outstanding, and I know the competing athletes, their coaches and families will be treated to some wonderful hospitality in just over a year from now."
It will be the fourth time a Curling Canada championship has been contested in Rouyn-Noranda, and first since 1986 when B.C.'s Jodie Sutton — with her sister, and 2002 Olympic bronze-medallist Julie Sutton at vice-skip — claimed the Canadian junior women's championship.
The city also hosted the 1960 Canadian Junior Men's Championship, won by Alberta's Tommy Kroeger, and the 1979 Canadian Senior Men's Championship, won by Alberta's Cliff Forry.
"We're very happy to host this major event in Rouyn-Noranda," said Diane Dallaire, Mayor of Rouyn-Noranda. "In addition to the economic benefits that will result from the event, this tournament is a great opportunity to promote our city at the national level. Curling is a team sport that reaches people of all ages. In fact, our curling club has been very active here for 90 years! We're very proud of it."
New Holland, a global leader in the manufacturing and selling of agricultural and construction equipment, continues its support of junior curling as the title sponsor for the most prestigious national junior curling championship events in the world.
"We couldn't be happier to be a part of these championships, which bring young curlers together from across the country, all pursuing a common goal," said Sally Johnson, Vice-President for New Holland North America. "Our network of dealers from coast to coast in Canada takes a great deal of pride in supporting these athletes as they pursue their goals, both on and off the ice, and we consider it a privilege to be a part of what we're confident will be a memorable event."
The New Holland Canadian Juniors have been staged in the province of Quebec on eight other occasions — most recently in Shawinigan in 2018, where teams skipped by Nova Scotia's Kaitlyn Jones and B.C.'s Tyler Tardi won the women's and men's titles respectively.
Five of those championships were prior to the men's and women's championships being combined into one event in 1987 at Prince Albert, Sask.
The first men's junior nationals were played in 1950 at Quebec City (won by Saskatchewan's Bill Clarke). In addition to the two previous events in Rouyn-Noranda, Ronald Ferguson's New Brunswick team won the Canadian Junior men's title in 1970 at Saint-Jérôme; and Saskatchewan's Janet Crimp team came out on top of the 1973 Canadian Junior Women's Championship in 1973 at Montreal.
Quebec also has hosted the combined New Holland Juniors three times: 1993 at Trois-Riviéres (won by Ontario's Kim Gellard and Nova Scotia's Shawn Adams); 2010 at Sorel-Tracy (won by Ontario's Rachel Homan and Ontario's Jake Walker) and 2018 at Shawinigan.
Quebec teams have won four times at the Canadian Juniors. Denis Marchand (1980 at Sault Ste. Marie, Ont.), Michel Ferland (1992 at Vernon, B.C.) and William Dion (2008 at Sault Ste. Marie) have won the men's title, while Marie-France Larouche (1999 at Kelowna, B.C.) is the lone Quebec skip to have won the Canadian junior women's title.
"We're excited to welcome the New Holland Canadian Junior Curling Championships back to Quebec, and we know the curling community of Rouyn-Noranda will do a superb job in hosting the event," said Marc-André Robitaille, Executive Director of Curling Quebec. "It's a wonderful opportunity to see Canada's future champions compete and we're looking forward to a first-class competition."
The Canadian Junior Men's Championship has been contested annually since its inception in 1950 in Quebec City. The first Canadian Junior Women's Championship was played in 1971 at Vancouver.
Alberta has won a leading 16 junior men's titles while Saskatchewan is second with 14. In women's, Saskatchewan boasts a leading 11 victories, followed by Alberta with 10.
"As president of the Noranda Curling Club, I am truly proud to host the next edition of the New Holland Canadian Junior Championships," said Host Committee chair Patrick Bédard. "This major event will allow people from the region to attend meetings that are both emotional and fun! This most important event for our Canadian future will certainly help to increase the enthusiasm for this wonderful sport at the local, regional and provincial level!"
The winners of the 2022 New Holland Canadian Juniors will represent Canada at the 2023 World Junior Championships (dates, location, TBA by World Curling Federation).
The 2022 New Holland Canadian Junior Men's and Women's Championships will take place March 25-April 1 in Stratford, Ont.
Canada has won a leading 21 world junior men's titles since 1975 and 13 women's crowns since 1988. Canadian teams swept the most recent edition of the World Junior Championships, in 2020 at Krasnoyarsk, Russia, as Manitoba teams skipped by Mackenzie Zacharias and Jacques Gauthier took gold.