Deuces wild!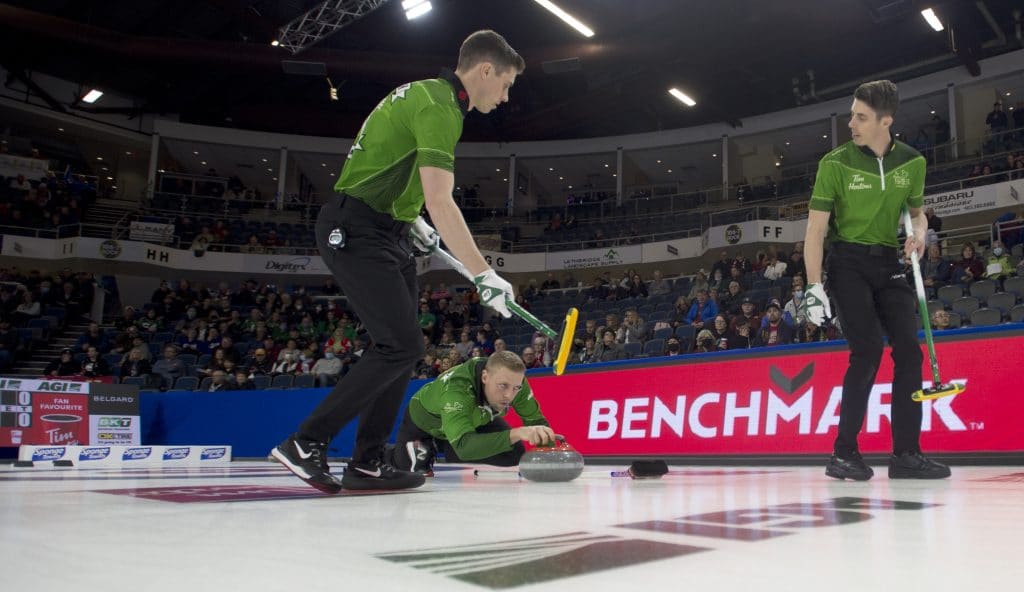 Saskatchewan bounces back for key win at Tim Hortons Brier
Deuces were the path to victory – an early but vital win – for Colton Flasch and Team Saskatchewan at the Tim Hortons Brier, presented by AGI, Sunday afternoon at the ENMAX centre in Lethbridge, Alta.
It was a razor-thin pick by Flasch, a 2019 world silver medallist with Kevin Koe, that produced the key two points in the seventh end. That two, coupled with deuces in the second and fourth ends and a steal of three in the eight resulted in Team Saskatchewan's (1-1 Saskatoon) 9-3 win over Team Prince Edward Island's Tyler Smith (0-2, Crapaud).
"A little pick," Flasch, making his first Brier appearance as a skip, said of the seventh-end shot that prevented a steal by Smith. "I could see about a small quarter of it and just hit as much as I could and got it out. That was huge, that's a three-point swing. I don't make that? We're tied up playing eight instead of up three."
When Smith missed his last-rock try for a multiple score and gave up the steal they shook hands.
The win was a good bounce-back performance for Team Saskatchewan that lost a tough 9-8 decision to Koe and Team Alberta in the opening draw.
"It's huge," the 31-year-old Flasch said. "Look at all the games, you can't lose too many games in this draw. You may get two or three at the most and we already have one so we have to keep fighting."
All four members of the team shot between 86 and 88 percent.
"We have a good feel for the ice, the speed is good, they keep playing like that and giving me good opportunities and we'll win a lot of games," Flasch said of his teammates, third Catlin Schneider, second Kevin Marsh, lead Daniel Marsh, alternate Pat Simmons and coach Jamie Schneider.
Ironically, it was playing two years with Koe, including winning the 2019 Tim Hortons Brier, that helped prepare Flasch, who previously played several years with Steve Laycock, to skip his own team.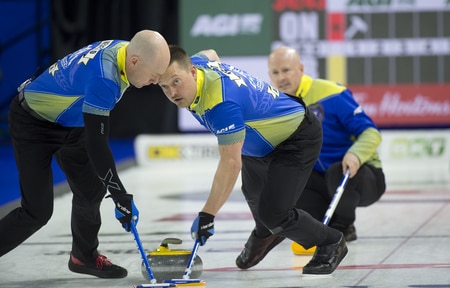 "I learned a ton," he said of the experience. "You play two years with Kevin Koe, you're going to soak in as much knowledge as possible. We had a lot of success, played in a lot of big games so the more big games you play in, the better you're going to get in them."
Koe, seeking his fifth Tim Hortons Brier title, and Team Alberta (3-0, Calgary) stole a single in the first end and scored one in the tenth to slide by Glenn Howard and Team Ontario (0-3, Penetanguishene) 7-5. The 47-year-old Koe won in 2010, 2014, 2016 and 2019.
In the other Pool A games, James Grattan and Team New Brunswick (1-2, Oromocto) beat Nathan Young and Team Newfoundland and Labrador (1-2, St. John's) 9-4, and Matt Dunstone's Team Wild #2 (3-0, Regina) beat Thomas Scoffin of Team Yukon (1-2, Whitehorse) 9-5.
The 18 teams are split into two pools of nine and will play a complete eight-game round robin. The top three teams in each pool advance to the playoffs where the field will be further reduced to a Final Four and a Page playoff system.
The final goes Sunday, March 13.
The 2022 Tim Hortons Brier continues with this evening's draw at 6:30 p.m. MT.
Live scoring, standings and statistics for the 2022 Tim Hortons Brier are available at curling.ca/scoreboard.
TSN and RDS2 (streamed on ESPN3 in the United States) will provide complete coverage of the 2022 Tim Hortons Brier. CLICK HERE for the complete schedule.
For ticket information for the 2022 Tim Hortons Brier, go to www.curling.ca/2022brier/tickets/
This story will be available in French as soon as possible at www.curling.ca/2022brier/nouvelles/?lang=fr