Snake bitten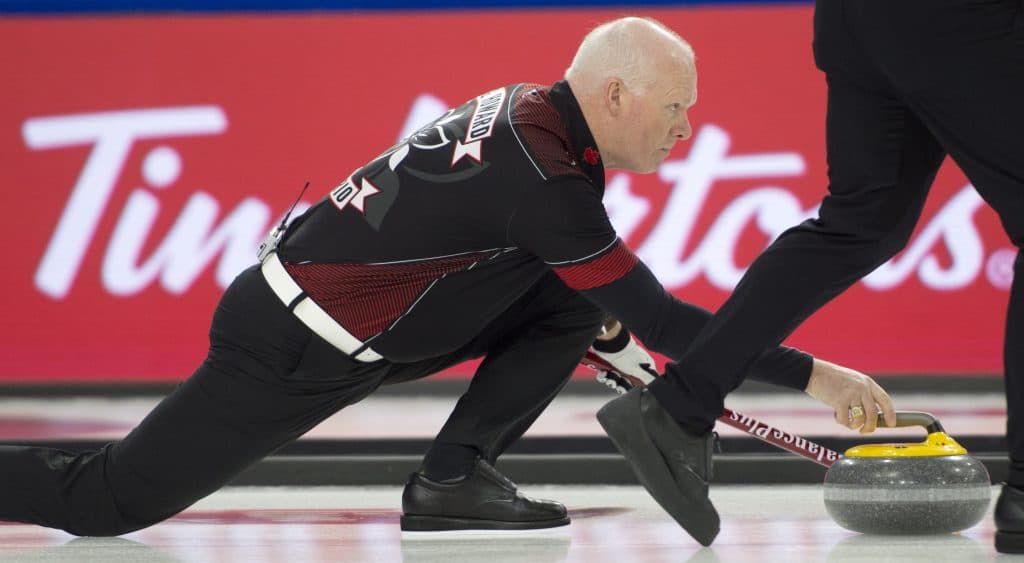 Ontario skip struggles in draw 11 loss at the hands of Saskatchewan
Glenn Howard and Team Ontario couldn't buy a break all week and on Tuesday, they couldn't capitalize on their chances to keep their playoff hopes alive at the Tim Hortons Brier, presented by AGI.
The veteran Howard missed the key shots that allowed Colton Flasch and Team Saskatchewan (3-2, Regina) to escape a possible early disaster and move to a 6-3 win over Ontario (1-4, Penetanguishene).
"That's probably the worst Brier game I've ever curled in my life, I was awful," said an obviously frustrated Howard. "I wasn't fully confident all week, I struggled to put the broom in the right spot, I couldn't get the speed. My draw game, which is normally my bread and butter, just wasn't there. That's the disappointing part, you want to play to the best of your ability, you play really good and lose, it's easy; you play average and lose it's upsetting."
Both teams were fighting for their playoff lives, knowing one more loss would seriously jeopardize their chances of playing on the weekend. Saskatchewan's win kept them alive in fourth place in Pool A with upcoming games against Yukon, Newfoundland and Labrador and Wild Card #2.
The 59-year-old Howard, still recovering from a knee injury that kept him out of the Ontario championship, was snake-bitten through the week — his first three games were all close losses to the top three teams in the pool. His fourth loss, coupled with a win two sheets over by Kevin Koe and Team Alberta, eliminated Ontario.
Both Howard, a four-time Brier champion skipping in his 10th championship, and Flasch who was skipping for the first time in the event, were a bit shaky early but it was the veteran Howard who missed the key shots.
Backed by vice-skip Catlin Schneider, second Kevin Marsh, lead Daniel Marsh, alternate Pat Simmons and coach Jamie Schneider, Flasch stole one in the second for a 2-0 edge and got a monstrous break in the third.
"We dodged a bit of a bullet in three and after that we took advantage of every end," said Flasch, who was wide on a freeze attempt in three that left Ontario a shot for four.
Howard, shooting just 46 per cent, had a tap back, but his stone over curled, kicked out his own counter and left Saskatchewan counting one.
"I kind of over-read it a bit," Howard said. "I thought I could throw it quiet and I threw it a little too quiet and the boys couldn't hold it."
Ontario scored two in the seventh to trail 5-3 and had a chance to steal in eighth. But with his final stone Flasch executed a tough runback double to score one and prevent what could have been a steal of three.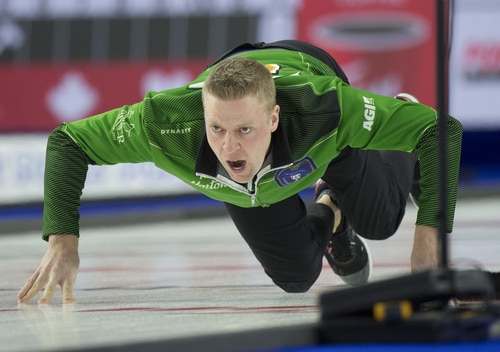 "Getting one in eight was quite large, keeping that three-point lead was big," said Flasch. "If we keep picking up wins and sneak in the playoffs we have a real chance."
Elsewhere in Pool A, Matt Dunstone skipped his Wild Card #2 (6-0, Regina) to its sixth straight victory and all but guaranteed themselves a playoff berth. Having survived a bombastic shootout with Team Alberta Monday night, Dunstone gave up four in the fifth end but stole singles in the seventh and eighth for an 8-6 win over Tyler Smith and Team Prince Edward Island (1-4, Crapaud).
Koe and Team Alberta (5-1, Calgary) got by James Grattan of New Brunswick (1-5, Oromocto) 5-2, and Team Canada, skipped by Brendan Bottcher (5-0, Edmonton) remained unbeaten with a 10-4 win over Thomas Scoffin and Team Yukon (1-4, Whitehorse).
The 18 teams are split into two pools of nine and will play a complete eight-game round robin. The top three teams in each pool advance to the playoffs where the field will be further reduced to a Final Four and a Page playoff system.
The final goes Sunday, March 13.
The 2022 Tim Hortons Brier continues with this evening's draw at 6:30 p.m. MT.
Live scoring, standings and statistics for the 2022 Tim Hortons Brier are available at curling.ca/scoreboard.
TSN and RDS2 (streamed on ESPN3 in the United States) will provide complete coverage of the 2022 Tim Hortons Brier. CLICK HERE for the complete schedule.
For ticket information for the 2022 Tim Hortons Brier, go to www.curling.ca/2022brier/tickets/
This story will be available in French as soon as possible at www.curling.ca/2022brier/nouvelles/?lang=fr