Home and cooled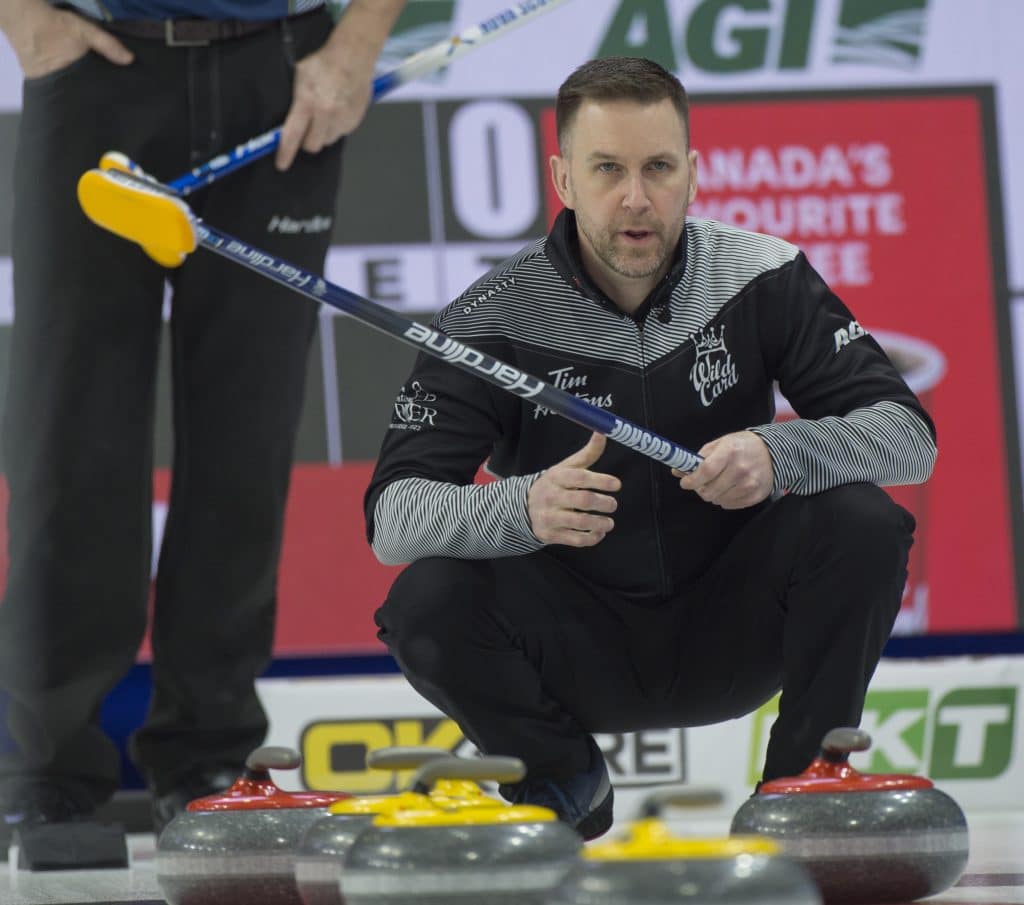 Team Wild Card #1 clinches playoff spot at Tim Hortons Brier
Cream rises to the top, and that's certainly been the case at the 2022 Tim Hortons Brier, presented by AGI.
The usual suspects have already made their their bids for playoff spots in the 18-team, two pool round-robin cometition.
In fact, one is already home and cooled. Skip Brad Gushue's Team Wild Card #1 (6-0, St. John's, N.L.), fresh off a bronze-medal victory at the Beijing Winter Olympics, claimed the first Pool B playoff spot in the weekend playoffs after posting a 10-4 win over skip Paul Flemming's Team Nova Scotia (3-3, Halifax).
But it's bumper-to-bumper traffic following the boys from The Rock, and all of the teams have a pedigree in the sport. Skip Brad Jacobs of Team Northern Ontario (5-2, Sault Ste. Marie) and skip Jason Gunnlaugson's Team Wild Card #3 (5-2, Morris, Man.) are deadlocked in second.
Team Wild Card #3, skipped by Jason Gunnlaugson kept up to the pace with a 10-1 win over skip Peter Mackey's Team Nunavut (0-6, Iqaluit).
And one step behind them is skip Mike McEwen's Team Manitoba (4-2, West St. Paul) which scored a huge 8-6 win over Northern Ontario to climb back into the mix Wednesday.
The top three teams in each of the two pools qualify for the playoffs on the weekend.
It was a huge win for Team Manitoba which could ill afford another loss, and the fact it came against the sharp-shooting crew from the Soo was impressive.
McEwen was on fire, a point he wasn't about to argue.
"We could probably say that was our best team game," said the Team Manitoba skipper. "I made some big ones, the draws I threw the boys managed really well. And Colton (lead Lott) made, geeze, tick after tick after tick. I think he made four of them. That's impressive."
McEwen conceded it was a crucial win.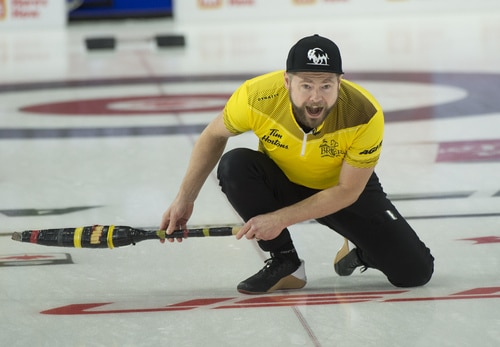 "Our goal at the start of the week was try to get to 6-2. Then we control our own destiny. So we needed this one today. That was big."
Team Manitoba closes out with games Thursday against Team Northwest Territories (0-6, Yellowknife) skipped by Jamie Koe, and skip Mike Fournier's Team Quebec (2-4, Dollar-des-Ormeaux).
Two more teams are still in the mix but are obviously on life support. Team Nova Scotia still has an outside chance at a tiebreaker along with veteran skip Brent Pierce's Team British Columbia (3-3, New Westminster) after their 11-5 win over Team Quebec. It was the second win in the last three games for Team British Columbia, which stumbled out of the gate, losing its first two games by a combined score of 21-7.
But can three losses make the grade? If so, Team British Columbia and Team Nova Scotia will have to do some fancy shooting in their final two games Thursday to make a possible tiebreaker.
Gushue admitted his team has played relaxed in Lethbridge after coming home from the Olympics.
"We're playing pretty loose. It kinda feels like we're playing with house money," said Gushue, who is looking to win his fourth Canadian men's curling championship. "The ice in Beijing wasn't quite like this. This is fun."
Gushue also admitted there's a division between the top teams and some of the others in the Tim Hortons Brier field.
"There's a descrepency," he said. "It's got to do with the time the top-level teams put into it, their time on tour. Sports psychology training. All that stuff. It ultimately comes down to that."
The 2022 Tim Hortons Brier continues with a draw at 6:30 p.m. (all times MT).
Live scoring, standings and statistics for the 2022 Tim Hortons Brier are available at curling.ca/scoreboard.
TSN and RDS2 (streamed on ESPN3 in the United States) will provide complete coverage of the 2022 Tim Hortons Brier. CLICK HERE for the complete schedule.
For ticket information for the 2022 Tim Hortons Brier, go to www.curling.ca/2022brier/tickets/
This story will be available in French as soon as possible at www.curling.ca/2022brier/nouvelles/?lang=fr