Bounceback win!
Team Canada beats Turks in sharp rebound win at world women's event
Team Canada didn't know what to expect when it took to the ice to play Team Turkey at the 2022 BKT Tires & OK Tire World Women's Curling Championship, presented by Nature's Bounty, Sunday afternoon.
It was, after all, skip Kerri Einarson's first look ever at a Turkish side. And what type of Team Canada would show up?
What she got was an impressive 8-4 victory but also a spirited performance from her opposition, skipped by Dilsat Yildiz, making its first-ever world women's championship appearance.
"They're a great team and made some nice shots," said Einarson, whose team from Gimli, Man., improved to 2-1 in the 13-team, round-robin competition at CN Centre in Prince George, B.C.
Einarson stressed her team was more concerned about recovering from a poor performance the night before in a 6-4 loss to Team Norway than about their opposition.
"We really focused on ourselves," she said. "We shook it off (Saturday night loss) and came back with a good, solid game."
It was an important win for Einarson, who is supported in Prince George by third Val Sweeting, second Shannon Birchard, lead Briane Meilleur, alternate Krysten Karwacki team coach Reid Carruthers and national coach Renée Sonnenberg. She could least afford to lose to a world neophyte, especially with so many tough teams still to play.
And, just as important, she wanted to avoid another slow start like she suffered last year when Team Canada lost five of its first six round-robin games at the world event in Calgary.
But Einarson wouldn't let that happen, shooting a perfect 100 per cent over the seven-end game.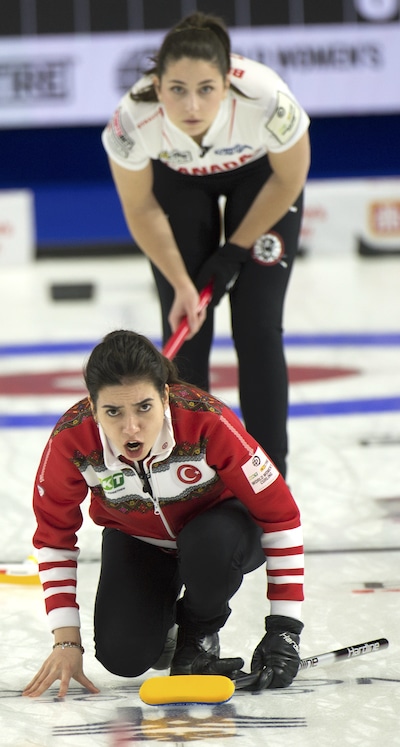 The round-robin lead, however, belongs to South Korea after skip EunJung Kim guided her team to its third straight win without a defeat. The Koreans defeated skip Alzbeta Baudysova's Czech Republic (1-2) 8-7 in an extra end to inch ahead of three other undefeated teams at the top of the standings. Team Switzerland, Team Japan and Team United States are all tied for second place with 2-0 records.
The U.S. squad, skipped by Cory Christensen, defeated Team Italy's Stefania Constantini (0-3) 7-6 in an extra end to keep its slate clean. The Swiss, skipped by Silvana Tirinzoni, and the Japanese, with skip Ikue Kitazawa at the controls, enjoyed the afternoon bye after winning their morning games.
In the only other game in the afternoon draw, skip Anna Hasselborg recovered from her morning loss to Team Switzerland to lead Team Sweden (2-1) to a 9-4 victory over Team Denmark's Madeleine Dupont (1-1).
Team Norway (1-1), skipped by Marianne Roervik, Team Germany's Daniela Jentsch (0-2) and Scotland's Rebecca Morrison (0-2) also had the afternoon bye.
The Turkish team, which includes vice-skip Oznur Polat, second Berfin Sengul, lead Ayse Gozutok and alternate Mihriban Polat, showed some skill but their inexperience at the world level showed as they tried some low percentage shots when they weren't needed, and that opened the door for Team Canada.
The Canadians broke through in the fourth end when Yildiz tried a tricky raise-takeout on a Canadian stone in front, missed it, and allowed Einarson a simple draw to the eight-foot for three and a 5-2 lead. Another three by Canada in the sixth end sealed the deal, and the Turks conceded after only seven ends, still only four down.
Sweeting was pleased to see the Canadians bounce back.
"It definitely came together today," she said. "We figured out the ice, the girls set the ends up really well and Kerri finished them off."
Team Canada's win sets up a difficult matchup in the evening against the two-time defending champions from Switzerland.
"They're a great team," said Meilleur in a TSN post-game interview, "so we're going to have to put a lot of shots together to beat them."
The 2022 BKT Tires & OK Tire World Women's Curling Championship continues with a draw at 7 p.m. (all times PT).
Live scoring, standings and statistics for the 2022 BKT Tires & OK Tire World Women's Curling Championship are available by CLICKING HERE.
TSN and RDS2 will provide coverage of the 2022 BKT Tires & OK Tire World Women's Curling Championship. CLICK HERE for the complete schedule.
For ticket information for the 2022 BKT Tires & OK Tire World Women's Curling Championship, go to www.curling.ca/2022worldwomen/tickets/
This story will be available in French as soon as possible at www.curling.ca/2022worldwomen/nouvelles/?lang=fr