Daylight warriors!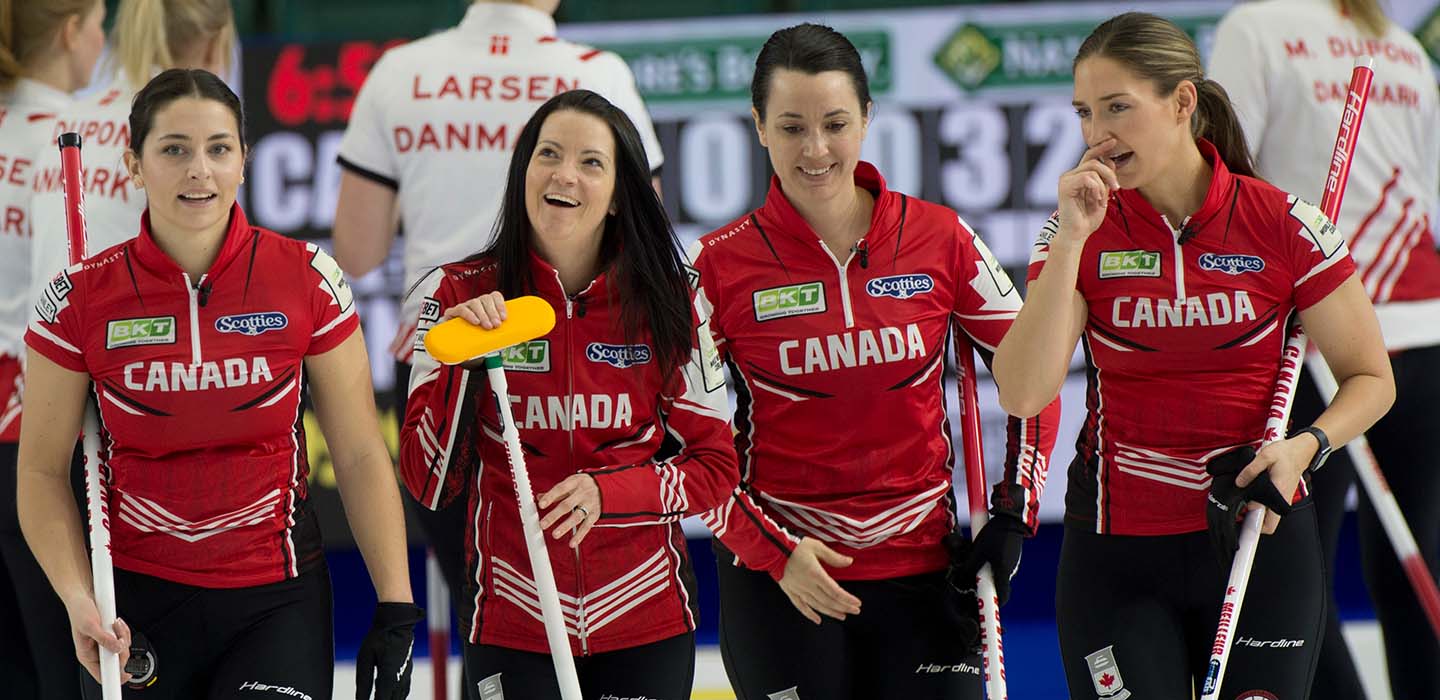 Team Canada makes hay while the sun shines in Prince George
If skip Kerri Einarson could ever get her Team Canada's games scheduled entirely in the afternoon, she might have something cooking on the world curling stage.
However, there are night games involved at the 2022 BKT Tires & OK Tire World Women's Curling Championship, presented by Nature's Bounty, in Prince George, B.C.
Einarson wasn't at her personal best Monday afternoon, but she did enough in front of partisan Canadian fans to post an 8-4 win over skip Madeleine Dupont's Team Denmark as round-robin play continued at the CN Centre.
The win lifted Team Canada to a 3-2 record and alone in fifth place nearing the mid-way point of the 13-team competition and within sight of the leaders. The Danes dropped to 2-2.
It was the third afternoon win for Einarson who is supported by vice-skip Val Sweeting, second Shannon Birchard, lead Briane Meilleur, alternate Krysten Karwacki, team coach Reid Carruthers and national coach Renée Sonnenberg.
On the flip side, the Canadians are 0-2 in night games, which seems to be their Achilles Heel so far.
Sweeting, who had a solid game, said the Canadians had to trust what they were doing on the ice Monday, even though they were blitzed 11-3 Sunday night against Team Switzerland.
"That's all you can do is learn from last night, park it, and go forward," she said. "It's tough to trust the process and stick with it. Sometimes you want to grasp at straws and look for answers, but sometimes it's a matter of being patient and trust we would figure it out and not reinvent the wheel."
Some serious congestion developed Monday atop the standings with three teams log-jammed with 4-0 records following the afternoon draw, including Team Switzerland, Team South Korea and Team Japan.
The two-time defending champions Switzerland, skipped by Silvana Tirinzoni, joined the crowd with a well-earned 8-3 win over skip Dilsat Yildiz's Team Turkey (0-4), making its world curling debut. The Koreans, skipped by EunJung Kim, kept pace after scoring an 11-4 win over Team United States (2-2), skipped by Cory Christensen.
Skip Ikue Kitazawa's Team Japan moved to 4-0 with a forfeited win over Team Scotland in the morning draw and had the afternoon bye. The Scots were forced to drop out of the competition after several COVID-19 positive tests.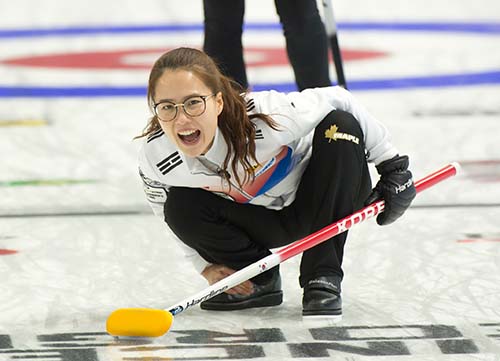 Anna Hasselborg skipped her team to a win in the morning to improve Team Sweden to 3-1 and nestle in nicely behind the leaders. Her team watched the afternoon draw from afar with a bye.
The Canadians, lead to third, played well for the first half of the game, while Einarson struggled, missing opportunities in the first and fourth ends for deuces as Dupont, backed in Prince George by vice-skip Mathilde Halse, second Denise Dupont, lead My Larsen, alternate Jasmin Lander and coach Heather Rogers of Calgary, crept out to a 3-2 lead.
But Sweeting made two pistols in the sixth end, including a hit and roll behind cover, to set the table for a three-ender and Canada's first lead.
"That was a beauty shot," said Einarson.
Team Canada stole two more in the seventh when Dupont was heavy facing three, and from a 3-2 deficit, Canada was ahead 7-3.
The front end of Birchard and Meilleur were tremendous for Canada. Birchard shot an eye-popping 97 per cent while Meilleur checked in at 88 per cent.
Einarson was grateful for the help in front of her.
"They definitely played very well," she said. "They made my job easier. I struggled with my draw weight early."
In the other game Monday afternoon, skip Daniela Jentsch's Team Germany (1-3) hit the win column with a 6-4 victory over skip Alzbeta Baudysova's Team Czech Republic (1-4).
Team Canada drew the bye Monday evening and is back on the ice Tuesday afternoon against undefeated Team Japan.
The top six teams qualify for the playoff round with the top two receiving a bye while the remaining four knock heads in the first round. The gold-medal will be played Sunday.
The 2022 BKT Tires & OK Tire World Women's Curling Championship continues with a draw at 7 p.m. (all times PT).
Live scoring, standings and statistics for the 2022 BKT Tires & OK Tire World Women's Curling Championship are available by CLICKING HERE.
TSN and RDS2 will provide complete coverage of the 2022 BKT Tires & OK Tire World Women's Curling Championship. CLICK HERE for the complete schedule.
For ticket information for the 2022 BKT Tires & OK Tire World Women's Curling Championship, go to www.curling.ca/2022worldwomen/tickets/
This story will be available in French as soon as possible at www.curling.ca/2022worldwomen/nouvelles/?lang=fr