Win one, lose one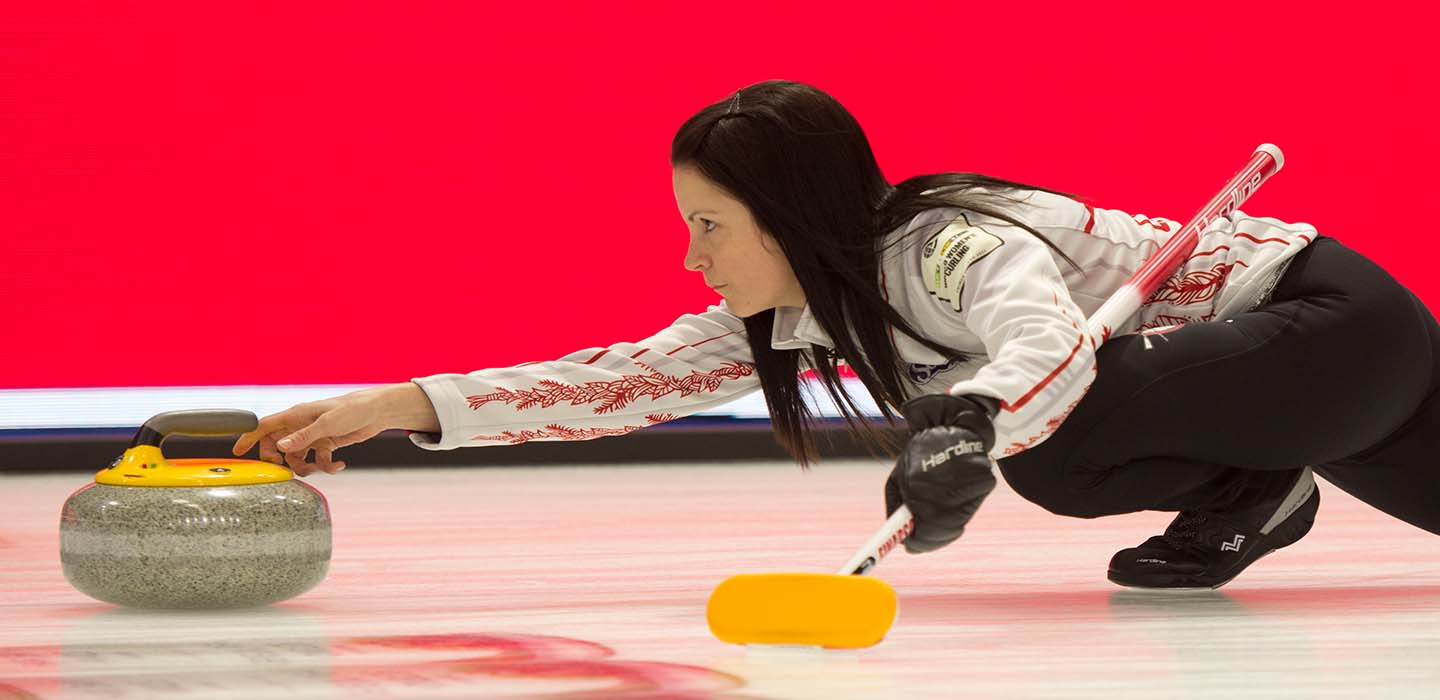 Team Canada settles for another split at BKT Tires & OK Tire World Women's
There is still plenty of opportunity for Team Canada to recover at the 2022 BKT Tires & OK Tire World Women's Curling Championship, presented by Nature's Bounty, but surely its players must have a small sense of disappointment with a 2-2 start.
The Canadians, skipped by Kerri Einarson, had a chance to make a statement against two-time defending world champions from Switzerland Sunday evening in Prince George, B.C., but a poor start and the inability to generate offence scuttled their efforts in an 11-3 loss in six ends to skip Silvana Tirinzoni and her solid team.
The win moved the Swiss into a first-place tie with skip EunJung Kim's idle Team South Korea, and Team Japan, skipped by Ikue Kitazawa, with identical 3-0 records, and dropped the Canucks into the middle of the 13-team pack where there's more heavy lifting to do in the round-robin competition.
Canada opened the day with an impressive 8-4 victory over skip Dilsat Yildiz's Team Turkey, but offered little resistance against the Swiss in the evening.
"It's not what we wanted to start off with, but it is what it is," said Einarson, who is supported by her Gimli, Man., team of vice-skip Val Sweeting, second Shannon Birchard, lead Briane Meilleur, alternate Krysten Karwacki, team coach Reid Carruthers and national coach Renée Sonnenberg.
The Japanese kept pace at the top of the leaderboard after stealing a single in the final end to post a 7-6 win over Team United States (2-1), skipped by Cory Christensen.
It was a disappointing evening for Canada but not on the level of pain suffered by Team Scotland which was forced to bow out of the competition at the CN Centre over COVID-19 concerns. The young Scottish team had been fielding a three-member team since the event got underway Saturday after skip Rebecca Morrison and alternate Fay Henderson had tested positive ahead of the event.
Two more positive tests Sunday pushed them over the edge. The team was 0-2 and playing in its first world championship.
Skip Madeleine Dupont's Team Denmark got the walkover win against Scotland to improve its record to 2-1.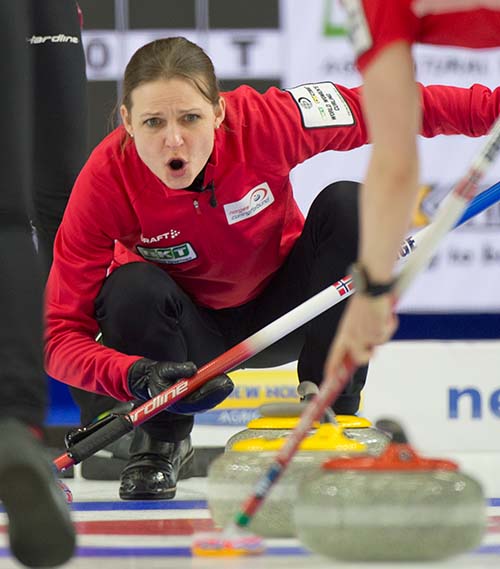 Team Norway, skipped by Marianne Roervik, also moved to 2-1 with an 11-6 win over skip Daniela Jentsch's Team Germany (0-3).
Team Sweden, skipped by Anna Hasselborg, had the evening bye and remained among the leaders with a 2-1 record.
Other teams with the evening bye were skip Alzbeta Baudysova's Czech Republic (1-2), Team Italy (0-3), skipped by Stefania Constantini, and Yildiz's Team Turkey (0-3).
Canada had few chances against the very efficient Swiss, which bolted from the gate with a quick three-ender and never looked back.
Tirinzoni, backed by vice-skip Alina Paetz (who throws skip stones), second Esther Neuenschwander, lead Melanie Barbezat, alternate Carole Howald and coach Pierre Charette, played an almost perfect first end to set up the opening score. But after Canada scored two in the second to draw close, disaster struck in the third when Einarson flashed on a long double attempt. It was a free draw for three and it was figuratively lights out for Team Canada.
"You never want to give up threes to world medallists," Einarson said. "They played a really great first end and had us hooped. Then I had a double and it fell [out] the whole way."
Einarson, trailing 7-3, was in trouble again in the sixth, facing a bundle of Swiss rocks clustered in the four-foot, but her double attempt went awry, leaving the Swiss with a steal of four.
"When you play with self-confidence you're not afraid to have a lot of rocks in play," said Tirinzoni. "It's working out quite well right now and we're hoping to keep it going."
The 2022 BKT Tires & OK Tire World Women's Curling Championship continues Monday with draws at 9 a.m. 2 p.m. and 7 p.m. (all times PT).
Live scoring, standings and statistics for the 2022 BKT Tires & OK Tire World Women's Curling Championship are available by CLICKING HERE.
TSN and RDS2 will provide complete coverage of the 2022 BKT Tires & OK Tire World Women's Curling Championship. CLICK HERE for the complete schedule.
For ticket information for the 2022 BKT Tires & OK Tire World Women's Curling Championship, go to www.curling.ca/2022worldwomen/tickets/
This story will be available in French as soon as possible at www.curling.ca/2022worldwomen/nouvelles/?lang=fr