The race is on!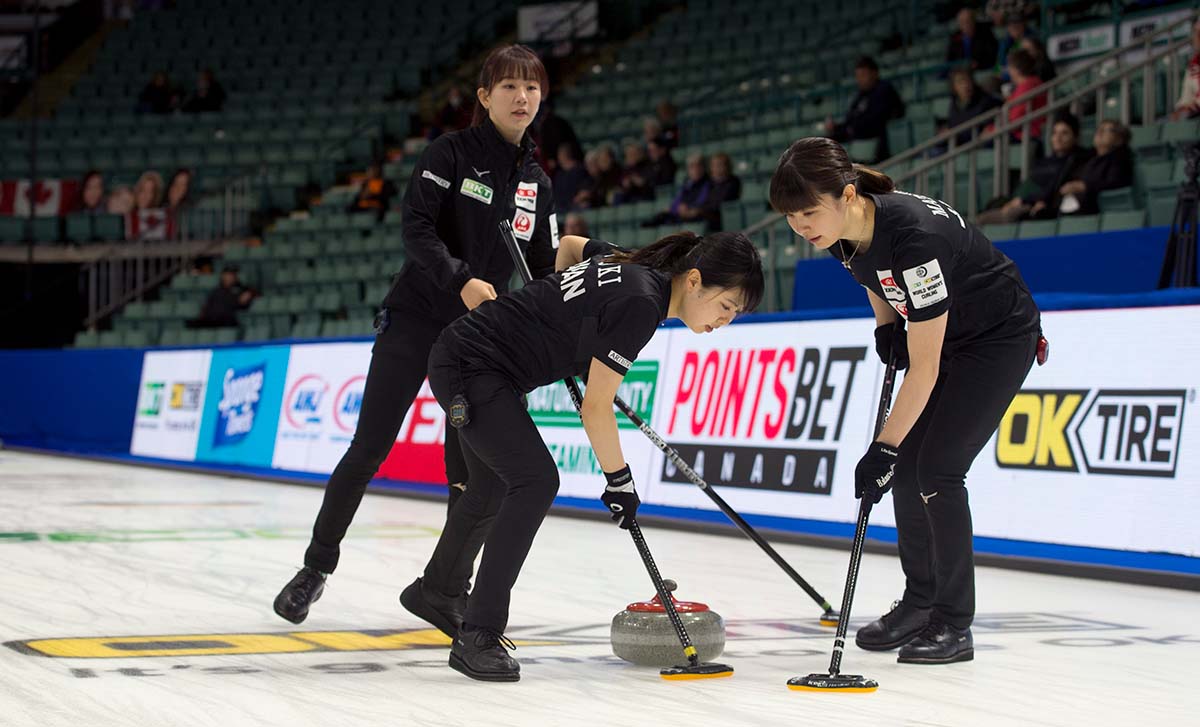 Bumper-to-bumper traffic in race to playoffs in Prince George
The race for playoff positions at the 2022 BKT Tires & OK Tire World Women's Curling Championship, presented by Nature's Bounty, is starting to look like rush-hour congestion.
Two-time defending world champions Switzerland skipped by Silvana Tirinzoni kept a firm grasp on first place after posting her eighth straight win Wednesday afternoon, but following the team from Zurich was bumper-to-bumper traffic in the race for the six playoff spots available in the 13-team, round-robin affair at CN Centre in Prince George, B.C.
Tirinzoni, backed by vice-skip Alina Paetz (who throws skip stones), second Esther Neuenschwander, lead Melanie Barbezat, alternate Carole Howald and coached by Pierre Charette of Canada, kept their feet to the gas pedal by defeating Team United States, skipped by Cory Christensen, 8-7 to extend the Swiss lead at the top of the table with a perfect 8-0 record.
The lineup behind the Swiss is lengthy. Team Korea, skipped by EunJung Kim, is next at 6-1, followed by skip Anna Hasselborg's Team Sweden at 6-2. And right on their tail was skip Kerri Einarson's Team Canada with a 5-2 record. All three teams had the afternoon bye.
It was a three-way logjam of 5-3 teams after that, including the United States, Denmark and Japan. The Japanese, skipped by Ikue Kitazawa, made the biggest move by defeating skip Madeleine Dupont's Team Denmark 8-1.
In the only other game on the afternoon slate, Team Germany's Daniela Jentsch (4-4) kept her playoff hopes alive with a 7-5 win over Team Italy (1-7) skipped by Stefania Constantini.
Team Norway, skipped by Marianne Roervik, with Kristin Skaslien throwing final stones, is also at 4-4 after picking up a forfeited win over Team Scotland. The Scots had to pull out of the competition over COVID-19 concerns.
Einarson, supported by third Val Sweeting, second Shannon Birchard, lead Briane Meilleur, alternate Krysten Karwacki, team coach Reid Carruthers and national coach Renée Sonnenberg, survived a gut-wrenching 10-8 win over the Swedes in the morning. The Canadians, based in Gimli, Man., will have the benefit of the forfeiture win over Scotland in Wednesday's evening draw to raise its record to 6-2.
The 2022 BKT Tires & OK Tire World Women's Curling Championship continues Wednesday with a draw at 7 p.m. (all times PT).
Live scoring, standings and statistics for the 2022 BKT Tires & OK Tire World Women's Curling Championship are available by CLICKING HERE.
TSN and RDS2 will provide complete coverage of the 2022 BKT Tires & OK Tire World Women's Curling Championship. CLICK HERE for the complete schedule.
For ticket information for the 2022 BKT Tires & OK Tire World Women's Curling Championship, go to www.curling.ca/2022worldwomen/tickets/
This story will be available in French as soon as possible at www.curling.ca/2022worldwomen/nouvelles/?lang=fr