Job #1 completed!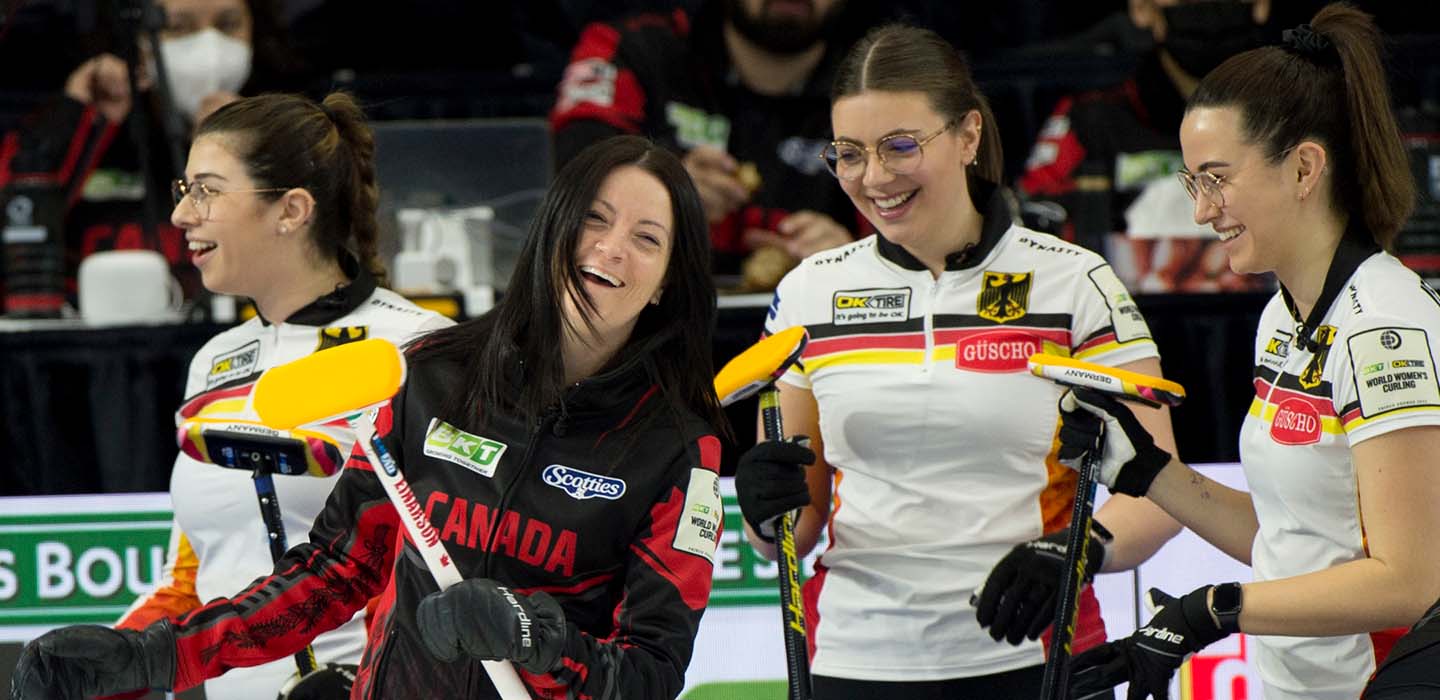 Team Canada makes playoffs with win over Germany
Skip Kerri Einarson of Team Canada has accomplished what she says is 'Job #1' at the 2022 BKT Tires & OK Tire World Women's Curling Championship, presented by Nature's Bounty, in Prince George, B.C.
Make the playoffs.
Einarson and her talented team from Gimli, Man., accomplished their goal Friday morning with a convincing 8-5 win over Team Germany (5-6), skipped by Daniela Jentsch, at CN Centre.
The win, the sixth in the past seven games for the Canadians (one was a default win), lifted them into a second-place tie with idle Team Sweden with 8-3 records in the 13-team, round-robin competition. Sweden, skipped by Anna Hasselborg, had the morning bye.
Two-time defending champions Switzerland, skipped by Silvana Tirinzoni, clinched first place and a first-round bye into the playoffs on Thursday, kept its foot to the pedal with an 11-3 win over skip Ikue Kitazawa's three-player Team Japan (6-5) and run its record to a spotless 11-0. The Japanese were forced to play with only three curlers because of COVID protocols.
Team Japan fell to seventh place and just outside the playoff range and announced it would forfeit its final round-robin game against Team Korea (7-3) this afternoon. Because of this result, the six teams have qualified for the playoffs, but ranking within the playoffs is to be determined.
The six playoff teams are Switzerland, Canada, Sweden, South Korea, Denmark and the United States.
The top two teams get an automatic bye into the second round, while teams with six losses were eliminated from the playoffs.
The Canadians hoped to wrap up the playoff spot Thursday evening, and almost did, but faded down the stretch and dropped a heartbreaking 8-7 extra-end loss to Team South Korea, skipped by EunJung Kim. The Koreans also had the bye Friday morning and hold down fourth place with a 7-3 record.
There was no fading this time. Einarson, backed by vice-skip Val Sweeting, second Shannon Birchard, lead Briane Meilleur, alternate Krysten Karwacki, team coach Reid Carruthers and national coach Renée Sonnenberg, were sharp from the beginning, stealing one in the first end, and put constant pressure on their opponents.
Jentsch tried to stop the bleeding with some excellent shots, but couldn't stop the Canadians' overall excellence.
Team Canada's dominance was reflected in the players' shooting percentages: Einarson 92, Sweeting 98, Birchard 91, and Meilleur 89.
The dominant win helped ease the pain of Thursday night's collapse.
"I think we wanted to forget about last night," said Birchard. "There were obviously some shots we wanted back. That happens sometimes. We knew we were going to have to come out strong this morning because Germany always seems to play well against us. I think we came out big and that steal gave us some momentum early."
It was the second year in a row that Einarson and her team have qualified for the playoffs, although they needed to roar back from a 1-5 start last season in Calgary to do it.
"Definitely a lot less stressful. Our backs weren't against the wall from Day one," said Einarson. "We've been playing much better as a team."
The Canadians close with an evening game against Team Czech Republic's Alzbeta Baudysova at 7 p.m. (all times PT) and have their eyes on finishing second overall and getting the first-round bye in the playoffs.
"We still have a chance at that second spot. That would be really good to clinch that," said Sweeting.
Team United States and Team Denmark didn't know it at the time, but their wins Friday morning would get them into the playoffs with 7-4 records after Japan forfeited its final game.
Skip Madeleine Dupont's Team Denmark scored a huge 11-4 win over Team Norway (5-6), skipped by Marianne Roervik, while the Americans, led by skip Cory Christensen, were handed a default win against Team Scotland. The Scots had to bow out of the competition early after multiple positive tests for the COVID-19 virus.
Other teams sitting out the bye Friday were Italy, the Czech Republic and Turkey.
The 2022 BKT Tires & OK Tire World Women's Curling Championship continues Friday with draws at 2 p.m. at 7 p.m. (all times PT).
Live scoring, standings and statistics for the 2022 BKT Tires & OK Tire World Women's Curling Championship are available by CLICKING HERE.
TSN and RDS2 will provide complete coverage of the 2022 BKT Tires & OK Tire World Women's Curling Championship. CLICK HERE for the complete schedule.
For ticket information for the 2022 BKT Tires & OK Tire World Women's Curling Championship, go to www.curling.ca/2022worldwomen/tickets/