On to the semis!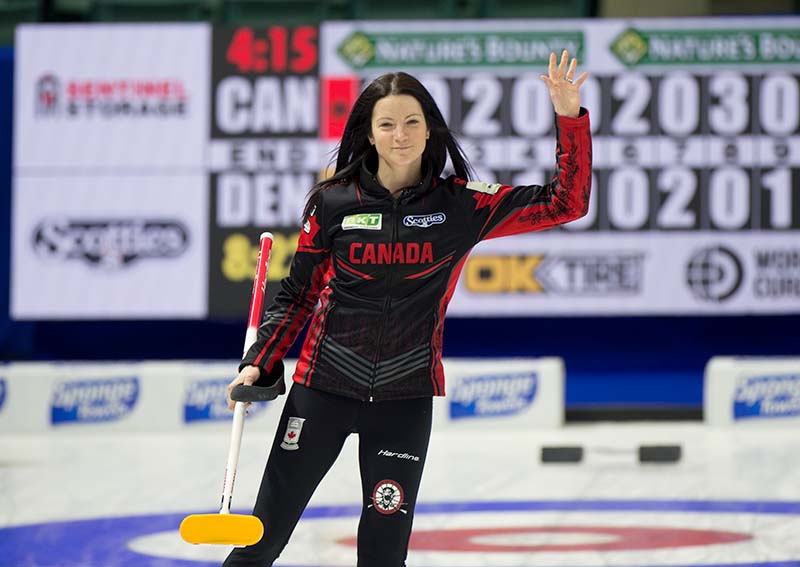 Team Canada keeps rolling at BKT Tires & OK Tire World Women's
Kerri Einarson has proven she can beat Team Denmark at the 2022 BKT Tires & OK Tire World Women's Curling Championship, presented by Nature's Bounty, in Prince George, B.C.
Now all she and her teammates from Gimli, Man., have left to prove is they can beat two more world-class teams when it really matters in the sprint for the gold medal.
The Canadians defeated Team Denmark, skipped by Madeleine Dupont, 9-8 in one of two qualifying games at CN Centre, but unlike the Canucks' round-robin game earlier in the week against the Danes (an 8-4 win), this one carried more significance. It propelled the Canadians into the semifinals and within two wins of a world championship gold medal.
The win was one more step further than Einarson and Co. made last year in Calgary when they were defeated in the qualifying game.
Team Sweden, skipped by Anna Hasselborg, won the other qualifying game Saturday to keep its world championship hopes alive. Trailing by two, Hasselborg made an incredible soft angle-raise takeout into the four-foot in the 10th to sit four. Team United States skip Cory Christensen was heavy on a draw and Hasselborg didn't have to throw her last for an 8-6 win.
The two winning teams have little time to regroup for semifinal games later in the evening at 7 p.m. (all times PT). Canada will take on skip EunJung Kim's team from South Korea, while the Swedes knock heads against Switzerland, skipped by Silvana Tirinzoni. The Swiss ran the table in the 13-team round-robin competition with a 12-0 record, and South Korea, with a 9-3 record, have the first-round playoff byes after finishing first and second in the standings.
It wasn't an easy win for the Canadians. They needed some key shots, fended off some dicey situations, and survived a couple of misses to finally subdue the Danes who have emerged as a strong contender in women's curling with back-to-back playoff appearances.
Einarson — supported by vice-skip Val Sweeting, second Shannon Birchard, lead Briane Meilleur, alternate Krysten Karwacki, team coach Reid Carruthers and national coach Renée Sonnenberg — needed to negotiate the first few ends as her team came up to speed.
They weren't quite as sharp as they have been this week but were efficient when having hammer and scoring two in the opening end. Dupont, though, came through the narrowest of ports with a takeout in the second to set up a three-ender, and the Canadians knew they were in for a battle.
Team Canada scored a gritty deuce in the sixth to go up 6-4, but Einarson was unable to remove a partially covered Danish stone in the seventh, leading to a game-tying two points.
It wasn't until a well-played eighth end, when the Canadians cracked a three-ender, that they were able to breathe a bit easier.
"We played really well today," said Einarson. "We'll carry that going forward."
Einarson said she's feeling the vibes from the fans at the CN Centre.
"Absolutely love it," she said. "I'm embracing every single moment. We're very grateful to have this. The crowds have been unbelievable and we appreciate all the cheers, even if we do miss."
The losers of the semifinals will play in the bronze-medal game at 11 a.m., and the winners in the gold-medal game at 4 p.m. Sunday.
Live scoring, standings and statistics for the 2022 BKT Tires & OK Tire World Women's Curling Championship are available by CLICKING HERE.
TSN and RDS2 will provide complete coverage of the 2022 BKT Tires & OK Tire World Women's Curling Championship. CLICK HERE for the complete schedule.
For ticket information for the 2022 BKT Tires & OK Tire World Women's Curling Championship, go to www.curling.ca/2022worldwomen/tickets/
This story will be available in French as soon as possible at www.curling.ca/2022worldwomen/nouvelles/?lang=fr