Bronze-medal Canucks!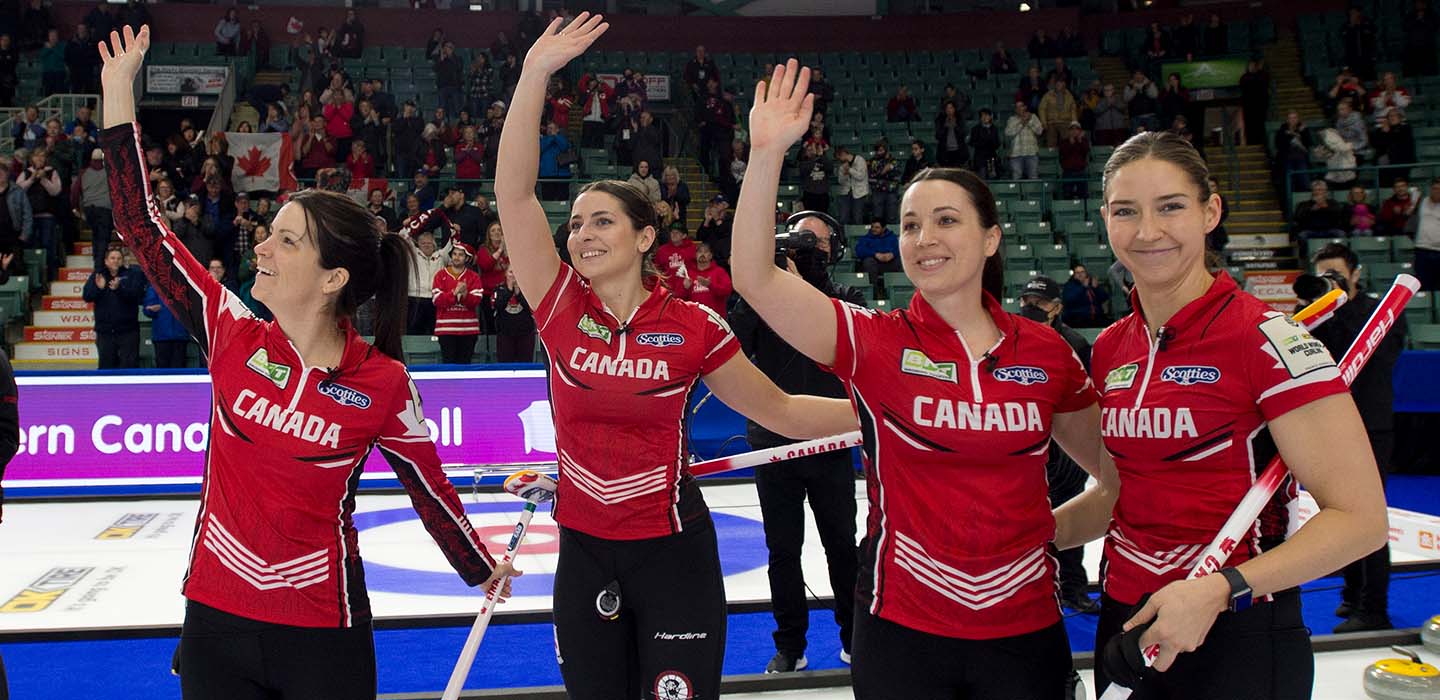 Team Canada triumphs in bronze-medal final at BKT Tires & OK Tire World Women's Curling Championship
When skip Kerri Einarson assembled her 'Super Team' of four skips together four years ago, the goal was clear: a world championship.
There has been plenty of highs, some lows and considerable adjustments made since then, but that complex alliance based in Gimli, Man., is getting closer to their goal on Sunday.
It's not gold but Einarson's Team Canada won the bronze medal Sunday at the 2022 BKT Tires & OK Tire World Women's Curling Championship, presented by Nature's Bounty, in Prince George, B.C.
And for now, that's good enough for the Canadian team, which includes vice-skip Val Sweeting, second Shannon Birchard, lead Briane Meilleur, alternate Krysten Karwacki, team coach Reid Carruthers and national coach Renée Sonnenberg.
"It's an absolute honour to medal at the worlds. We came here for gold but we're coming home with something that's petty special," said Einarson, who skipped her team to a hard-fought 8-7 extra-end win over skip Anna Hasselborg's Team Sweden at CN Centre.
Einarson said the medal is special, but "it puts a lot of things in perspective."
"There are other bigger things happening in this world right now," she said, "but we're super grateful and honoured to be here."
The gold-medal game between two-time defending champions from Team Switzerland, skipped by Silvana Tirinzoni, and skip EunJung Kim's Team South Korea, is scheduled at 4 p.m. (PT) on Sunday.
The medal was the first won by a Canadian team at the women's worlds since 2018 when Jennifer Jones took gold in North Bay, Ont. Hasselborg, the 2018 Olympic gold-medal winner and 2022 Olympic bronze-medallist, was looking for her first medal at the world stage since winning two world silvers in 2018 and 2019.
The medal helped Einarson and Co. put last year's world championship in Calgary, where they did not medal, behind them.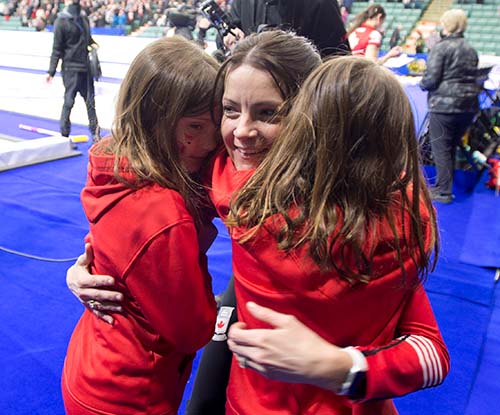 "It's a huge improvement over last year," said Birchard. "We felt more comfortable this year. I think we played awesome throughout the week. Earning a medal today means everything to us."
The Canadians had to fight through adversity to get past Hasselborg, who was backed by vice-skip Sara McManus, second Agnes Knochenhauer, lead Sofia Mabergs, alternate Johanna Heldin and coach Wayne Middaugh. Einarson ticked two guards in the first five ends, costing Team Canada three points in total, and a 4-2 Swedish lead.
But the Canadians battled back, scoring three in the sixth, set up by a superb hit-and-roll by Einarson. And after Sweden tied it in the seventh, Einarson made a great angle-double raise with her last shot to score a deuce in the eighth. Sweden blanked the ninth and scored two in the 10th to tie, setting up a white-knuckle extra end played perfectly by the Canadians.
Einarson had to hit-and-stick for the win with last rock, and the celebration was on.
Einarson confirmed that with all the movement in women's teams lineups lately, her team will be sticking together.
"We're definitely staying together," she said. "Why break something up that isn't broken."
TSN and RDS2 will provide complete coverage of the 2022 BKT Tires & OK Tire World Women's Curling Championship. CLICK HERE for the complete schedule.
For ticket information for the 2022 BKT Tires & OK Tire World Women's Curling Championship, go to www.curling.ca/2022worldwomen/tickets/
This story will be available in French as soon as possible at www.curling.ca/2022worldwomen/nouvelles/?lang=fr