Yukon Rising!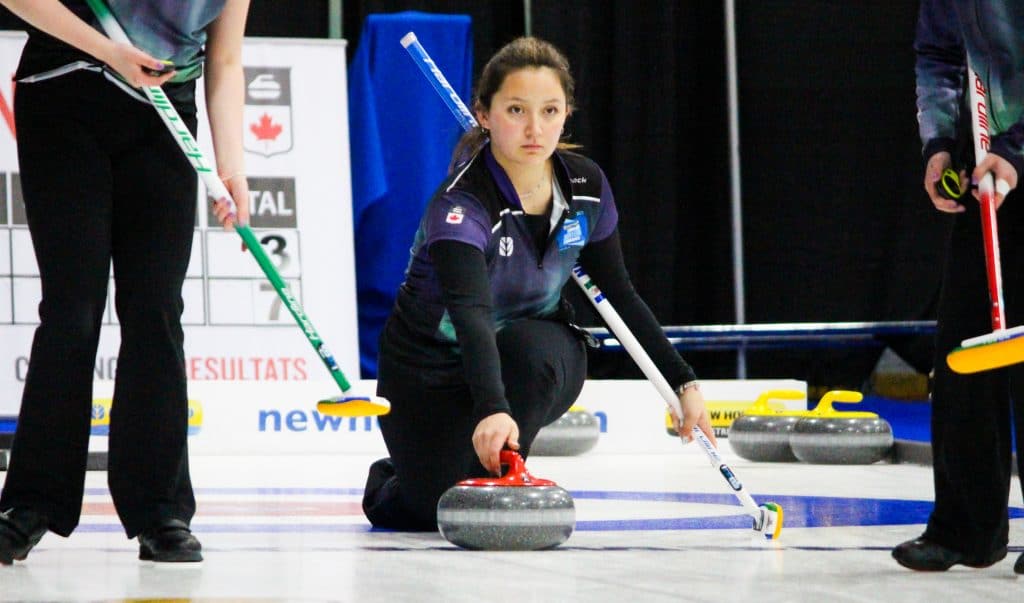 Team Yukon channels experience and dedication into marked improvements at 2022 New Holland Canadian Juniors
Two years ago, team Yukon (0-3; Whitehorse) were fighting to stay afloat amid a tough field at the 2020 New Holland Canadian Juniors in Langley B.C., where they went 0-9 and boasted an average team age of just 14.5 years old.
And while they took their lumps at the event, they never forgot the most important aspect of the experience: the learning opportunities.

Now at the 2022 New Holland Canadian Juniors from the Stratford Rotary Complex in Stratford, Ont., team Yukon boasts the exact same lineup of skip Bayly Scoffin, vice-skip Neizha Snider, second Taylor Legge, lead Dannika Mikkelsen and coach Sue Ross.
But this time, there's a marked improvement to their game. They're stronger, crafting better shots and they're brimming with confidence.

And though the Yukon may be off to a slow start at 0-3, they're spooking some teams.
Draw 6 saw Scoffin and the Yukon take on a seasoned and skilled team Ontario #1's Emily Deschenes (3-0; Ottawa) where the young northerners posted three stolen points in the first two ends.
"We were on it for the first part of the game," said Yukon skip Bayly Scoffin. "They may have taken us a bit for granted and we were making all the shots we needed to. They ended up getting it together and playing better though."

Ontario would go on to score 10 points in the next four ends and cruise to a 13-4 victory in eight ends, but coach Sue Ross knows that every game presents a learning opportunity for the young team.

"They're making amazing progress," said Ross. "They're dedicated. They practice twice a week and play twice a week as well, and that was throughout the pandemic as well."
This dedication came at a cost. The entire Yukon lineup were multi-sport athletes at a competitive level including volleyball, soccer, equestrian and swimming but they've since forwent their aspirations in those fields to focus on curling.
Large strides are a pivotal benchmark for Ross and her coaching goals for the Yukon team, but she also recognizes the importance of breaking down the games end by end and even shot by shot.

"Even from day 1 yesterday, they've improved each game," said Ross. "Unfortunately, we had some ends where we missed two shots in a row and that can land you in big trouble at this event. That's what happened in the late part of this game, but we're coming on."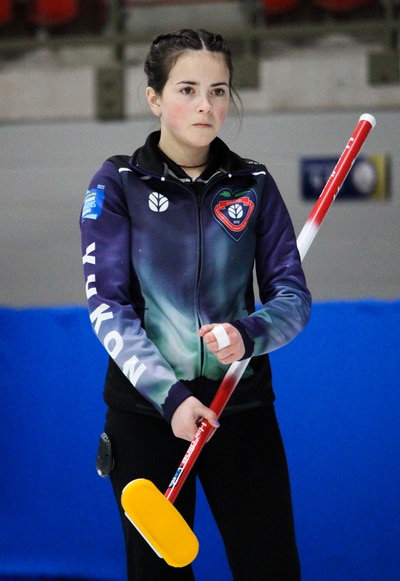 Lead Dannika Mikkelsen is the team's youngest player at only 15 years old and started curling only five short years ago. She's embracing the learning process with her team.
"I definitely have more confidence now," said Mikkelsen of her improvements compared to the 2020 New Holland Juniors. "I'm still kind of quiet out there at calling the weight and stuff, but I've definitely improved."

Despite the pressures of a national championship, the Yukon team is still ensuring that they aren't missing out on having fun.
Sunday marks third Neizha Snider's birthday, and they plan to celebrate.
"We're going shopping," said Snider with a laugh from her teammates. "A little retail therapy will be fun."
The Yukon will resume play this evening at 8 p.m. (all times eastern) versus British Columbia's Holly Hafeli (1-2; Kamloops). Perhaps they'll also celebrate Neizha's birthday with their first win too.
In other draw 6 action on ice pad A, British Columbia defeated Québec's Lauren Cheal (0-2; Lennoxville/Rivière-du-Loup) 8-3 while Nova Scotia's Taylour Stevens (3-0; Halifax) bounced Ontairo #2's Rachel Steele (0-2; Toronto) by a 14-9 score and Aberta #2 Claire Booth (2-1; Calgary) defeated Saskatchewan #2's Madison Kleiter (2-1; Saskatoon).
On ice pad B, Newfoundland and Labrador's Mackenzie Mitchell (3-0; St. John's) stayed perfect, winning over Northwest Territories' Cassie Rogers by a 9-3 score. New Brunswick's Celia Evans (2-1; Oromocto) downed Québec #2's Jolianne Fortin (0-2; Kénogami) 9-7 while Prince Edward Island's Rachel MacLean (1-1; Cornwall) found the win column, defeating Nova Scotia's Sophie Blades (1-2; Chester) 8-6 and Alberta #1's Serena Gray-Withers (2-1; Edmonton) bested Nothern Ontario's Katy Lukowich (2-1; Sudbury) by a 10-9 score.
The 2022 New Holland Canadian Under-21 Curling Championships continue Sunday with draws at 4 p.m. and 8 p.m. (all times Eastern) with the remaining draws being live streamed on Curling Canada's Youtube page, available here.
For teams, live scoring, results and event information from the 2022 New Holland Canadian Under-21 Curling Championships, click here.
This story will be available in french as soon as possible at https://www.curling.ca/2022under21/nouvelles/?lang=fr