Comfy at home!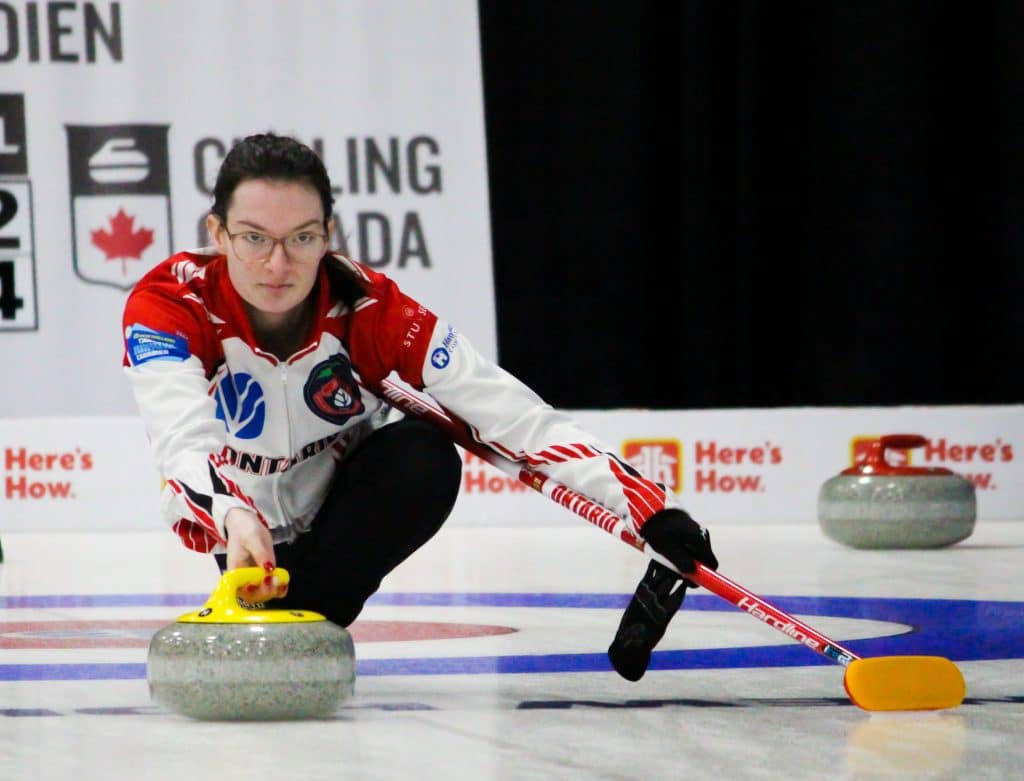 Ontario representatives relishing local support at 2022 New Holland Canadian Under-21 Curling Championships
Both of Ontario's women's representatives at the 2022 New Holland Canadian Under-21 Curling Championships hesitated to call playing at the Stratford Rotary Complex in Stratford, Ont., a home field advantage.
But their play may indicate otherwise.
Ontario #1's Emily Deschenes (5-1; Ottawa) sits firmly in second place of women's pool B, currently behind the undefeated Taylour Stevens (7-0; Halifax) who dealt the Ontario #1 squad of third Emma Artichuck, second Grace Lloyd, lead Evelyn Robert, alternate Adrienne Belliveau and coach Greg Artichuck their only loss on Tuesday morning.
Despite the lone blemish in the loss column, Deschenes and her Ontario rink rebounded with a dominant 9-3 victory over Québec's Lauren Cheal (0-6; Lennoxville/Rivière-du-Loup) on Tuesday evening.
"We came out strong tonight," said Deschenes. "It's nice to bounce back after our loss this morning. We parked the loss and moved forward."
The cheers and noise makers in the crowd are impossible to miss when Ontario #1 is playing well. They have plenty of fans in the stands, all dawning Ontario's red and white colours.
"I don't know if it's home field advantage," said Deschenes. "It's really great to have people travelling down to support us. We can feel the support. It's great having loud fans."
Deschenes' team, who make its home in Ottawa, are accustomed to being on the road as a competitive curling team when a large quantity of Ontario's U-21 bonspiels are hosted in southern Ontario.
The travel felt familiar, said Deschenes.
"It kind of felt the same at the beginning, since it's driving the same distance to all the other events but once we got here, it sunk in," said Deschenes. "It's like 'OK, we're at nationals'"
Not to be left out of the local support party is the High Park Curling Club's Ontario #2 (3-3; Toronto), composed of skip Rachel Steele, third Grace Cave, second Jillian Uniacke, lead Sadie McCutcheon and coach Jodi McCutcheon.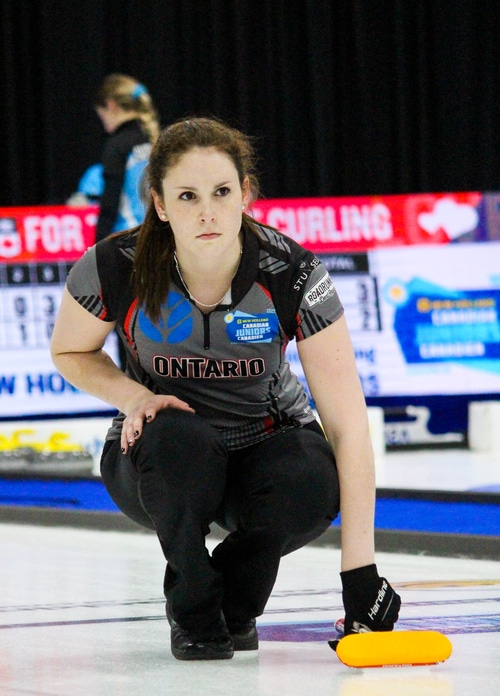 They had the shortest commute of any team to Stratford, Ont., where the local fans have taken a shine to them.
"They're so supportive," said skip Rachel Steele. "A bunch of them came out to cheer us on and we can definitely hear them in the crowd, so it's been amazing having them here."
Ontario #2 is channelling that support into success, as they've picked up wins in three of their last four games. They made short work of the Yukon's Bayly Scoffin (1-6; Whitehorse) on Tuesday evening winning by a 13-3 score in eight ends.
"We had a little bit of a rough start, but now we're kind of figuring things out," said Steele. "We're making some good team shots so we're starting to get it together."
Though a .500 record means no guarantees of a playoff spot for Ontario #2, Steele is taking everything in stride.
"We're going to take it one shot at a time," said Steele. "We'll see how things go from there."
In other draw 14 action on Tuesday evening, British Columbia's Holly Hafeli (3-3; Kamloops) defeated Manitoba #2's Morgan Maguet (1-5; East St. Paul) by a 12-5 score, while Nova Scotia's Taylour Stevens locked up an 11-3 win over Saskatchewan's Madison Kleiter (4-2; Saskatoon) and Prince Edward Island's Rachel MacLean (3-3; Cornwall) capped off a two win day downing the Northwest Territories' Cassie Rogers (1-5; Yellowknife) by a score of 8-6.
New Brunswick's Celia Evans (4-2; Oromocto) bested Manitoba #1's Tansy Tober (3-3; Winnipeg) by an 11-6 score while Northern Ontario's Katy Lukowich (5-1; Sudbury) won 9-3 over Nova Scotia's Sophie Blades (2-5; Chester) and Québec #2's Jolianne Fortin (1-5; Kénogami) needed an extra end to earn their first win, defeating Newfoundland and Labrador's Mackenzie Mitchell (4-2; St. John's) by an 11-9 score.
The 2022 New Holland Canadian Under-21 Curling Championships continue Wednesday at 9 a.m., 2 p.m. and 7 p.m. All draws are being live streamed on Curling Canada's Youtube page, available here.
For teams, live scoring, results and event information from the 2022 New Holland Canadian Under-21 Curling Championships, click here.
This story will be available in french as soon as possible at https://www.curling.ca/2022under21/nouvelles/?lang=fr