In Control!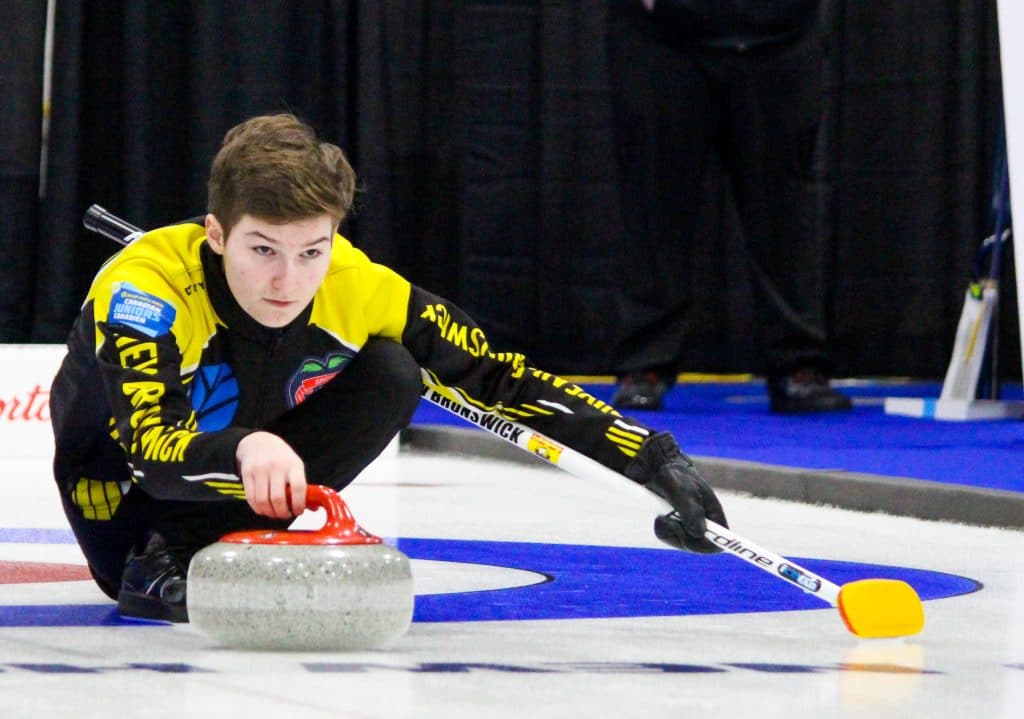 New Brunswick women exceeding their initial goals at 2022 New Holland 2022 Canadian Under-21 Curling Championships
Skip Celia Evans had some fairly modest goals for her New Brunswick rink at the 2022 New Holland Canadian Under-21 Curling Championships, hosted at the Stratford Rotary Complex in Stratford, Ont.
"Our goal here was to win half of our games so we've already surpassed our goal, which is awesome," said Evans.
As they currently boast a 5-2 record, it's safe to assume they're ready to toss that old goal to the side and set their ambitions on taking pool A's top spot.
The New Brunswick representatives from the Gage Golf & Curling Club in Oromocto, composed of third Brooke Tracy, second Julia Evans, lead Sierra Tracy and coach Abby Burgess, continued their exemplary play on Wednesday afternoon with a pool defining 9-6 win over leader Alberta #1's Serena Gray-Withers (5-2; Edmonton).
In what was an absolute thriller of a match, New Brunswick found itself trailing Alberta #1 by a 5-1 score after six ends. Evans however knows that winners never quit and proceeded to outscore her opposition 8-1 over the next three ends to claim an incredible comeback victory.
"There's always more rocks to throw and more ends to play. Anything can happen," said Evans. "Even if the first half isn't going that well for you, it can go the same way for the other team in the second half, so never give up."
The win pulls New Brunswick firmly into second place in pool A, trailing only Northern Ontario's Katy Lukowich (6-1; Sudbury), whom they'll face tomorrow morning at 9 a.m. The winner of that match will be pool A's overall winner and will receive a bye to the semifinal.
With New Brunswick now in full control of its own destiny, Evans is ready for the pressures associated with being in contention at a Canadian national championship.
"It's more of an encouragement than anything weighing on me," said Evans.
Evans draws inspiration from Andrea Crawford's recent bronze medal performance at the 2022 Scotties Tournament of Hearts in Thunder Bay, Ont., and sees it as proof positive that their rink belongs as a top contender at the Juniors.
"New Brunswick is a smaller province and we've had less success overall, but it doesn't mean that there can't be a good team that can't perform," said Evans. "We can challenge any team if we put our minds to it."
In other Wednesday afternoon action, Manitoba #1's Tansy Tober (4-3; Winnipeg) defeated Prince Edward Island's Rachel MacLean (3-4; Cornwall) 7-3 while Northern Ontario's Katy Lukowich downed Newfoundland and Labrador's Mackenzie Mitchell (4-3; St. John's) by a score of 7-6 and Québec #2's Jolianne Fortin (2-5; Kénogami) bested the Northwest Territories' Cassie Rogers (1-7; Yellowknife) 10-3.
Ontario #2's Rachel Steele (4-3; Toronto) maintained momentum with a 5-4 win over Manitoba #2's Morgan Maguet (1-6; East St. Paul). Saskatchewan stayed in the pool B playoff mix with a 6-5 win over Ontario #1's Emily Deschenes (5-2; Ottawa) while Alberta #2's Claire Booth (5-2; Calgary) defeated British Columbia's Holly Hafeli (3-4; Kamloops) 6-5 and Québec #1's Lauren Cheal (1-6; Lennoxville/Rivière-du-Loup) earned their first win downing the Yukon's Bayly Scoffin (1-7; Whitehorse) 8-6.
The 2022 New Holland Canadian Under-21 Curling Championships continue Wednesday at 7 p.m. All draws are being live streamed on Curling Canada's Youtube page, available here.
For teams, live scoring, results and event information from the 2022 New Holland Canadian Under-21 Curling Championships, click here.
This story will be available in french as soon as possible at https://www.curling.ca/2022under21/nouvelles/?lang=fr