Set in Stone!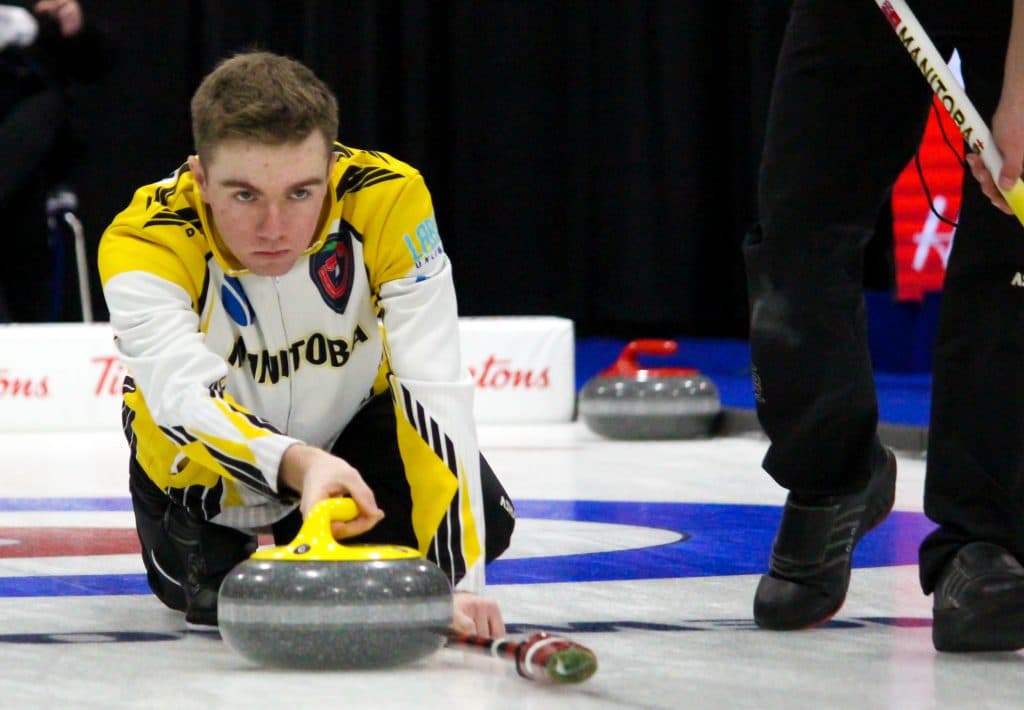 Men's playoff picture set as pool play concludes at 2022 New Holland Canadian Under-21 Curling Championships
When the dust would settle on men's pool play at the 2022 New Holland Canadian Under-21 Curling Championships from the Stratford Rotary Complex in Stratford, Ont., only six teams would remain.
Out of two pools of nine teams, the top three of each pool qualify for the playoffs. The top team of each pool is rewarded for their first place finish and receives a bye to a semifinal, whereas the second and third rank teams of each pool will cross over and play the opposite seed of the other pool in a #2 vs. #3 page matchup.
The winner of the #2 vs. #3 page match will proceed to a semifinal. The loser is eliminated.
Semifinal winners will then face off in the final, vying for a gold medal and the right to be Canada's representative at the 2023 World Junior Curling Championships to be held next season (date and location TBC).
The winner of pool A is Saskatchewan #1's Daymond Bernath (7-1; Saskatoon) who receives a bye to the semifinal. Finishing second was Alberta #1's Johnson Tao (7-1; Edmonton) followed by Newfoundland and Labrador's Nathan Young (7-1; St. John's) in third.
All three teams concluded pool play with matching records and had equal 1-1 records in round robin play head-to-head, so Last Stone Draw distances were used to break the ties.
In pool B, Manitoba #1's Jordon McDonald (7-1; Winnipeg) finished first overall and will receive a bye to the semifinal. Ontario #1's Landan Rooney (7-1; Whitby) earned a second place finish as their only loss in pool play came at the hands of Manitoba #1. Rounding out the playoff picture is British Columbia #1's Connor Deane (6-2; New Westminster) in third place.
The men's #2 vs. #3 page matches are scheduled for Thursday at 7 p.m. (all times eastern). Ontario #1 (B2) will face Newfoundland and Labrador #1 (A3) and Alberta #1 (A2) squares off versus British Columbia #1 (B3).
The semifinals are set for 9 a.m. on Friday followed by the finals at 2:30 p.m on the same day.
Women's pool play will conclude tomorrow with draw 18 tomorrow morning at 9 a.m.
All draws are being live streamed on Curling Canada's Youtube page, available here.
For teams, live scoring, results and event information from the 2022 New Holland Canadian Under-21 Curling Championships, click here.
This story will be available in french as soon as possible at https://www.curling.ca/2022under21/nouvelles/?lang=fr