Perfect, but not done!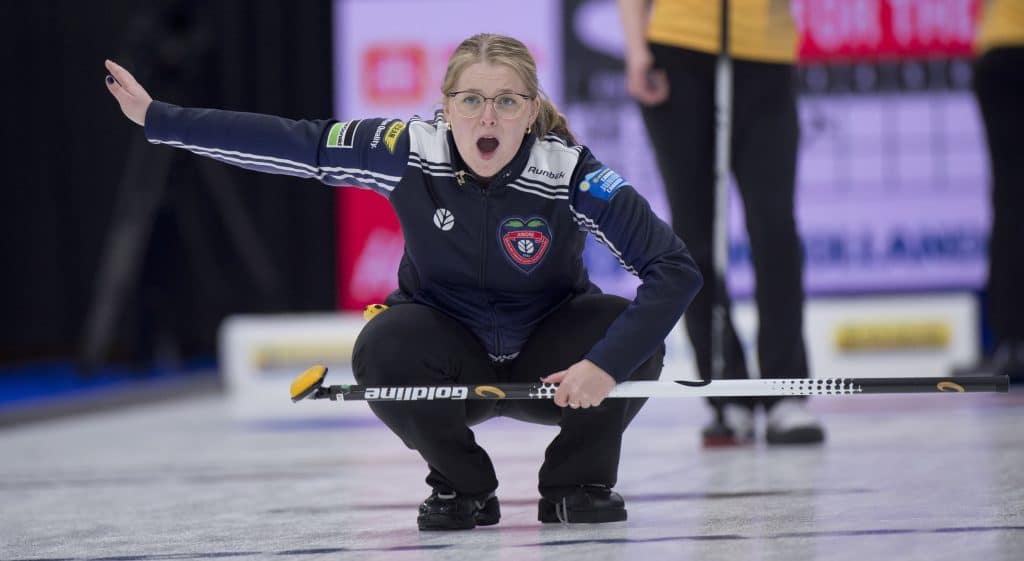 Nova Scotia maintains perfect record to punch ticket into women's final at 2022 New Holland Canadian Under-21 Curling Championships
Taylour Stevens is on a mission.
Skipping her Nova Scotia #1 rink of third Lauren Ferguson, second Alison Umlah, lead Cate Fitzgerald and coach Mary Matttatall of the Halifax Curling Club to a perfect 9-0 record is simply par for the course.
That perfect play has earned her a spot in this afternoon's women's final against Ontario #1's Emily Deschenes (8-2; Ottawa).
There's no chip on Stevens' shoulder, no villainous backstory and certainly no looming character arc. Stevens is gunning for Canadian Junior glory to prove to herself that she can win gold after earning a bronze medal at the New Holland Juniors back in 2020 in Langley, B.C.
"We've been here a few times", said Stevens. "We always had a semifinal finish so to go undefeated this far is incredible for us."
The moment isn't too big for the steely eyed Stevens.
"We are going for gold. Nothing less," remarked Stevens. "We're going to come out stronger than ever in the next game and we're really looking forward to it."
The road to the final was not an easy one for the Nova Scotia rink. They faced Alberta #2's Claire Booth (6-4; Calgary) in a semifinal on Friday morning where they needed to cash a deuce in the 10th end with the hammer for a 7-6 win.
Stevens spoke highly of her Alberta #2 opposition after the win.
"They're a very strong team and we knew that going into the game. Claire came out firing every end and made a ton of shots."
Stevens and her Nova Scotia #1 rink will look to add their name to an elite list of teams who have captured Canadian Junior women's gold remaining undefeated, which includes Mackenzie Zacharias (11-0; 2020), Selena Sturmay (11-0; 2019), Rachel Homan (13-0; 2010), Cathy Overton (11-0; 1989) and Cathy King (10-0; 1978).
Awaiting them in the final is Ontario #1's Emily Deschenes, who have found themselves on a heater after winning yesterday evening's page 2 vs. 3 playoff match and besting Northern Ontario's Katy Lukowich (7-2; Sudbury) by a score of 10-5 in a semifinal this morning.
Deschenes is celebrating the semifinal berth, but knows there's still work to be done.
"Our team is very calm. We don't want to show everything when we win," said Deschenes. "There's still a job to be done and it's not over yet. There will be time to celebrate at the end, hopefully. Right now though? We're feeling great."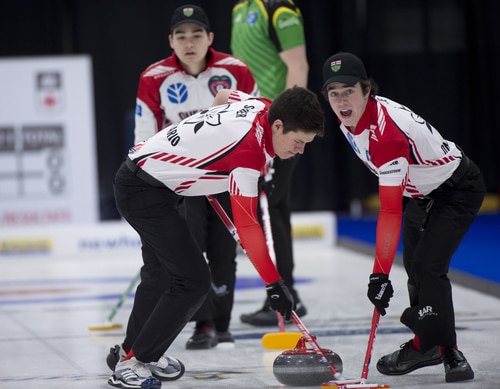 On the men's side, Alberta #1's Johnson Tao (9-1; Edmonton) needed to steal the 10th end to defeat Manitoba's Jordon McDonald (7-2; Winnipeg) 5-4 in a nailbiter semifinal.
Ontario #1's Landon Rooney (9-1; Whitby) posted a big score of three in the eighth end to take out Saskatchewan #1's Daymond Bernath (7-2; Saskatoon), marking an 8-4 final score.
Alberta #1 will now face Ontario #1 in the Junior men's final.
Alberta #2 will square off against Northern Ontario for the women's bronze medal and Manitoba #1 takes on Saskatchewan #1 for men's bronze.
The gold medal and bronze medal matches at the 2022 New Holland Canadian Under-21 Curling Championships will take place at 2:30 p.m. (all times Eastern).
The men's final will be live streamed on Curling Canada's Youtube page, available here.
For teams, live scoring, results and event information from the 2022 New Holland Canadian Under-21 Curling Championships, click here.
This story will be available in french as soon as possible at https://www.curling.ca/2022under21/nouvelles/?lang=fr