Good start in Vegas!
Canada's Team Gushue downs Czechs to open World Men's Championship
A full lineup produced the hoped-for result as Canada's Team Brad Gushue ground out a 6-4 win over the Czech Republic's Lukas Klima in the opening draw of the 2022 LGT World Men's Curling Championship, presented by New Holland.
With Mark Nichols back in his accustomed vice-skip position after he missed his team's four playoff games at the 2022 Tim Hortons Brier, presented by AGI, last month in Lethbridge, Alta., when he tested positive for COVID-19, the St. John's, N.L., crew never trailed as they shook off the rust to open the nine-day championship at Orleans Arena in Las Vegas.
"It was great; it was nice to finally be back out on the ice with those three guys. It felt good," said Nichols. "Still figuring out the ice and rocks and all that stuff, but it was fun to play a competitive game again."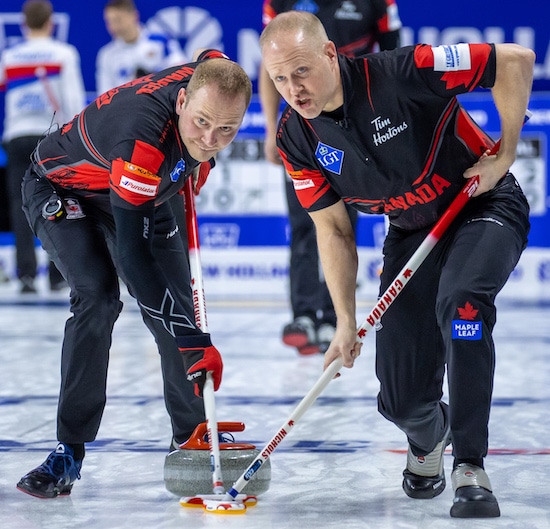 It was definitely that as the Czechs mounted a second-half comeback that ultimately fell short when Klima conceded defeat rather than throwing his final stone in the 10th, facing three buried Canadian counters.
"It feels a lot easier with four people," said a smiling Gushue about Nichols' return, "but the ice conditions out there are tough. Very tough. It's going to be a challenge; hopefully they can figure some stuff out. We've been through this before; it will force us to change our game style, but we've done that (before), we've been successful. It is what it is."
Gushue, Nichols, second Brett Gallant, lead Geoff Walker, alternate E.J. Harnden, team coach Jules Owchar and national coach Jeff Stoughton opened with consecutive single points in the first and second ends before the Czechs cut the margin with a third-end single.
But in the fourth, Gushue — aided by a vigourous sweeping job from Walker — made a wonderful angle tap on a partially buried Canadian stone to promote it into the four-foot for a deuce.
Canada padded the lead with a stolen single in the sixth before Klima, backed up by vice-skip Marek Cernovsky, second Radek Bohac, lead Jiri Candra and alternate Lukas Klipa — with two-time Tim Hortons Brier and world men's champ Craig Savill sitting at the coaching bench — manufactured a seventh-end deuce.
And Klima was back at it in the eighth, forcing Gushue to try a double-takeout to score a pair; the shot undercurled and rolled out, giving the Czechs a steal to cut the Canadian lead to one.
The Canadians had a shot at putting the game out of reach in the ninth, but Gushue was wide and just heavy with his last-rock draw attempt and Canada had to settle for a single and surrender last rock in the 10th to the Czechs, who couldn't take advantage.
"Right now it's just about piling up the win," said Nichols. "Not that it doesn't matter how you get there, but this team has shown that we're going to learn as the week goes on and that's what's important.
"I thought we drew pretty well and communicated well about the paths, but obviously the speeds are different and you do have to talk about those paths a lot and that's something this team prides itself on. If we continue to do that, we're going to be successful."
Team Canada is back in action later Saturday against Norway's Magnus Ramsfjell, who opened with a 7-3 win over South Korea's Soo-Hyuk Kim.
In other action on Saturday afternoon, three-time defending world champ Niklas Edin and Team Sweden downed the Netherlands' Wouter Goesgens 7-4, and the home team, Korey Dropkin's U.S. squad, romped to an 8-2 win over Denmark's Tobias Thune.
Scotland's Kyle Waddell, Germany's Sixten Totzek, Italy's Joel Retornaz, Switzerland's Yannick Schwaller and Finland's Kalle Kiiskinen all had byes in Draw 1.
For Team Canada updates, go to www.curling.ca. Follow us on Twitter, Instagram and Facebook.
TSN/RDS2, the official broadcast partners of Curling Canada's Season of Champions, will provide live coverage of Canada's round-robin games, in addition to all playoff games. CLICK HERE for their complete broadcast schedule.
The list of teams, schedule information and live scoring can be found on the event website, worldcurling.org/events/wmcc2022/