Comeback kids!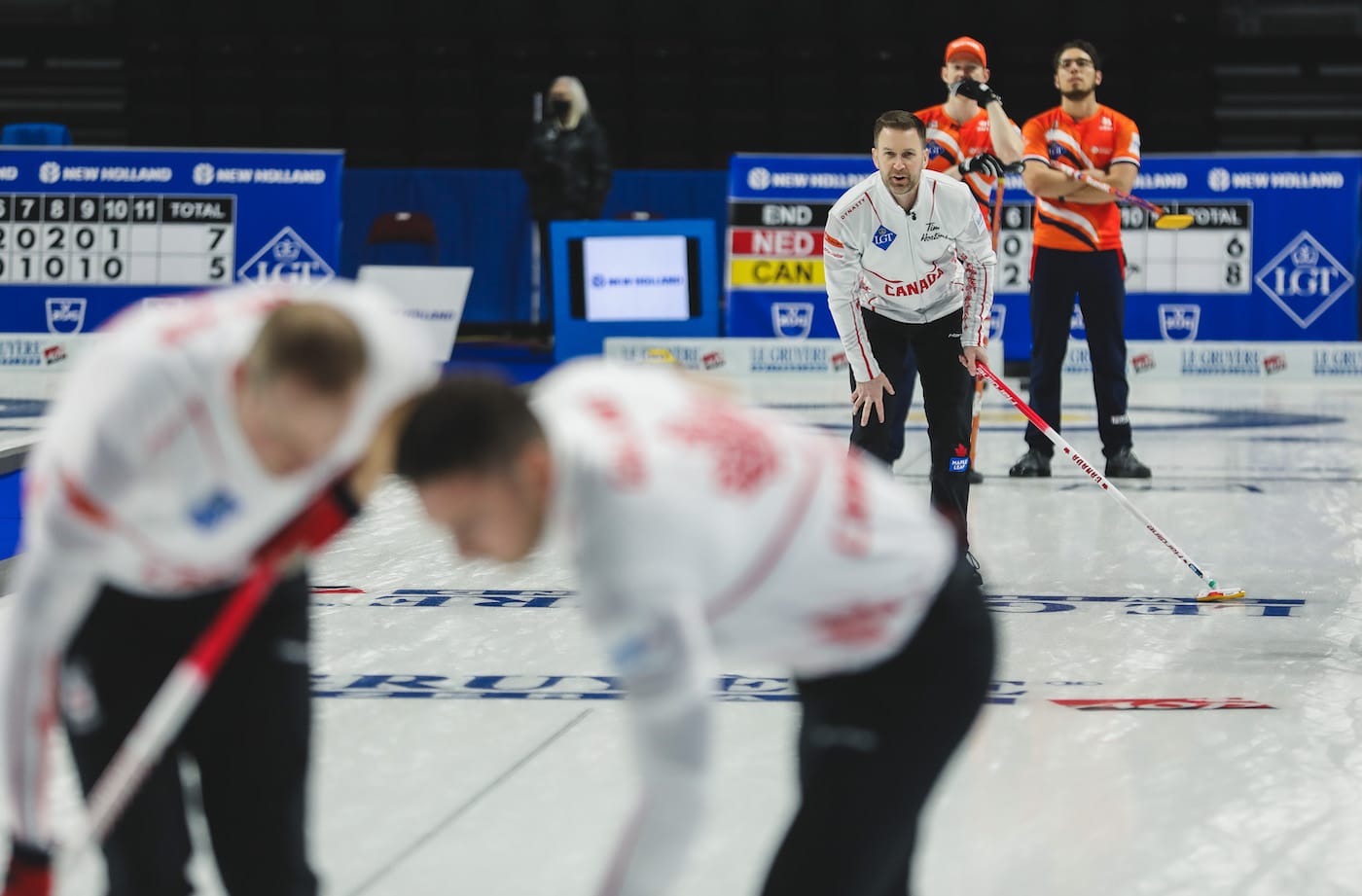 Team Canada rallies to beat Netherlands at World Men's Championship
A frustrating first five ends transitioned into a thoroughly relieving and satisfying final five for Team Brad Gushue on Sunday afternoon in Las Vegas.
Having given up a steal of two to a winless Netherlands team skipped by Wouter Gousgens, Gushue's Canadian champs from St. John's, N.L., headed into the fifth-end break trailing 5-2 and thoroughly mystified by the ice conditions at Orleans Arena for Draw 4 of the 2022 LGT World Men's Curling Championship, presented by New Holland.
But a team discussion clearly paid off as Gushue, vice-skip Mark Nichols, second Brett Gallant, lead Geoff Walker, alternate E,J. Harnden, team coach Jules Owchar and national coach Jeff Stoughton turned up the heat and it paid off with a 9-6 victory.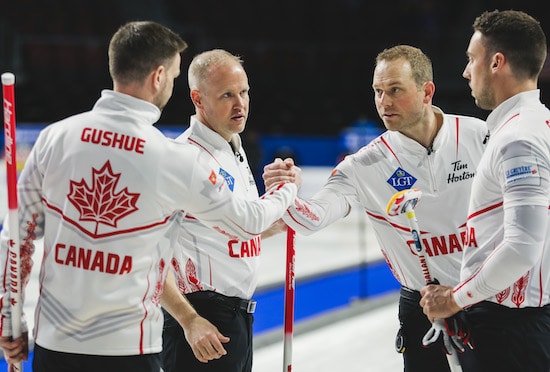 "Just grind," said Walker of the topic of the fifth-end brea chat. "We knew it was going to be tough. We were here in 2018 and we knew the ice would be tough. So just stay with it, try to make the other team look at a couple shots and make a tough one because it's tough to be precise."
As it turned out, Canada did manage to find its precision touch, but it abandoned the Dutch team. Gushue was able to draw for a deuce in the sixth end to cut the margin to one, and in the seventh, Canada stole a game-tying single thanks to a wonderful draw to the button behind cover by Gushue.
Then, in the pivotal eighth, Team Canada made a series of precise shots that couldn't be matched by the Netherlands, resulting in a steal of three.
Gushue's take on the fifth-end break messaging?
"Smarten up," he said with a laugh. "Honestly, it was just hang in there. Let's just grind this out. The steal of two in the fifth end — I threw two really good rocks and it made me look like I was a Monday night club curler. But the ice is just that way, and it came back to bite them in the eighth end, too. So that's what we talked about — just apply some pressure and those mistakes are probably going to happen, and we were able to do that."
The win left Team Canada alone on top of the 13-team round-robin standings with a 3-0 record heading into a Sunday night clash with Switzerland's Team Yannick Schwaller (1-1).
"Standings-wise? We're really happy," said Gushue. "Playing-wise, we're not as sharp. But we're throwing some really nice rocks and we're looking like we haven't curled before."
In other games, Team Korey Dropkin of the U.S. improved to 2-0 with a 7-5 win over Team Lukas Klima of the Czech Republic (1-2); Italy's Team Joel Retornaz (1-1) made a double takeout to score four in the 10th end for a 10-8 win over Sweden's Team Niklas Edin (1-2); and skip Tobias Thune made a double takeout of his own in the 11th end for the winning point to give Denmark (1-2) a 7-6 win over South Korea's Soo-Hyuk Kim (1-2).
Team Kalle Kiiskinen of Finland (2-0), Scotland's Team Kyle Waddell (1-1), Team Sixten Totzek of Germany (1-1), Norway's Team Magnus Ramsfjell (1-1) and the Swiss all had byes on Sunday afternoon.
For Team Canada updates, go to www.curling.ca. Follow us on Twitter, Instagram and Facebook.
TSN/RDS2, the official broadcast partners of Curling Canada's Season of Champions, will provide live coverage of Canada's round-robin games, in addition to all playoff games. CLICK HERE for their complete broadcast schedule.
The list of teams, schedule information and live scoring can be found on the event website, worldcurling.org/events/wmcc2022/