First to five!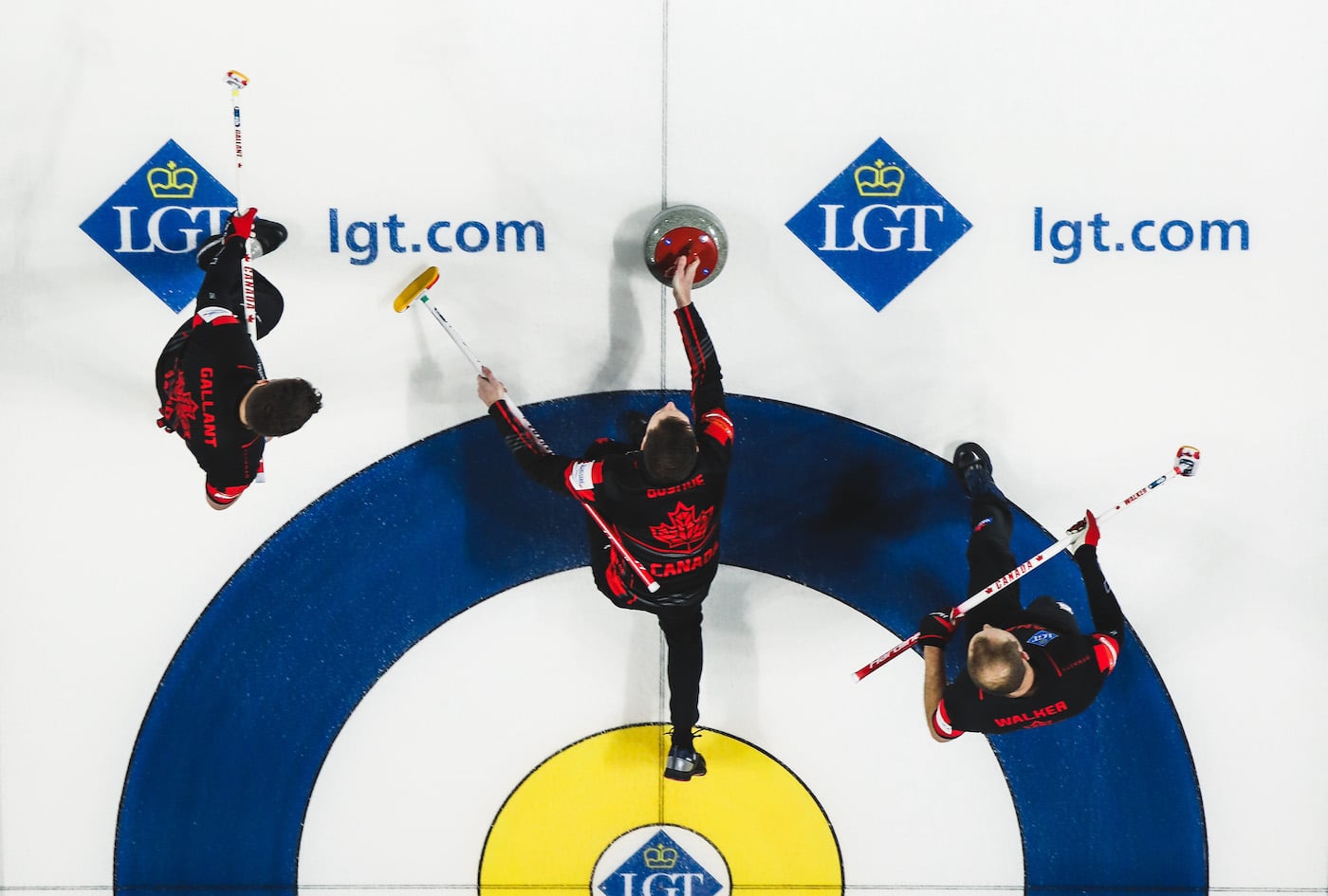 Team Canada stretches win streak at LGT World Men's Championship
It was a cool, composed and, for the first time at this 2022 LGT World Men's Curling Championship, comfortable-looking Canadian team skipped by Brad Gushue that took to the ice Monday afternoon at Orleans Arena in Las Vegas.
It all added up to a fifth consecutive victory as Team Canada — Gushue is backed up by vice-skip Mark Nichols, second Brett Gallant, lead Geoff Walker, alternate E.J. Harnden, team coach Jules Owchar and national coach Jeff Stoughton — turned back Italy's Team Joel Retornaz 10-4.
The win in Canada's only game of the day strengthened its hold on sole possession of first place in the 13-team round-robin standings, and also left the Canadians as the only unbeaten team in Las Vegas.
"The first four games, it felt like every shot I threw, it was down a new path and a tough shot. Today, (his teammates) left me some easy ones and I was able to execute ," said Gushue, whose St. John's, N.L., team was scored at a cumulative 93 per cent — by far its best performance of the opening three days of the 2022 LGT World Men's Championship, and the highest total of any team posted through seven draws of competition.
There was nothing fancy about Monday's performance — just a series of made shots and consistency that had been missing in the first four games, despite all four producing victories.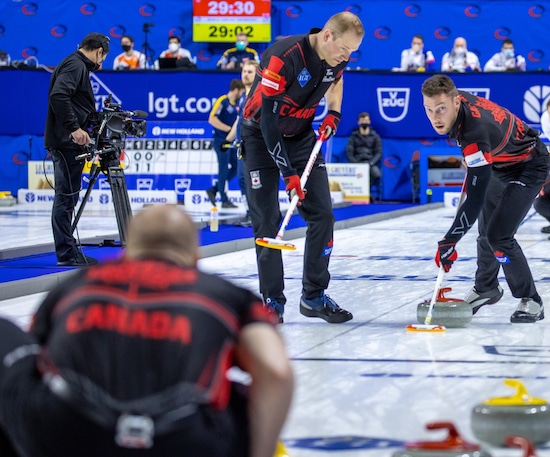 Against the Italians, with Olympic mixed doubles gold-medallist Amos Mosaner throwing third rocks (second Sebastiano Arman, lead/vice-skip Simone Gonin, alternate Mattia Giovanella and coach Claudio Pescia round out the lineup), Canada had a near-textbook scoreline, scoring multiple points every time with hammer (deuces in the second and sixth ends, three in the fourth end), and then prompting fist-bumps from the Italians following steals of one in the seventh end and two in the eighth.
"It was nice to get off to a good start," said Gallant. "We got a force and then a deuce — just solid right from the beginning. We had been building as the games went on for the first few games, and it was nice just to get off to a nice start and keep it going.
They got off to that good start despite, once again, being outdrawn in the pre-game draw to the button for last rock advantage.
"We've struggled here, like we did at the Olympics, to get hammer (in the first end), but when we can flip it as early as we did, getting force-deuce-force, then we get control of the game," said Gushue. "And then the fourth end, when we had control of the game, we scored a three. We got things set up and scored some easy multiple (point) ends."
"I thought the ice was a fair bit better than it was for the first four games," added Gushue, "and we had better control of draw weight, which allowed us to get some ends set up and score multiple points."
Canada will have byes the next two draws before returning to action on Tuesday at 2 p.m. (all times Pacific) against Germany's Team Sixten Totzek (3-1)
"We're getting more comfortable with the ice; we know what to expect," said Gallant. "Still challenging at times, but we're figuring it out and communicating as much as we can to learn the paths and we're starting to play closer to our normal level."
In the other games on Monday afternoon, Scotland's Team Kyle Waddell (2-2) turned back Denmark's Team Tobias Thune (1-4) 7-3; Team Yannick Schwaller of Switzerland (2-2) was a 6-3 victor over Team Wouter Gosgens of the Netherlands (0-4); and South Korea's Team Soo-Hyuk Kim (2-2) beat the U.S.'s Team Korey Dropkin (2-2) 9-7.
Germany, Team Lukas Klima of the Czech Republic (2-2), Finland's Team Kalle Kiiskinen (2-2), Norway's Team Magnus Ramsfjell (2-2) and Sweden's Team Niklas Edin (2-2) all had byes on Monday afternoon.
For Team Canada updates, go to www.curling.ca. Follow us on Twitter, Instagram and Facebook.
TSN/RDS2, the official broadcast partners of Curling Canada's Season of Champions, will provide live coverage of Canada's round-robin games, in addition to all playoff games. CLICK HERE for their complete broadcast schedule.
The list of teams, schedule information and live scoring can be found on the event website, worldcurling.org/events/wmcc2022/