Canada falls in border battle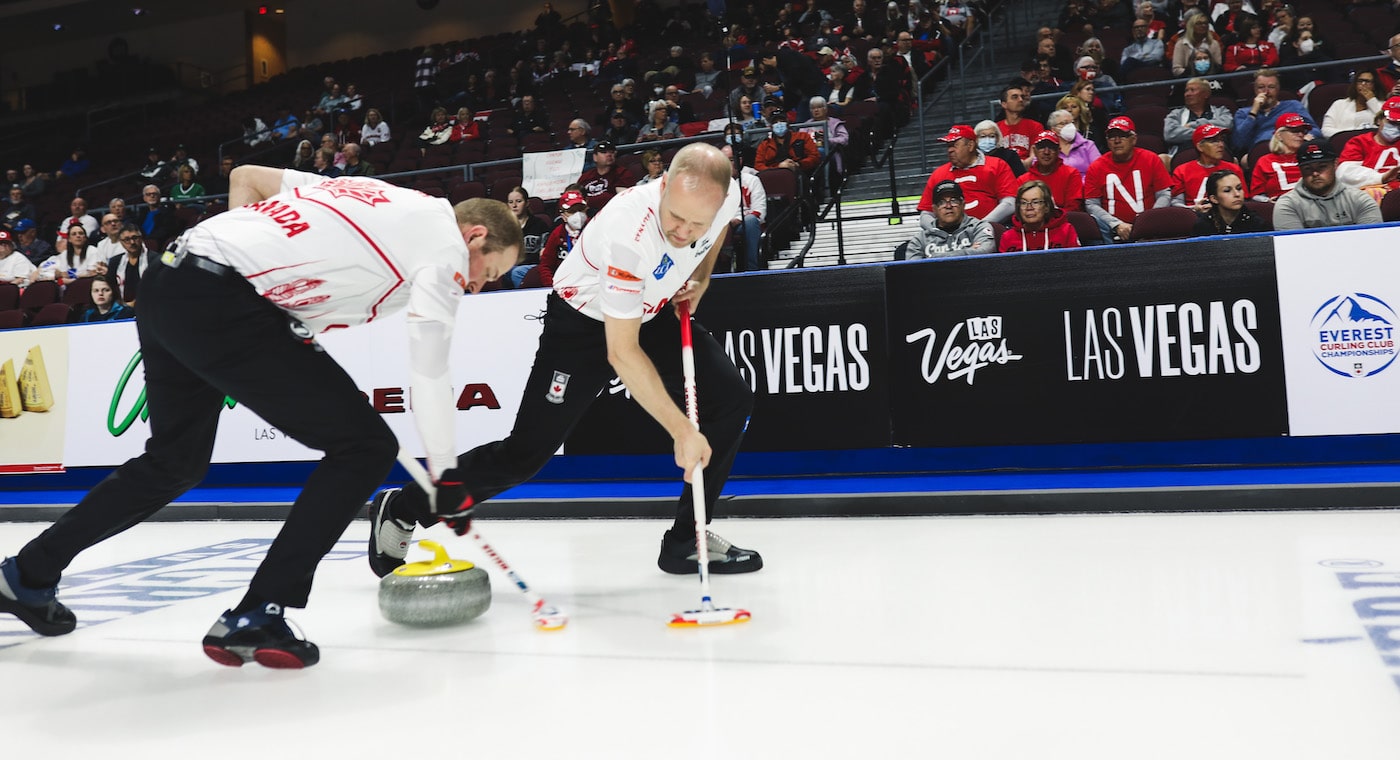 U.S. rides skip's hot hand to victory over Team Canada at LGT World Men's Championship
Team Canada's bid to take a big step ahead in its pursuit of a playoff spot at the 2022 LGT World Men's Curling Championship, presented by New Holland, was emphatically blocked by a hot-shooting United States team Thursday morning at Orleans Arena in Las Vegas.
Brad Gushue's Canadian team from St. John's, N.L., was handed its second loss, bowing 10-6 to Korey Dropkin's U.S. reps, with Dropkin firing a wonderful 94 per cent.
The loss left Gushue, vice-skip Mark Nichols, second Brett Gallant, lead Geoff Walker, alternate E.J. Harnden, team coach Jules Owchar and national coach Jeff Stoughton with a 7-2 record, which still gives them sole possession of first place in the 13-team round-robin standings. The U.S., Scotland's Team Kyle Waddell and Sweden's Team Niklas Edin all tied for second at 6-3.
Canada will play the Scots here on Friday morning (9 a.m., all times Pacific) in its next-to-last round-robin game.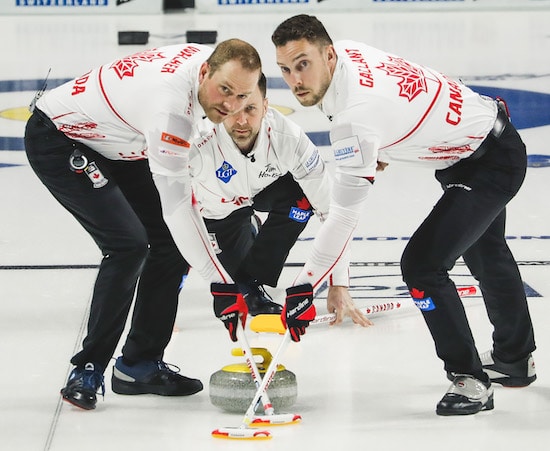 "We were behind the 8-ball pretty much right from the start," said Nichols. "We had trouble figuring some rocks out; that's no excuse, but we were chasing pretty much the whole game. I was throwing more peels than pretty much the whole week. And when I missed, we were dead."
The U.S. was in control the whole game, taking a first-end deuce and then putting together a perfect fifth end that left Dropkin (backed up by vice-skip Joe Polo, second Mark Fenner, lead Tom Howell, alternate Alex Fenson, team coach Tim Solin and national coach Phill Drobnick) a draw for four.
Canada would come back with a deuce in the sixth, but the U.S. all but ended it with a deuce in the seventh, prompting Canada to get Harnden into the game for the eighth end.
"They played really well; that's the No. 1 thing in that game," said Gushue. "They outplayed us. Even if we played well and didn't have those straight rocks, they probably would have beat us. That was an exceptional performance. Credit to them. But I thought we did a poor job managing some difficult stones and challenging ice. We have to discuss that."
The Canadians will have Thursday afternoon off before returning to the ice on Thursday night (7 p.m.) against South Korea's Soo-Hyuk Kim (5-3), who upended Sweden's Team Niklas Edin (6-3) on Wednesday night.
"Well, we have to regroup," said Nichols. "We have to come out sharper tonight. The teams we're playing (in Canada's final three round-robin games) are battling for their playoff lives. We've put ourselves in a tougher spot, so we have to be better."
"Obviously if the ice continues to straighten out as much as it has in these last couple of games, we're going to have to make some changes to our style and even in how we throw the rock," added Gushue. "We didn't adapt nearly quick enough in that game. Tough loss. But we still control our own destiny and we can still finish in first place if we win out."
In other games on Thursday morning, Norway's Team Magnus Ramsfjell (5-4) doubled Denmark's Team Tobias Thune (1-8) 10-5; Team Wouter Goesgens (2-7) of the Netherlands scored two in the 10th end to upset Scotland 5-4; and Italy's Team Joel Retornaz (5-4) stayed in the playoff race with a win over Switzerland's Team Yannick Schwaller (5-4), with the game ending when Switzerland running out of time.
South Korea, Sweden, Team Sixten Totzek of Germany (4-5), Team Lukas Klima of the Czech Republic (3-6) and Finland's Team Kalle Kiiskinen (3-6) all had byes on Thursday morning.
The top six teams qualify for the playoff round with the top two receiving a bye while the remaining four play in the first round. The gold-medal game will be played Sunday.
For Team Canada updates, go to www.curling.ca. Follow us on Twitter, Instagram and Facebook.
TSN/RDS2, the official broadcast partners of Curling Canada's Season of Champions, will provide live coverage of Canada's round-robin games, in addition to all playoff games. CLICK HERE for their complete broadcast schedule.
The list of teams, schedule information and live scoring can be found on the event website, worldcurling.org/events/wmcc2022/