Canada's back on track!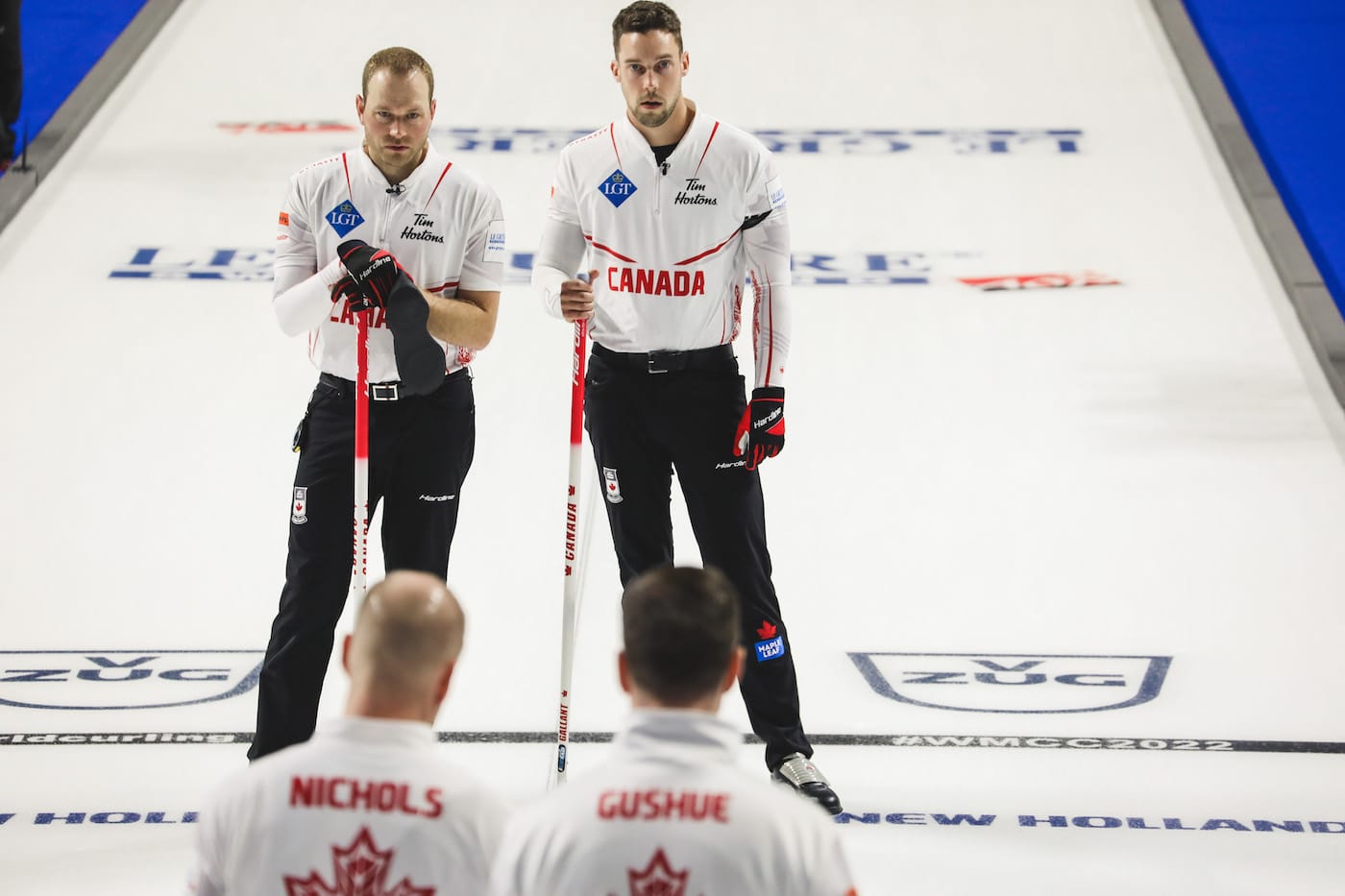 Team Gushue maintains hold of top spot at LGT World Men's Championship
Team Canada salvaged a split of its Wednesday assignment of Scandinavian nations at the 2022 LGT World Men's Curling Championship, presented by New Holland.
After falling 7-5 to Sweden's Team Niklas Edin in the morning draw at Orleans Arena in Las Vegas, Brad Gushue's Canadian team from St. John's, N.L., righted the ship on Wednesday night, sailing to an 8-3 win over Finland's Team Kalle Kiiskinen (3-6).
With the win, Gushue, vice-skip Mark Nichols, second Brett Gallant, lead Geoff Walker, alternate E.J. Harnden, team coach Jules Owchar and national coach Jeff Stoughton maintained their hold on top spot in the 13-team round-robin standings with a 7-1 record; Scotland's Team Kyle Waddell at 6-2 and Sweden (6-3) are second and third respectively.
"We played a pretty good game this morning but obviously came out on the wrong side of it," said Gallant. "We just wanted to get our momentum back and get in the win column again. They (Finland) played a pretty crafty game — lots of taps and manoeuvring the rocks around in good spots. It made it tricky on us, but we were able to stay patient."
A top-two finish in the round robin will get Team Canada a bye into Saturday night's semifinals.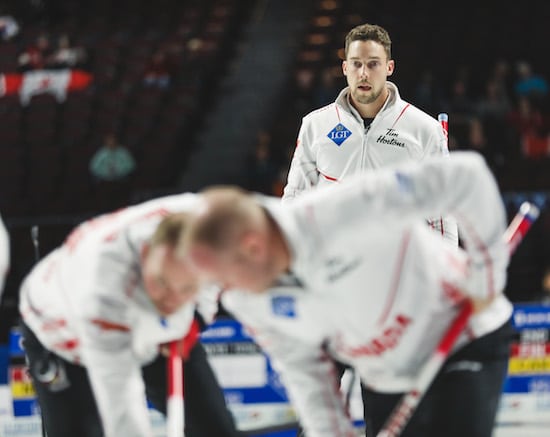 "That's the target," said Gushue. "Just go and win tomorrow morning and take it one game at a time and see if we can get a good position in the playoffs."
The Finns, who lost second Leo Ouni to a positive COVID-19 test on Wednesday morning, hung tough for most of the game, but Canada was in control and was rarely threatened.
Canada would open the scoring with a stolen single in the first, and added deuces in the third and sixth ends, and forced Kiiskinen to make tough shots to score, including a wonderful raise double-takeout for a single point in the fifth end.
Kiiskinen's Finns (vice-skip Teemu Salo, second Jermu Pollanen filling in for Ouni, lead Paavo Kuosmanen and couch Jouni Mikkonen rounded out the lineup) dropped to 3-6 with the loss.
Canada faces another two-game day on Thursday, opening with a 9 a.m. (all times Pacific) tilt against Team Korey Dropkin (5-3) of the United States, and then playing South Korea's Team Soo-Hyuk Kim (5-3).
"I felt we were lacking a little bit of energy (against Finland), but we played pretty well," said Gushue. "I'm not going to say we were resting or anything like that, but at this point in the week it's tough sometimes to get up for every game in these events, especially with what we've gone through this year. But we'll have to amp it up (Thursday) against the U.S. and Korea, for sure. Those teams will put on some more pressure than maybe we got tonight. We'll have to make sure we find some energy."
In other games Wednesday night, South Korea surprised Sweden 7-5; the Czech Republic's Team Lukas Klima (3-6) knocked off Team Wouter Goesgens (1-7) of the Netherlands 11-5; and Germany's Team Sixten Totzek (4-5) scored three in an extra end to beat Denmark's Team Tobias Thune (1-7) 10-7.
The U.S., Scotland, Team Yannick Schwaller of Switzerland (5-3), Italy's Team Joel Retornaz (4-4) and Team Magnus Ramsfjell of Norway (4-4) all had byes on Wednesday night.
The top six teams qualify for the playoff round with the top two receiving a bye while the remaining four play in the first round. The gold-medal game will be played Sunday.
For Team Canada updates, go to www.curling.ca. Follow us on Twitter, Instagram and Facebook.
TSN/RDS2, the official broadcast partners of Curling Canada's Season of Champions, will provide live coverage of Canada's round-robin games, in addition to all playoff games. CLICK HERE for their complete broadcast schedule.
The list of teams, schedule information and live scoring can be found on the event website, worldcurling.org/events/wmcc2022/