On to the playoffs!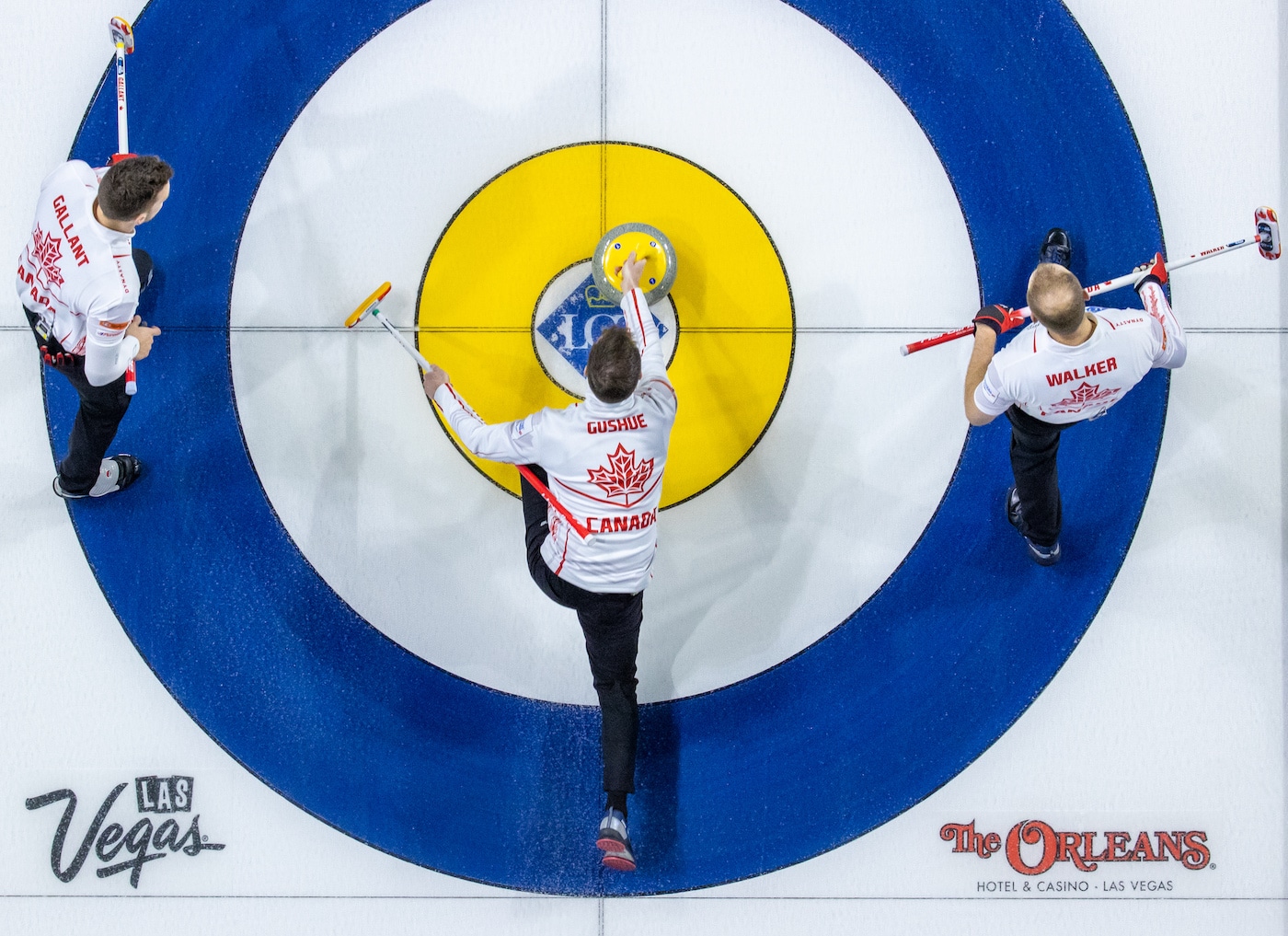 Team Canada finishes first in round robin at LGT World Men's Championship
Twelve games later, it's hard to imagine that Team Canada could be in any better position upon the conclusion of the round-robin competition at the 2022 LGT World Men's Curling Championship, presented by New Holland.
A 10-2 record. First place clear in the standings and the top seeding in the playoffs, including a bye to Saturday's 7 p.m. (all times Pacific semifinals). Last-rock advantage and choice of rock colour for its final two games.
Mission accomplished — so far, that is.
As Canadian skip Brad Gushue will quickly tell you, there is still work to be done at Orleans Arena in Las Vegas.
"Oh my God, yes," said Gushue, moments after his St. John's, N.L., team (vice-skip Mark Nichols, second Brett Gallant, lead Geoff Walker, alternate E.J. Harnden, team coach Jules Owchar and national coach Jeff Stoughton) cruised to a 9-2 win over Denmark's Team Tobias Thune (2-10) in the round-robin finale for both teams.
"This is one step. It's a long step and a big step. We did the job we wanted (to do), getting the hammer tomorrow night. It's a big step, it's an important step."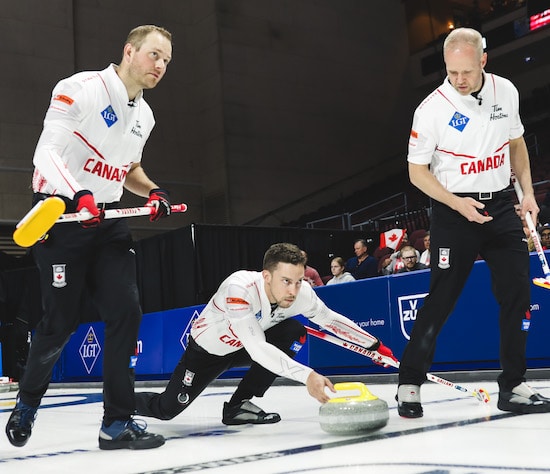 But not the last step. Team Canada will take its next step Saturday night when it takes on either fourth-place Team Kyle Waddell of Scotland (7-5) or fifth-place Team Korey Dropkin of the United States (7-5), who will meet Saturday at 2 p.m. in the playoff qualification round. The winner advances to the semifinal against Canada; the loser is eliminated.
Canada, meanwhile, can enjoy a well-earned Saturday afternoon off after a grinding, sometimes frustrating, but ultimately hugely successful round-robin run.
"I'm not surprised. This is what we wanted, what we expected, what we worked for," said Gushue. "So we're happy with it. It would be nice to be 12-and-0 and not having lost a game. But we'd be in the same position we are now. I felt like we played a really solid game (tonight), and I think we've been playing a little bit better and getting a better feel for the ice. Things are looking pretty good at this point."
"It's a good situation," added Walker. "We'll be able to come out in the morning and match our rocks and not have to worry about playing a (qualifying round game) on top of that. We'll have time in the morning to get that done and then get a nice rest in before the night game."
Canada scored a first-end deuce against the Danes and never looked back in a game that lasted just six ends. A three in the third end, and back-to-back deuces in the fifth and sixth ends did the damage.
Team Gushue, pursuing its second world championship (it also claimed gold in 2017 in Edmonton), is in a good state of mind heading into the semifinal. A win Saturday night will put Canada in the gold-medal game Sunday at 4 p.m.; a loss means a trip to the bronze-medal game Sunday at 11 a.m.
"We have it in us," said Gushue. "I don't think we've put it all together (at once), but that game was definitely one of the few this week where I felt like we were all kind of firing out there. It's just a matter of all four of us playing the way we're capable of playing. When we do that, we know we can beat anybody. We're getting close to doing that more consistently."
Sweden's Team Niklas Edin (9-3) finished second in the round robin and also earned a bye to the semifinals. The Swedes will take on the winner of the qualification-round game between third-place Team Joel Retornaz of Italy (8-4) and sixth-place Team Yannick Schwaller of Switzerland (6-6).
In Friday night's other games, Scotland turned back Switzerland 9-7; Italy doubled the U.S. 8-4; and Team Wouter Goesgens of the Netherlands (3-9) knocked South Korea's Team Chang-Min Kim (6-6) out of the playoff hunt with an extra-end 8-7 win.
Switzerland, South Korea and Germany's Team Sixten Totzek all finished with 6-6 records and tied for the sixth and final playoff spot, but Switzerland advanced based on its Last-Shot Draw total.
For Team Canada updates, go to www.curling.ca. Follow us on Twitter, Instagram and Facebook.
TSN/RDS2, the official broadcast partners of Curling Canada's Season of Champions, will provide live coverage of Canada's round-robin games, in addition to all playoff games. CLICK HERE for their complete broadcast schedule.
The list of teams, schedule information and live scoring can be found on the event website, worldcurling.org/events/wmcc2022/