Mapping the ice!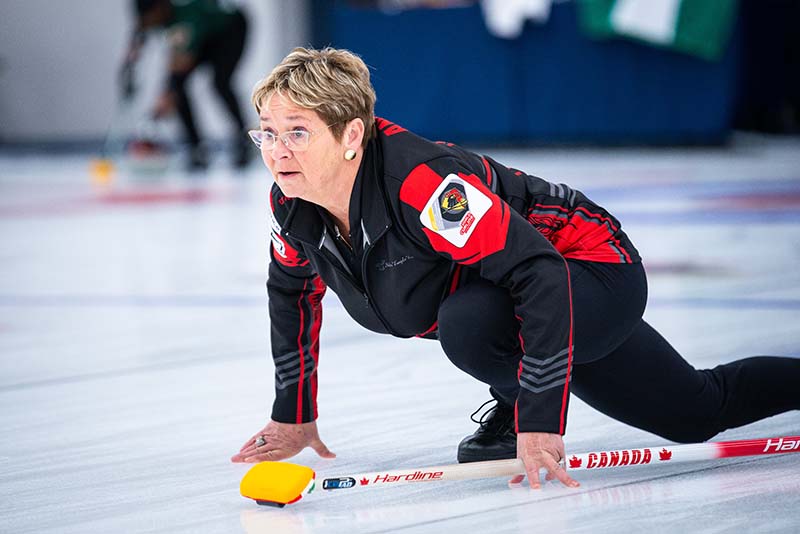 Team Anderson draws on ice-reading experience to rebound at 2022 World Senior Women's Curling Championship
GENEVA, SWITZERLAND — Few people may be better than Sherry Anderson when it comes to mapping out a sheet of curling ice.
Her years of experience playing at curling clubs and arenas worldwide have paid dividends, and it is only natural to pick up a thing or two along the way. It's why Anderson, a two-time world senior curling gold medallist and 10-time Scotties Tournament of Hearts competitor, is still one of the best when it comes to competing at peak level in both women's and senior women's competitions. And it's why she and her team of vice-skip Patty Hersikorn, second Brenda Goertzen, lead Anita Silvernagle, alternate Denise Hersikorn, and team leader Bill Tschirhart will be among the favourites at the 2022 World Senior Women's Curling Championship at the Geneva Curling Club in Switzerland.
Anderson and her team from the Nutana Curling Club in Saskatoon opened the event on Saturday morning with an uncharacteristic loss against Scotland. Draw weight was not in Anderson's back pocket. But on Sunday night in Switzerland, it was a different story during her team's 9-2 win against Denmark's Linette Henningsen (1-1) over the course of six ends.
"When you come out, and you don't have a feel for draw weight, you don't have the feel for draw weight," Anderson said of that opening game. "There wasn't much that I could think about or do but just come out here and get a better feel during this game. Today the ice was different at the start. During the first practice, it was pretty heavy. I threw hit weight – just through – and it barely hit the rings. The first three rocks of the game it's changing, and it's patchy. If it hit this spot, it would hit back-eight, but I give four feet less (of ice), and it curls a little, it takes a different path and comes up four feet short."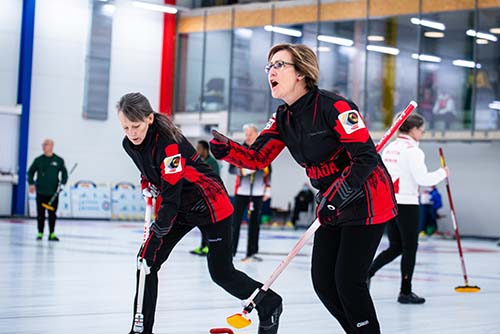 While Canada started the game with hammer, Denmark opened with a steal of one. Team Anderson responded in the second end, securing a deuce and forced Denmark to one in the third to get the hammer back. From that point on, Canada found its groove.
Canada landed a three-ender in the fourth end and stole another two in the fifth. Team Anderson followed a similar game plan in the sixth end without hammer: get shot rock and provide as much granite protection as possible up front. It forced Denmark into a risky raise. The line was off, and instead of tapping up on its own rock, Denmark sent another Canadian stone into play for a steal of two and the end of the game.
"We all had much better draw weight that game, I think. I certainly did. We threw a lot of draws. All I ask for is when I let [the rock] go, I have an idea of where it's going to end up," Anderson said.
Anderson's team has won back-to-back world senior curling championships and targets a third in a row. It's a tall task that an individual team has never completed, but the expert ice-reader is up for it.
Team Anderson won gold at Östersund, Sweden, in 2018 and Stavanger, Norway, in 2019. Those wins came on arena ice, and the setting is quite different in 2022, with the competition inside the Geneva-based curling club that's been in operation since 1946 and houses some of the best Swiss players ever to play the sport.
"You always get something different, and when you get into a country like this – where it's like 82 per cent humidity – well, in Saskatchewan, we don't get that kind of humidity regularly during the curling season," Anderson said. "Right there, that causes some challenges, and when it's fluctuating from 10 to 20 degrees, you know there's going to be some differences in the ice. The ice has been good, and we're making it work."
Now 1-1, Team Anderson is tied for the second spot in the seven-team pool with five of those teams. But the cream will rise to the top as teams get into the nitty-gritty of the round robin. Up next, Team Canada takes on Team Ireland's Dale Sinclair (1-1) at 8 p.m. (all times ET) on Monday.
Overall it was a quiet day for Canadian senior curling on the international stage. The win against Denmark was Team Anderson's only game of the day, and the men's team, led by skip Wade White of the Lac la Biche Curling Club in Alberta, had the day off after going 2-0 on Saturday.
The Canadian men (2-0) return to the ice on Monday at 8 a.m. against Australia's Hugh Millikin (0-2).
The top three women's teams in both pools qualify for the playoff round with the top two seeds receiving a bye, while the remaining four play in the first round. The top two-ranked men's team in all three pools, plus the top-two third-ranked teams, qualify for the playoffs with all teams playing in an eight-team format with quarterfinals, semifinals and gold- and bronze-medal games. The men's and women's medal games will be played Saturday.
For Team Canada updates, go to www.curling.ca. Follow us on Twitter, Instagram and Facebook.
For the list of teams, draw information and live scoring, visit the event website.
The French version of this story will be posted as soon as possible at www.curling.ca/?lang=fr