Hot shot Peterman!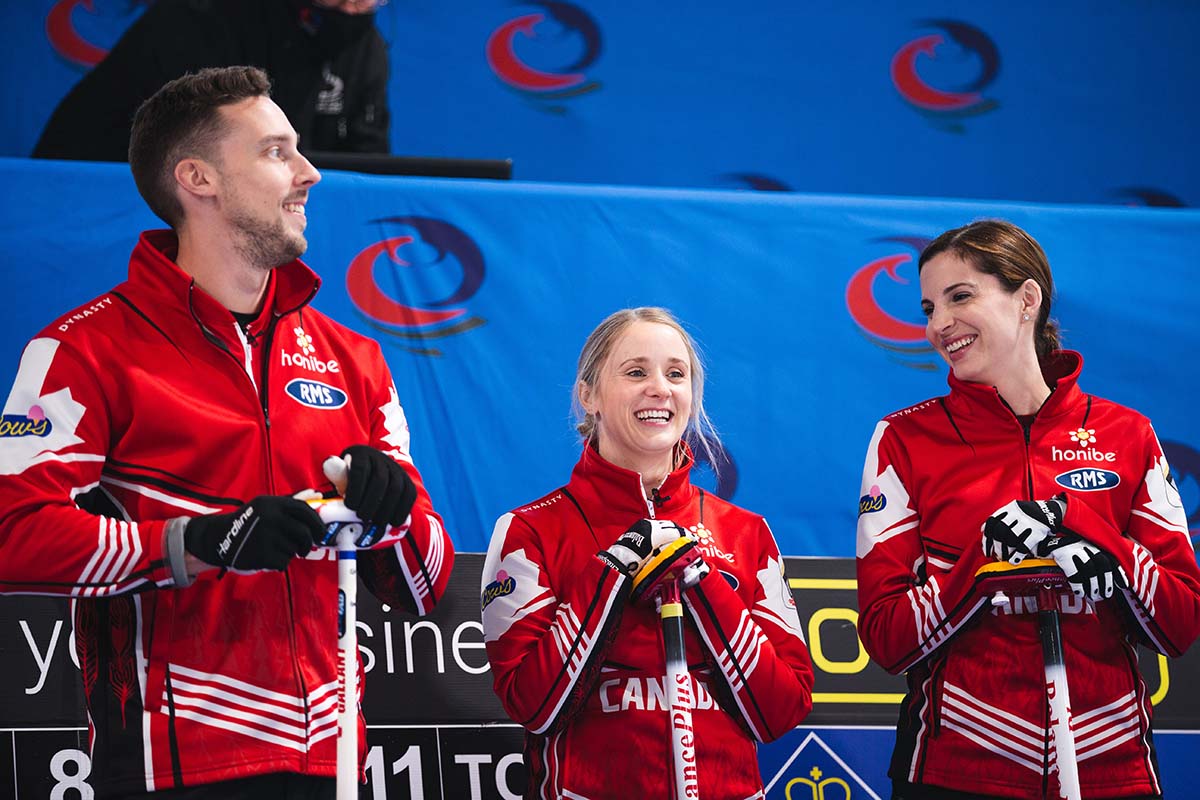 Highlight-reel shot caps off Canada's round-robin schedule at 2022 World Mixed Doubles Curling Championship
GENEVA, SWITZERLAND — Canada's Jocelyn Peterman (Winnipeg) and Brett Gallant (St. John's, N.L.) finished the 2022 World Mixed Doubles Curling Championship round robin with two more wins in advance of Friday's playoffs.
A highlight-reel shot from Peterman gave Canada the edge it needed to defeat Rebecca and Matt Hamilton of the United States by a score of 8-5 at Sous-Moulin Sports Centre on Thursday night. After the United States played a freeze that eliminated many hopes of Canada scoring, Peterman and Gallant found a way. Canada had a long angle-raise opportunity on a single Canadian corner guard in play. Peterman threw it perfectly and scored three for a four-point lead after six ends.
Peterman, one of the premiere seconds in Canadian women's curling, pondered where the shot ranks in some of her best-thrown shots.
"I don't know. I haven't skipped in a long time and it's a lot more fun making those on your last shot. It's up there. It was just kind of a relief when it happened and fun to throw," Peterman said.
Peterman needed to raise a stone by touching about an inch of it to clip out an American rock sitting perfectly behind cover on the button. There wasn't much communication throughout the shot. Gallant kept it clean, and it looked close.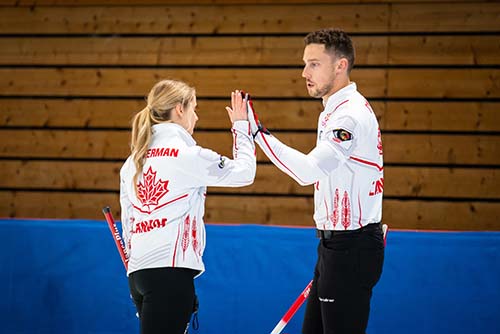 "It was so far in the wing that it was a little bit unpredictable. I think we both liked the line it was on and I was trying to clean it so it didn't pick up any frost and make a sudden move. It was so thin where we needed to hit it. It was a lot of skill and just a tiny bit of luck to hit it in the perfect spot and she threw it just perfect," Gallant said.
The United States scored one on the power play in the seventh end, but Canada used its power play in the eighth end and scored one more.
Canada finishes second in Pool B with an 8-1 record following the win against the United States. Peterman and Gallant, along with coaches Scott Pfeifer and Lisa Weagle, will take on Norway's Maia and Magnus Ramsfjell (7-2) at 6:30 a.m. (all times ET) in a qualification game. The winner will advance to the semifinal game scheduled for 1:30 p.m.
"We have the experience of playing in these playoffs. We know it's difficult but you can just take it one game at a time, control the things we can control, play our best and let the chips fall," Gallant said.
Scotland's Eve Muirhead and Bobby Lammie (9-0) go directly to the semifinal out of Canada's pool. Switzerland's Alina Pätz and Sven Michel (7-2) advance to the semifinal in Pool A. Sweden's Isabella and Rasmus Wranå (7-2) take on Germany's Pia-Lisa Schöll and Klaudius Harsch (6-3) in the other qualification game at 3 a.m.
"I don't think we're feeling a lot of pressure. We're happy to be here and happy with how we're playing. Hopefully, we can continue that over the next couple of days," Peterman said.
Canada started the day with a hot hand. Peterman and Gallant combined for their best effort all week long in a 10-2 win against Austalia's Tahli Gill and Dean Hewitt (4-5). The Canadians simply didn't miss and made some exceptional shots to score big while limiting Australia's chances.
Canada opened the game with two and remained in control from that point on.
In the second end, Australia was forced to one and Canada replied with a hit for three in the third. Canada tacked on another steal of two in the fourth and Australia replied by using its power play in the fifth. On their first shot of the end, Peterman and Gallant ticked Australia's pre-positioned stone from the tee line to the backline and still kept it in play. That led to Australia playing a tough triple to score more than one point. However, the rock missed its target and Canada stole three. Australia scored one in the sixth and then conceded the game.
TSN will broadcast select Canadian round-robin games and all playoff games. For its complete broadcast schedule, click here.
For Team Canada updates, go to www.curling.ca. Follow us on Twitter, Instagram and Facebook.
For the list of teams, draw information and live scoring, visit the event website.
The French version of this story will be posted as soon as possible at www.curling.ca/?lang=fr