White in the final!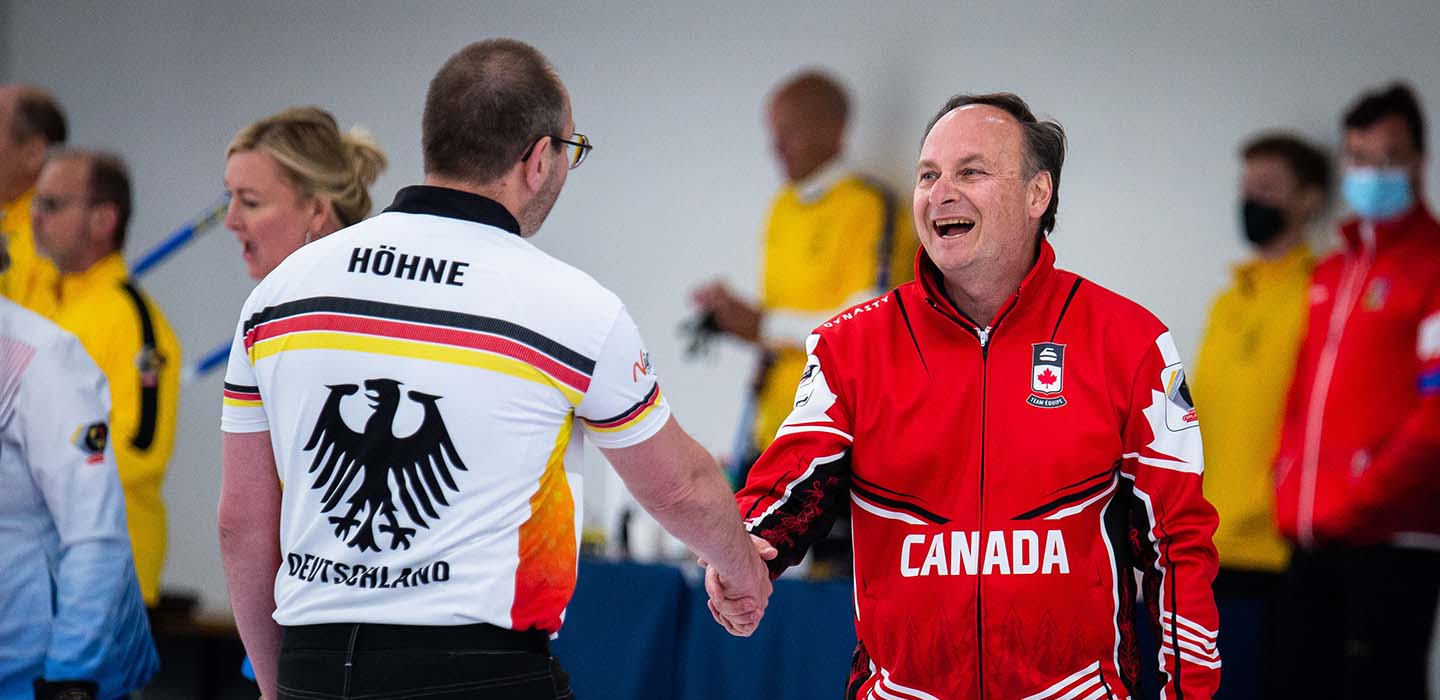 Canada's men's team advances to final, women's hopes cut short at 2022 World Senior Curling Championships
GENEVA, SWITZERLAND — When Wade White scored at the 2022 World Senior Curling Championships, he did it in bunches.
The Lac la Biche Curling Club-based team from Alberta scored points a bounty on Friday at the world championship in the Geneva Curling Club. Two fives, one four, one three and a few more to boot.
That effort led to two playoff wins and a shot at replicating the team's 2018 performance at the world seniors when the team won gold in Östersund, Sweden.
Canada takes on David Sik of the Czech Republic in the gold-medal game at 4:30 a.m. (all times ET).
Canada clinched that honour after its 11-5 victory over Germany's Andy Kapp.
Kapp has 14 world men's championship appearances, two silver and three bronze medals, and owns the record for most wins as a skip at the event. But that didn't deter White, vice-skip Barry Chwedoruk, second Dan Holowaychuk, lead George White and team leader Bill Tschirhart, who started the game hot.
While it was a steal of one for Germany in the first end after White jammed his double attempt, Canada scored one of its two five-enders of the day in the second end. Team White had stones spread around the house and forced Kapp into playing a through-the-port freeze shot. Germany nearly made it perfect, but it tickled the second rock it had to pass and was left open. Canada made no mistake with the open hit and took a 5-1 lead.
But with Kapp's experience, Germany wasn't out of the game yet. First, a score of three in the fourth end, followed by forcing Canada to one in the fifth inched Germany closer with a three-point deficit.
After forcing Germany to one in six, Canada made a draw in the seventh end for two to regain the four-point lead.
Germany's seasoned team (this German lineup won bronze at the 2005 world men's curling championship) did its best to score four by forcing White and his team into an aggressive style of play.
"He was piling them in, and so I had no choice but to put my rocks in. I think when we called a timeout, we decided to freeze them on top of each other so [Germany] had a tough time getting them out. He didn't have much for a shot on the last one," White said. "They're tough and [Andy's] really good with strategy."
There was no shot for Germany, and Canada stole another two points to book its ticket to the gold-medal game against the Czech Republic. It is the first time the Czech Republic will play for a medal at the world senior curling championships.
"I don't know much about them. But these guys look like they've been shooting pretty good, and they beat Sweden. That's a good team," White said.
This is Sik's first world senior curling championship. He skipped the Czech Republic at seven European Curling Championships from 1995 through 2018.
In the second semifinal, the Czech Republic beat Sweden's Mats Wranå by a score of 8-6. Sweden will play Germany in the bronze-medal game at 4:30 a.m.
In the quarterfinals, the Canadian men opened the day with a 12-4 win against Switzerland's Christof Schwaller. Team White started with the hammer and capitalized by scoring three. The team packed the house with six shot stones in the second end and forced Switzerland into playing a double to minimize the damage. However, that shot jammed on a back Canadian stone and Canada stole five. Switzerland scored single points in the third and fourth ends, but Canada manufactured a raise for four in the fifth end to run away with the game and book its spot in the semifinal.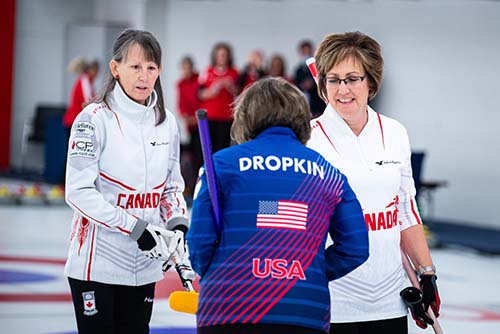 Canada's Team Sherry Anderson entered the event with hopes of becoming the first team to win three world senior curling championships in a row, but those hopes were dashed on Friday. Anderson, vice-skip Patty Hersikorn, second Brenda Goertzen, lead Anita Silvernagle, alternate Denise Hersikorn, and team leader Tschirhart lost to Margie Smith of the United States in a qualification game.
The United States had the hammer in the eighth end and, with the teams tied at three apiece, they got the necessary single point to win the game and advance to the semifinal. A stolen single point in the third end also aided the U.S.A. in taking down Canada. Neither team could produce more than one point in the game.
"It's hard work to get to this level, and I am so proud of our team for doing this. It sucks to lose, and this one stings, but I think it will give us motivation next season," Hersikorn said.
On the women's side Switzerland's Cristina Lestander and Smith of the Unites States play for gold, while Edith Hazard of Scotland takes on Elina Virtaala of Finland in the bronze-medal game. Both games are slated for 4:30 a.m. on Saturday.
For Team Canada updates, go to www.curling.ca. Follow us on Twitter, Instagram and Facebook.
For the list of teams, draw information and live scoring, visit the event website.
The French version of this story will be posted as soon as possible at www.curling.ca/?lang=fr