Northern Stars!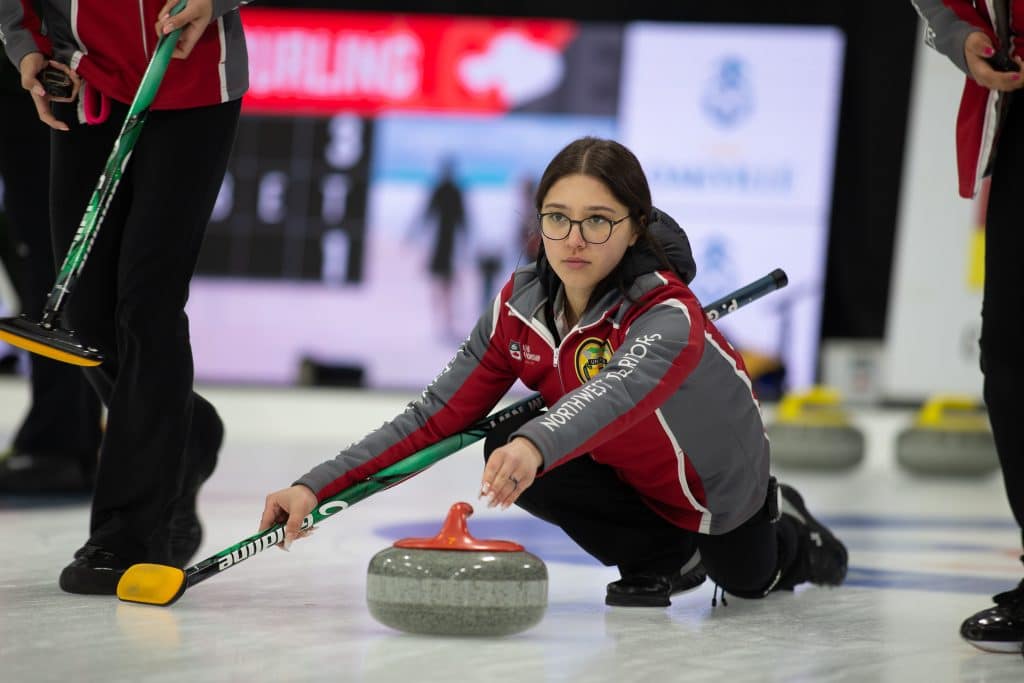 Northwest Territories boys and girls collect first wins at 2022 Canadian Under-18 Boys and Girls Curling Championships in Oakville, Ont.
Inuvik's Pearl Gillis is no stranger to representing the Northwest Territories.
"It's my fourth time representing the territories," said Gillis with an elated smile on her face.
And while Gillis has had mixed results in her previous national campaigns, she had been competing in national under-21 competitions from ages 13 to 15 and collecting experience as she goes.
That's a tough spot to be in as a fresh faced youngster in their early teen years.
But this time is different. Gillis, now 17 years old, and her Inuvik Curling Centre team of third Tamara Bain, second Adrianna Hendrick, lead Tyra Bain and coach Tannis Bain are competing in under-18 competition.
And they're here to win.
"I feel like we have more of a chance here. We're playing people more our age at this event. When I first went to nationals, I was very young and everyone else was like 21 years old," she laughed. "It wasn't as fair, but this time is different."
The Northwest Territories girls rink made good on their commitment to themselves as they earned their first victory of the 2022 Under-18 Canadian Girls Championship over Québec's Elizabeth Cyr (1-2; Laval) by a 4-3 score in draw 8.
The game was a thriller, coming down to the wire with Gillis and co. playing excellent strategy in the eighth end needing two points with the hammer to win.
Gillis was left with a hit on her final stone to secure the victory and felt the pressure as she was in the hack.
"I was shaking. My hand was shaking but it was good. I stayed calm and made my shot" said Gillis.
The Northwest Territories girls now sit at 1-2 in pool C and face Saskatchewan #2's Elizabeth Kessel (2-0; Balgonie) at 9:00 pm Tuesday in their next matchup (all times Eastern).
Not to be left out, the Northwest Territories boys also earned their first win of their 2022 Under-18 Boys Canadian championship campaign as Curling Canada's feature game, streamed live on YouTube.
Yellowknife's Julian Bowling, alongside third Adam Naugler, second Shawn Dragon, lead Tasir Bhulyan, alternate Ian Gau, and coach Tara Naugler vanquished Newfoundland & Labrador's Liam Quilian (0-3; St. John's) in commanding fashion by a 7-3 score in only six ends.
After dropping their first two matches of the event, this win felt like a momentum change that was welcomed by the Bowling rink. They now sit at 1-2 in boys pool C.
"It feels pretty good. Much better to be winning now." said Bowling. "It shows that we can compete here and we can take a few wins."
Bowling, 16, knows it will take great play to continue down a winning path in a field full of tough competitors.
"We're focused on here and now," said Bowling. "We've got the Canada Winter Games to be ready for next season but right now, we're just focusing on the moment."
Play from the 2022 Canadian Under-18 Boys and Girls Championships continues Tuesday with draws at 5:45 pm and 9:00 pm.
For teams, results, schedules, live-streaming schedule and other event information, CLICK HERE.