U18 Pool Play Continues!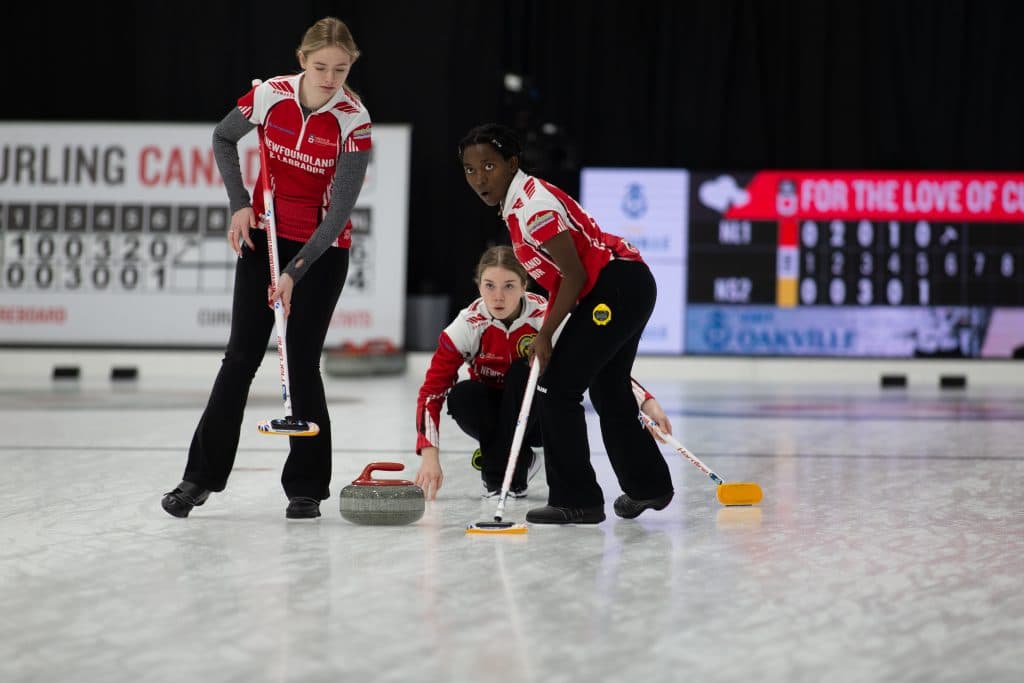 Some clarity, some obscurity emerges in pool leader picture on day 4 of Under 18 Canadian Championships
With 42 total teams taking part in the 2022 Canadian Under 18 Boys and Girls Championships in Oakville, Ont, there's bound to be some traffic in the standings.
Three pools of each gender containing seven teams are all vying for spots in the championship playoff bracket; a right reserved for only the top three teams of each pool respectively.
When the dust settles on each team's six game round robin, teams outside the top three spots in their pool will be funneled into a championship consolation bracket, as well as additional B1, B2, C1 and C2 playoff style brackets based on their record to ensure every team, no matter their record, gets a taste of playoff style bracket play all while determining conclusively their final ranking in the national event.
In Curling Canada's feature match streamed live on Youtube on Wednesday afternoon, team Nova Scotia's #2's Sophie Blades (4-1; Chester) needed an extra end in a nail biter game to defeat Newfoundland and Labrador's Cailey Locke (0-5; St. John's) by a 7-5 score.
The win proved to be a vital one for Blades, as the victory solidifies her as interim leader in girls pool B, followed in second by Alberta's #2's Claire Booth (3-1; Calgary).
Girls pool C had plenty of standings shuffling with three matches being played out in draw 13 on Wednesday afternoon. Saskatchewan #2's Elizabeth Kessel (3-1; Balgonie) leapt into sole possession of the pool's top spot with a 7-4 win over Alberta #1's Myla Plett (2-2; Edmonton). Second place is TBD as four teams sit with 2-2 records and all teams with two games to play in the round robin.
Girls pool A had no matches active in draw 13 and boasts another logjam with four teams at three wins and one loss. All four 3-1 record teams of pool A will be in action Wednesday evening at 8:30 pm (all times eastern).
Boys pool A sees Nova Scotia's Calan MacIssac (4-0; Truro) firmly in first place with British Columbia #1's Adam Fenton (3-1; New Westminster) holding down second place with all pool teams with two games remaining.
Boys pool B sees Saskatchewan #1's Matthew Drewitz (4-1; Saskatoon) as the pool's lone current leader and both local representatives, Ontario #1's Kyle Stratton (4-0; London) and Ontario #2's Harry Jones (4-0; Burlington) are tied for first in boys pool C.

Action will continue Wednesday night as draw 14 is slated to begin at 8:30 pm.
For teams, results, schedules, live-streaming schedule and other event information, CLICK HERE.