Seeking Gold!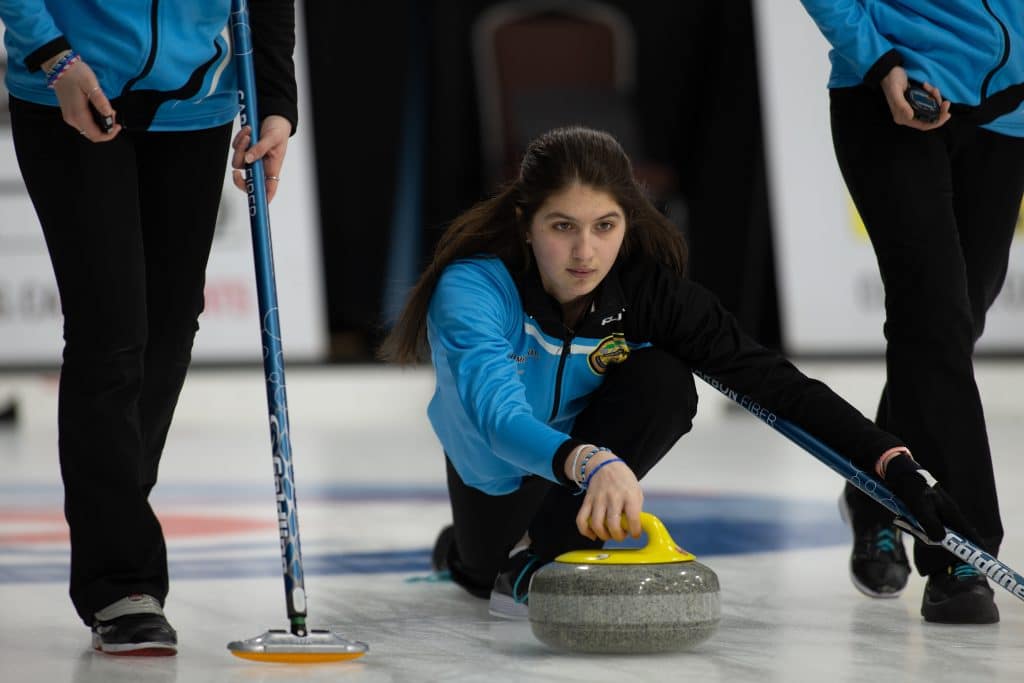 Championship rounds in full motion at 2022 Canadian Under-18 Boys and Girls Curling Championships
At the beginning of the week, there were 21 teams of each gender, for a total of 42 teams, in contention for a gold medal at the 2022 Canadian Under-18 Boys and Girls Curling Championships, hosted by the Oakville Curling Club in Ontario.
Now, as round robin play concluded on Thursday evening and the playoffs got underway Friday morning, only a handful remain with a shot at a top podium finish.
In girl's championship round play, Québec's Jolianne Fortin (Jonquière) downed #1 seed Nova Scotia (Sophie Blades, Halifax) in a Friday morning quarterfinal thriller as Curling Canada's feature match streamed live on YouTube, stealing a single point in the eighth end to claim 4-3 victory and earn the semifinal berth.
Québec #1 now faces Alberta #1's Mya Plett (Edmonton) in a semifinal on Saturday morning at 8:30 a.m (all times eastern).
On the other side of the bracket, British Columbia #1's Gracelyn Richards (Comox Valley) will take on Alberta #2's Claire Booth (Calgary) in a semifinal on Friday evening at 8:00 p.m.
In boys semifinal play, Ontario #1's Kyle Stratton (London) will face Saskatchewan #1's Matthew Drewitz (Saskatoon) on Friday at 4:00 p.m., while boys number one seed Nova Scotia #1, represented by Calan MacIssac (Truro), will face their fellow bluenoser squadron in Nova Scotia #2's Nick Mosher (Halifax) Saturday morning at 8:30 a.m.
The girls final will be at 12:30 p.m., Saturday with the boys final to follow at 4:30 p.m., on the same day. Both finals will be streamed live on Curling Canada's YouTube page.
Though not all teams remain in gold medal contention, all 42 teams qualified for a playoff bracket, including consolation round, B1, B2, C1 and C2 rounds. This format has been adopted to ensure every team, no matter their record, gets a taste of playoff style play all while determining conclusively their final ranking in the national event, which will be used for seeding and pool determination for next year's championship.
For teams, results, schedules, playoff brackets, live-streaming schedule and other event information, CLICK HERE